In Roxbury Forum, It's Capuano's Record Vs. Pressley's Priorities In The 7th Congressional Race
Play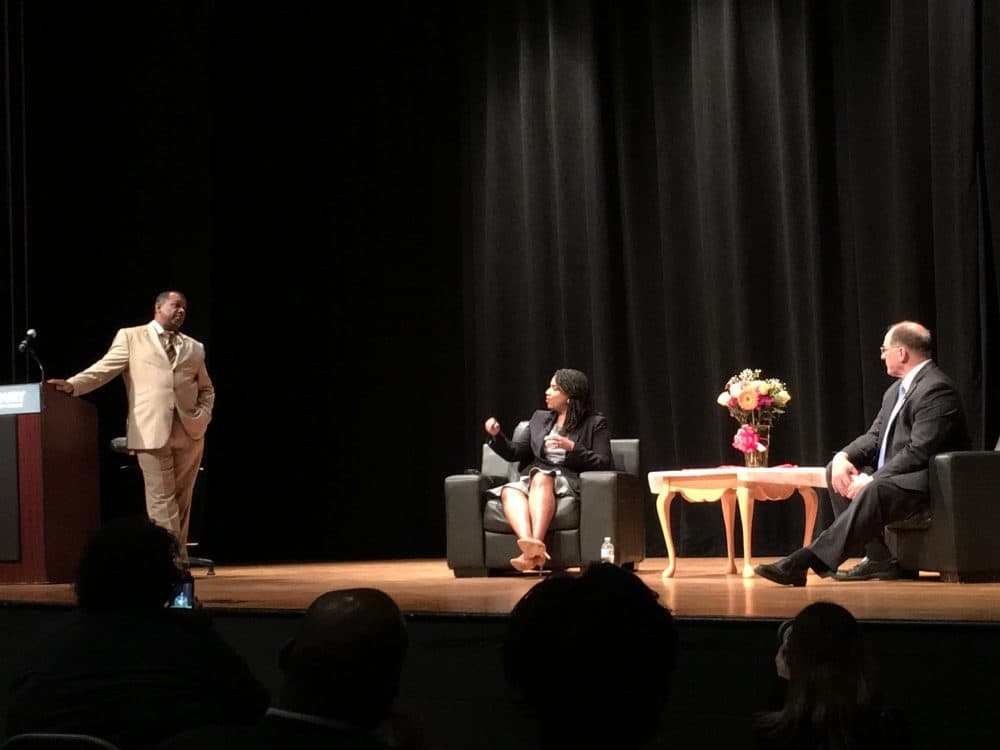 This article is more than 4 years old.
U.S. Rep. Michael Capuano and Boston City Councilor At-Large Ayanna Pressley staked out similar policy grounds at a racial justice forum Friday evening.
Incumbent Capuano leaned heavily on his 10-term record and progressive bona fides, while Pressley, challenging him for his Massachusetts 7th congressional seat, argued that the district is in need of a candidate who will bring a demographically representative and empathetic lens to the federal stage.
The national agenda loomed heavily over the forum — a back and forth between the opponents — as they concurred on issues like protecting immigrants, defending the rights of disenfranchised communities to vote in the face of partisan gerrymandering, supporting equal pay regardless of gender, backing LGBTQ groups and protecting and fighting for environmental justice.
They both hit out at the Trump administration on the Republican tax plan and efforts to cut entitlements like Social Security.
"We have common values, we also have common opponents who don't share these values," Capuano said. "They are the majority in Washington today. They're going to keep that majority unless we can find a way to energize our own people. ... Change can happen, and it can happen for the better."
The forum took place place at Roxbury Community College, hosted and moderated by Suffolk County Sheriff Steven Tompkins. His questions, and those submitted by the audience, revolved almost entirely around potential legislation or congressional advocacy to address systemic inequities and bolster historically oppressed populations.
This was Pressley's chance to set the tone of her challenge. With both candidates comfortably on the ballot for the Sept. 4 primary, the forum marked their first face-to-face public discussion.
It was a largely civil conversation. In a gesture to polling data showing Capuano with a decent lead in February and the high-profile endorsements he mentioned during the forum, Pressley said, "I want to caution us. It's very easy, in the midst of a marathon of forums, and polls and endorsement announcements, to lose sight of what this is really about.
"This is not simply a contest, this is not simply a race. For those of you who came tonight to see a fight, you won't see it here and you won't see it anywhere else."
Though both candidates said they oppose discriminatory partisan gerrymandering, they differed on interpretations of voter engagement, with Pressley pointing to disenfranchisement and asserting that "people don't vote because they haven't been activated; they don't vote because they know too much," and calling for expanding voting rights for the incarcerated.
Capuano said, "I'm not sure I agree that people who don't vote know too much. They should be out voting in their [best] interest."
Somerville-native Capuano has sailed to re-election since entering the House in 1999, boosted by what supporters describe as a reliably progressive platform and a dedication to local infrastructure like the Fairmount Line and the Green Line extension. He is also poised to head up influential transportation and finance committees should the Democrats retake the House of Representatives in the midterm elections.
The political philosophy on the Hill comes down to, "do you believe that each and every one of us is on our own," Capuano said.
He noted his votes against the tax plan, efforts to protect the Affordable Care Act, and opposition to the president's orders on immigration. Republicans, he said, are being "intentional" in their efforts to redirect resources away from the vulnerable and toward the wealthy.
"I won't say that they're evil, I will say they're dead wrong," he said.
Pressley's team is trying to make the case that a more strident advocate is called for on the federal level. The Dorchester resident has made a name for herself as a rising star within Boston since her election to the council in 2009, the first woman of color to do so.
"This has less to do with anything the congressman hasn't done and more what I bring and what I will do, and that is because I'm proven," she said.
She has a record of her own — in a weak-council, strong-mayor city no less, she said. Pressley pointed to her championing of liquor license reform, bringing 80 percent of new licenses to historically underserved neighborhoods like Roxbury, Dorchester and Mattapan, as well as advocating for trauma resources and supporting sexual assault victims.
"I've already been leading in this district on local issues of national relevance," she said, highlighting the recently established caucus to address the needs of black girls and women — a topic in line with Pressley's own work in creating the city council committee Healthy Women, Families & Communities.
She recalled her single mother's influence in raising her, and her history of sexual abuse and assault.
"These are issues I've been able to champion because of my lived experience," she said. "Those are not theoretical to me."
But the forum came just after a one-two punch of high profile endorsements in Capuano's corner.
Last week, Mayor Martin Walsh threw his support behind the longtime congressman at a signature gathering event in Upham's Corner. And Capuano locked in the support of former Gov. Deval Patrick this week, a powerful African-American political voice — and one tied to grander presidential ambitions — in a race that could hinge on demographics.
The state's 7th Congressional District is the only majority-minority seat in Massachusetts' federal delegation. Pressley, a black woman, asserts that the time is right for a congressperson who is representative of the district. Capuano, who is Irish-Italian, notes that his family came to the country as immigrants and his children "are the living United Nations."
He also name-checked endorsements from U.S. Reps. John Lewis and Maxine Waters, as well as A grades from the ACLU and the NAACP — and an F grade from the NRA.
In his statement, Patrick said Capuano is "tenacious and determined," adding, "He believed in me when few others would take a chance on a novice candidate, and stuck with me as a consistent ally to meet the needs of our citizens, especially through the Great Recession. That's why I stand with him now."
Many of Patrick's political associates and former staffers are actively supporting Pressley, and without referring to Pressley by name, the former governor said, "Everything about his challenger and her campaign makes me proud. But Mike was with me in the trenches and I appreciate how hard he worked with me in tough times and out of public view for the good of the people of the Commonwealth."
Seventy percent of Boston is in the 7th congressional district, which also sprawls out into parts of Cambridge and Milton, and all of Chelsea, Everett, Randolph and Somerville. It includes regions that have seen slow investment over past decades, often aligning with populations of color.
The Fairmount Line is a critical transit route from South Station to Readville, through a corridor with some of the most diverse residents and lowest-income communities, finally seeing the last mandated station under construction on Blue Hill Avenue in Mattapan.
Capuano has pushed for better service along the line, including expending $53,000 of campaign funds to support two weeks of free ridership. Pressley said the area "needs sustainable solutions," though she gave props to Capuano's "one-time investment" in the line.
Through the lens of racial justice, Capuano is running on his voting record and his history of allyship — he has a diverse staff, and as mayor of Somerville he called for a Spanish civil service test and 50 percent hiring from communities of color, even in a neighborhood without a 50 percent minority population.
Pressley says that is not enough, and that her record of working on a local level, directly with disenfranchised populations, has borne results and can be replicated.
"Those who are closest to the pain should be closest to the power," she said.
This story comes in partnership with the Dorchester Reporter, and was first published by the Reporter's newsroom. 
This segment aired on May 5, 2018.