Tensions Flare After Double Murder In Jamaica Plain
Play
This article is more than 4 years old.
Emotions ran high in Jamaica Plain over the weekend as a community mourned the loss of two of its own — the 17th and 18th murders in Boston this year.
Police say Christopher Joyce, 23, and Clayborn Blair, 58, were killed Friday night at the Mildred C. Hailey housing complex on Centre Street, two innocent victims in what was likely a gang-related shooting.
Joyce was about to graduate from Salem State University with a degree in accounting, say university officials.
Relatives say Blair was a father of three.
Authorities say both victims were in a group of people who had gathered outside at the complex.
No arrests have been announced. Police are asking witnesses to come forward.
On Saturday, some residents clashed with police when the officers showed up at the housing complex to arrest a man they said had a gun in his waistband.
A video from WCVB-TV shows several black residents yelling at a group of mostly white police officers who were arresting the man.
They shouted epithets and accused police of abuse — while officers ordered the crowd to stand back.
Police ended up arresting three people: Aryana Wilson, 18, of Dorchester; a 17-year-old male from Brockton; and Anthony Upchurch, 34, of Boston, who police said physically assaulted two of the officers while they arrested the 17-year-old. Police said they have no known connection to Friday's killings.
After meeting on Sunday with residents of the development formerly known as Bromley-Heath, Boston Police Commissioner William Evans said his officers handled the situation appropriately.
"Last thing I want is the kid to get shot, in a struggle, or the officers to get shot. So when I seen it, it wasn't like they were hitting the kid. It's a dangerous job, and when a kid has a gun in his waistband, they got to get it out of there," he said.
Evans said it was understandable that people were upset.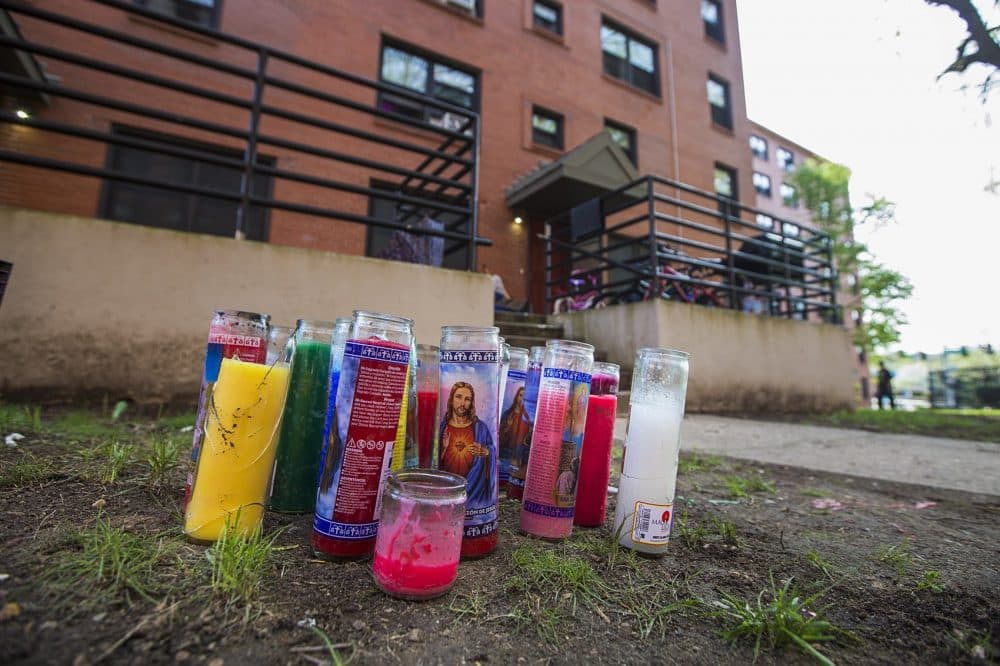 At the housing complex, residents there remembered Joyce and Blair as their neighbors.
Josefina Osorio has lived at Hailey for more than two decades and is concerned the shootings send a message that the violent days of summer have begun.
"I don't have anywhere to go, I have to live here. I can't do anything about it. If it was up to me I would be living somewhere else," she said in Spanish.
But Osorio cares about her community, enough to serve as treasurer on the tenant association. She says the residents' reaction to police Saturday was blown out of proportion. The majority of residents, she says, want police to succeed in making Hailey a safer place to live.
"There was no confrontation, to the contrary people wanted to help the police. But those who don't know how to help sometimes feel desperate," she said.
Osorio and others say things have improved in recent years – but that an event like Friday's double-murder becomes a focal point.
The irony of Friday's shooting is it took place just hours after Mayor Marty Walsh and Commissioner Evans launched a new plan to address summer violence.
The idea is to increase positive interactions between police and residents, as well as to boost police presence in the neighborhoods and focus on gun enforcement.
Last spring, the Boston Public Health Commission launched a neighborhood trauma team, with staffers ready to offer support in the aftermath of traumatic events.
Bashier Kayou heads the Neighborhood Trauma Team in Jamaica Plain. He said the residents need to build on the positive parts of their relationships with law enforcement.
"Obviously the trust has eroded. I mean you can look around the country, we know what's going on between black and brown people in terms of relationships with police, but at the same time, we've been very fortunate with our community officers, there is a positive relationship," he said. "They are here to work with the young people, they are here to work with the community, so you have to identify those things that are working and build on those."
That's in the long term. For now, Kayou says, the residents at Mildred C. Hailey will mourn the loss of their two neighbors, and lay them to rest.
Material from the Associated Press was used in this report.
This article was originally published on May 07, 2018.
This segment aired on May 7, 2018.