In 'My Ex-Life,' Stephen McCauley Shows You Could Hit Reset On Your Life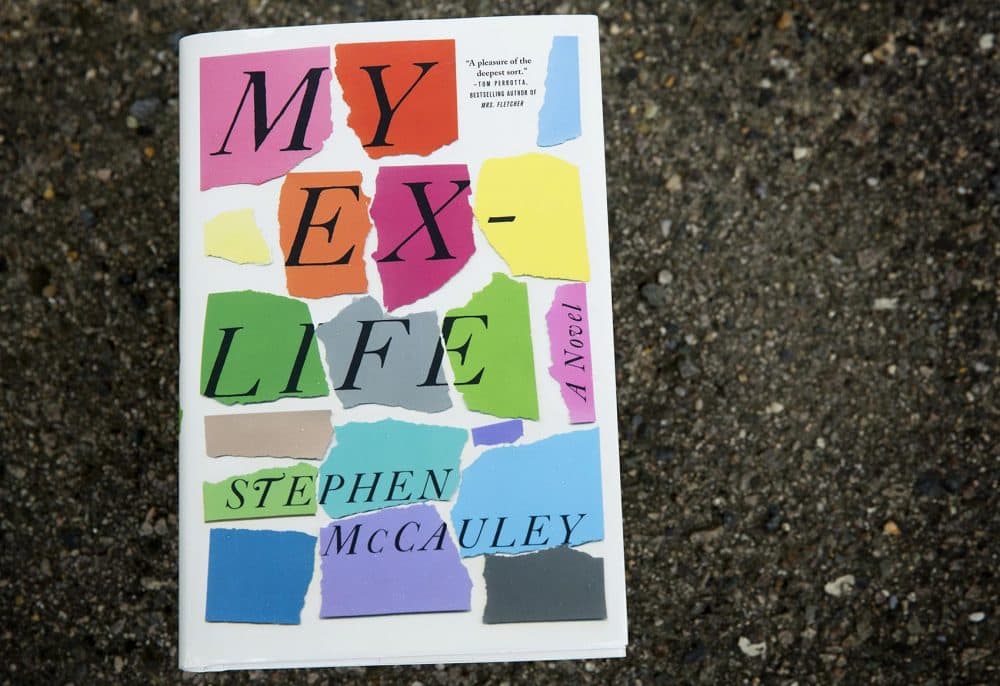 This article is more than 4 years old.
We all have an ex-life. It might be a former relationship, a life lived in an apartment once called home, a former job. In Stephen McCauley's gentle, wise novel, the title "My Ex-Life" can mean an ex-life about which you feel fondly -- or a current life you're determined to put in the rear-view mirror.
McCauley, who is director of creative writing at Brandeis University, is the author of six previous novels, three of which have been made into movies ("The Object of My Affection," "True Enough" and "The Easy Way Out").
"My Ex-Life" begins with a mid-life crisis and grows into a tale of a defining summer for two old friends and a girl on the dangerous cusp of womanhood. David is a successful independent college consultant in San Francisco, whose college application approach is called "The Seven Steps to Your Future." (There could have been fewer steps, "but he'd found that as parents became increasingly hysterical about the college application process, it helped to give their kids more to do.")
If only all it took were a few steps to shape up his personal life. A few months before, his younger, longtime lover had left him. Now it's spring, he's put on an uncomfortable amount of weight and he's about to lose his home; his sweet arrangement of a carriage house with incredibly low rent is about to disappear with the sale of the estate upon which it resides.
Just as David needs new meaning in his life, not to mention a new home, he gets a phone call from his ex-wife Julie. In the three decades since they divorced (they split up after David came out), Julie has remarried, had a daughter and is recently divorced. To augment her teacher's salary, she runs an Airbnb out of her slightly ramshackle Victorian home in Massachusetts. Julie's high-school age daughter, Mandy, could use some guidance on college applications. Would he like to visit?

Julie could also use some guidance, as well as a good friend -- which is what she and David have remained, even without seeing each other in 20 years.
This is more than she can say about her relationship with her second husband, who left her for a younger woman. In the wry style that characterizes this book, Julie notes to herself that she "knew only one man who'd betrayed his marriage for a woman older than his wife, and it was overstating it to say she knew Prince Charles."
McCauley builds the story on three pillars of high anxiety: the overheated real estate market on both coasts, the blistering competitiveness of college applications and the necessity of a gig economy. There's a lot going on in this book, and much of it is fueled by these signature middle-class concerns.
"My Ex-Life" is mostly set in the fictional seaside town of Beauport, about an hour north of Boston. With its rocky outcroppings, a harbor dotted with lobster boats, and winding streets jammed with tourist shops, it bears a striking resemblance to Rockport, Massachusetts. (Beauport even has a distinctive concert hall whose "entire wall behind the stage was an immense window from which you could see the ocean washing against the rocky shore and, if you were lucky, the sunset.")
Julie is struggling to connect with Mandy, who is increasingly distant, and she's struggling to scrape together funds to buy out the house from her ex-husband, Henry. He wants it sold by August to raise money for his restaurant business.
Julie is not the ideal Airbnb host. Her house is too cluttered, too dusty, with too many repairs needed outside and inside. She calls in an Airbnb consultant, and in one of the book's funnier extended scenes, the slightly drunken, passive/aggressive woman offers rapid-fire advice: Remove lots of furniture, add lots of toss pillows, everywhere, leave fruit at the breakfast buffet uncut (no one will eat it), and never, ever give discounts. Some of these actually work.
To deal with her stress, Julie has acquired a pot-smoking habit. It's referred to as pot, never weed, which sets Julie at a specific age. When so many novels showcase young mothers casually quaffing afternoon glasses of wine, seeing a 50-something woman craving a joint highlights the self-medicating habit in a way lifting a glass or two of wine would not. And Julie is missing essential details about her daughter's extracurricular life.
As likable as David and Julie are, the character you may become most drawn to is Mandy. McCauley imbues her with a convincing blend of angst, snark and yearning. Preternaturally insightful about others, Mandy has no clear idea of herself -- her talents or her physical appearance. Even in hot weather, she wears baggy overalls and flannel shirts. She is perpetually angry at herself for making one social gaffe after another, and at her mother for floating along in a pot haze. Her one friend, Lindsay, goes wide of the mark to maintain a meaningful bond, furthering Mandy's feelings of isolation.
Even though Mandy feels comfortable talking with David, she is terrified to begin work on her college applications. McCauley deftly captures the singular agony that can grip so many students on the verge of applications: Mandy "felt somehow that all her weaknesses and flaws were going to be exposed as they discussed college, and her shameful absence of talent, which was maybe the thing she liked least about herself. … The hardest part was imagining that any decent colleges would care about her."
David is soon helping to fix up the house and helping Julie strategize on how to buy out Henry's share of the house. As he and Mandy begin work on her applications, he proves more perceptive than either of her parents about realizing how unmoored Mandy has become. It's David whose protective radar pings when he sees Mandy talking with Craig, a dodgy 28-year-old who's often hanging about the high school to fix the computers and appear cool to kids 10 years his junior.
Many minor characters orbit around David, Julie and Mandy; they're never fully developed but are cleverly drawn, a cohesive collection of reliably acerbic comments about sex or stale marriages. In Beauport, there are no happily married couples. Consider David's devastating assessment of the guests he meets at a Beauport cocktail party: "The women's efforts at keeping themselves fit and groomed were clearly aimed at each other since they'd become as invisible to the men as the men were to them."
These observations nicely balance out the big-hearted nature of this lovely novel, which shows how, with some loving help, you can reset your life.
---
Stephen McCauley will be at Porter Square Books in Cambridge on Wednesday, May 9.