For This Concert, Eureka Ensemble Brought Together Women Who Are Homeless To Make Their Voices Heard
Can classical music combat societal ills?
Kristo Kondakçi, co-founder and conductor of the Eureka Ensemble — which uses classical music as a platform for social action and community engagement — is betting on it.
The ensemble is hard at work on its latest project, "Sheltering Voices," a musical initiative to empower women who are homeless, raise awareness about domestic abuse and support local homeless shelters. Music lovers with a penchant for social justice will have a chance to see the culminating performance on Saturday, May 12.
The concert will feature music by female American composers — Augusta Read Thomas, Rebecca Clarke and Amy Beach — with soloists throughout, and a choir that includes the inaugural Eureka Ensemble Choral Fellows, who are guests at Pine Street Inn, Rosie's Place and Women's Lunch Place.
In addition, the ensemble, which Kondakçi founded in 2016 with Alan Toda-Ambaras, the executive director and cellist, commissioned Composer-in-Residence Stephanie Ann Boyd to write a piece — the concert's namesake — for the new choir and the orchestra. The lyrics were written by poet and women's rights advocate Jessica Lynn Suchon, whose creative work is about shedding the shame and stigma around discussing female-related trauma.
What's more, each of the fellows singing in the premiere performance of Boyd's work, receives a stipend, and meals during rehearsals. But, to participate in the show, they each had to audition.
The accomplished Kondakçi, whose conducting activities include concerts with the National Albanian Orchestra as principal guest conductor, Kendall Square Orchestra as music director, and as the assistant conductor of the Boston Landmarks Orchestra, during their 2014-'17 seasons, led the auditions.
There were four women at the first one, held at Pine Street Inn.
"They were very comfortable being together and we decided to start as a group. So we began singing 'Amazing Grace,' and worked on that. That's been the piece we've been auditioning on. It's literally the perfect piece to connect you and build trust. We worked on that as a group, I conducted and coached and we have a choir director as well, choir coach really, Johanna [Bronk], she gave them some tips."
After performing together, everyone sat down as a group and shared with one another. Later, each of the women were invited to sing a song individually.
At the audition, Carrie-Anne Jaynes, now one of the choral fellows, started to cry during her song and couldn't continue.
"We all held hands and the other women continued [singing] with her. It was really beautiful and very touching. And, it was like, 'Oh, this is going to work,' " Kondakçi proclaims.
For 37-year-old Jaynes, music is a healing force.
"Music has always been a part of my life with healing. I was in an extremely violent domestic relationship with my son's father. In 2012, he found where I was and I was attacked," she says.
The brutal confrontation resulted in a months-long stay for Jaynes at Massachusetts General Hospital.
"For most of the time when I was sedated or in a medically-induced coma so that I could heal, my dad would put headphones on me and play music," she shares. Jaynes claims that the nurses told her father that the music made a difference.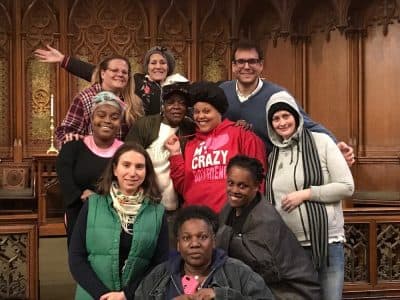 Both Jaynes — who sang in the choir at Revere High School — and her friend, 39-year-old, Rottisha Mewborn, another choral fellow and guest at Pine Street Inn are looking forward to the performance. The women went for an extra rehearsal, a little more than a week before the show, to make sure they had the music "down pat," Jaynes says.
Mewborn auditioned because she says, "music can speak for you when your feelings can't be put into words."
Along with her love of music, her friendship with Jaynes was a deciding factor for joining.
"At this point she is truly what I consider to be a sister. We sort of rope each other into things, and that's the way we keep ourselves motived. So, of course, they come up with singing and we sign up. It was just a way for us to sort of, get out of our heads, release the pains and the pressures of being at a shelter and feel like we're doing something; that we were working towards something," Mewborn explains.
Jaynes and Mewborn's enthusiasm and dedication to the project is early evidence that the time the women spend rehearsing and getting to know the other fellows, and ensemble staff members, is of value.
The platform that Kondakçi and Toda-Ambaras are providing for these women gives them permission to shine.
Jaynes is convinced that the show is "going to be really powerful." And Mewborn, when talking earlier about why she wanted to participate as a fellow, shared how good it felt "to not just be seen as a homeless person, but to be seen as someone with a voice. But not just a voice, a voice that needs to be uplifted and heard."
Watch Eureka Ensemble's orchestral debut concert in May 2017:
---
Eureka Ensemble's "Sheltering Voices" concert will be held on Saturday, May 12 at 8 p.m. at Church of the Covenant in Boston.