Boston Children's Hospital Opens Rooftop Garden Promised After Demolition Of Prouty Garden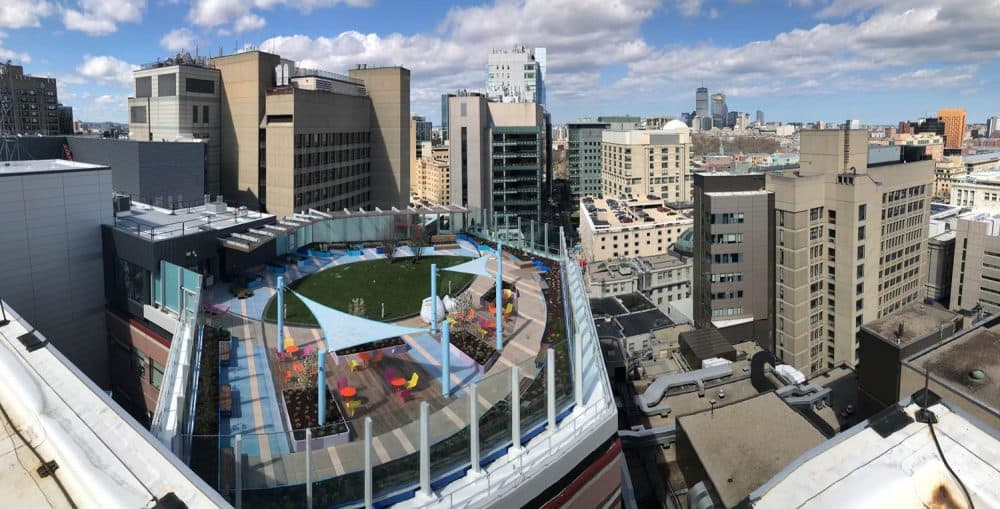 This article is more than 4 years old.
--------------------------
Boston Children's Hospital officially opened a new rooftop garden Tuesday.
The garden is one of several new green spaces the hospital promised when it demolished a beloved healing garden to make way for a new building.
The 8,000-square-foot garden, on top of the 11-story main hospital building, offers expansive views. There's a small sloped lawn in the middle and hard surfaces around it to allow for wheelchairs. Plant beds border the space, and there's a smattering of brightly colored seats and small tables.
Among those visiting the garden Tuesday was 11-year-old Diane Langguth, of Hull, who recently underwent a liver transplant. As she moved about the garden with her parents, Langguth said she liked the fresh air and little breezes. She climbed the tiny grassy slope to look at a statue of a frog.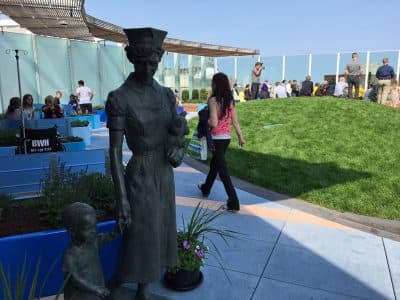 Several statues from Prouty Garden, including a life-sized nurse and child, and several animal sculptures once selected by the garden's benefactor, Olive Prouty, have been transplanted to the new space.
April Cohen, of Winthrop, sat with her 9-year-old son, Josh, who is fighting cancer. She said while it was very hot on the rooftop on this day, she and her son were happy to be outside.
Another mother walked by pushing her child in a wheelchair. A group of nurses sat at one of the tables holding a meeting. One of them, cardiac nurse Toni Imprescia, said while she will always miss Prouty Garden, she appreciates the new outdoor space.
Boston Children's Hospital President and CEO Sandra Fenwick told a small crowd gathered for a ribbon cutting that the rooftop garden is meant to be a sanctuary, "an oasis of peace, safely within Boston Children's but apart from the stresses of hospital life."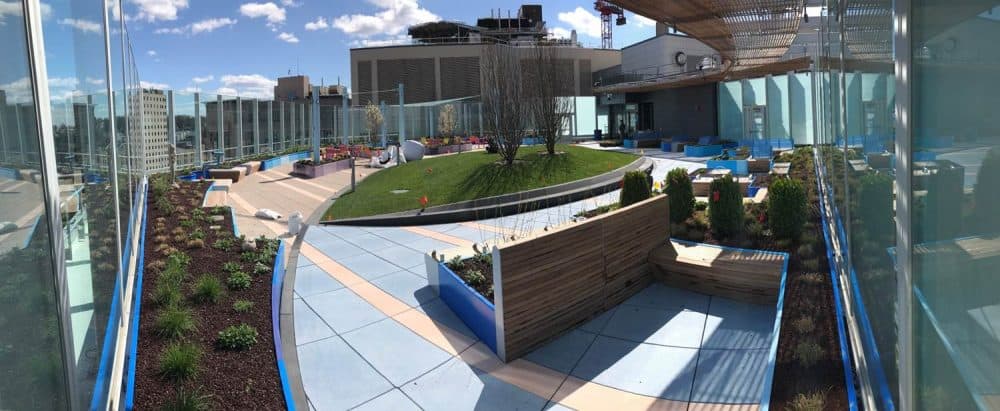 The demolition of the half-acre, ground-level Prouty Garden began in December 2016. Hospital officials chose the site as the location of a new $1.5 billion building, to be completed in 2021. The building will feature a neonatal intensive care unit to replace the existing one, which hospital officials call outdated. The new facility will also have a pediatric heart center and operating rooms. And it will allow the hospital to offer all private patient rooms, instead of having many that are double-bedded.
Gus Murby is one of the thousands of people who opposed the elimination of Prouty Garden, which was bestowed to the hospital in the 1956 and featured a 65-foot dawn redwood tree. Murby spent time in Prouty Garden with his teenage son when his son was being treated for leukemia. He took his son outside to the garden to die in 2007.
Murby hasn't seen the hospital rooftop garden in person yet, but after viewing pictures of it, said in an email that it doesn't appear the garden "even comes close to qualifying as a healing garden. It may turn out to be a well received outdoor dining area, though."
A statement on the Save Prouty Garden website reads, "... while it's wonderful that there is now a neatly manicured space for people to sit and eat lunch, enjoying nice views of Boston, there remains a massive and critical hole for a healing garden at BCH."
The hospital also plans a new 14,000-square-foot ground-level garden and some smaller indoor "winter gardens."