These Hip-Hop Relics, Joining UMass Archive, Show Boston Roots Of A Worldwide Phenomenon
Play
This article is more than 4 years old.
On a recent Friday afternoon in a sunlit mezzanine inside the Boston Public Library, Rob Stull unrolls a large poster and spreads it across a table.
"I like to try to inject humor into a lot of my own illustrations," says Stull, who designed the poster for Jam'n 94.5's Monster Jam at the Fleet Center in 2002. Hallowed hip-hop names — P Diddy, Jay-Z — are rendered in luminous colors across the bottom, but the piece is dominated by an illustration of a large, scowling gremlin, neon green with yellow spikes snaking down his back. The character is at once menacing, with glowing eyes and angry brows, and childlike, almost cute. He holds a record player in his lap and clutches an oversized pair of headphones.
"It looks like a ... playschool record set that a 5-year-old would play with, but he is so serious," Stull says, laughing.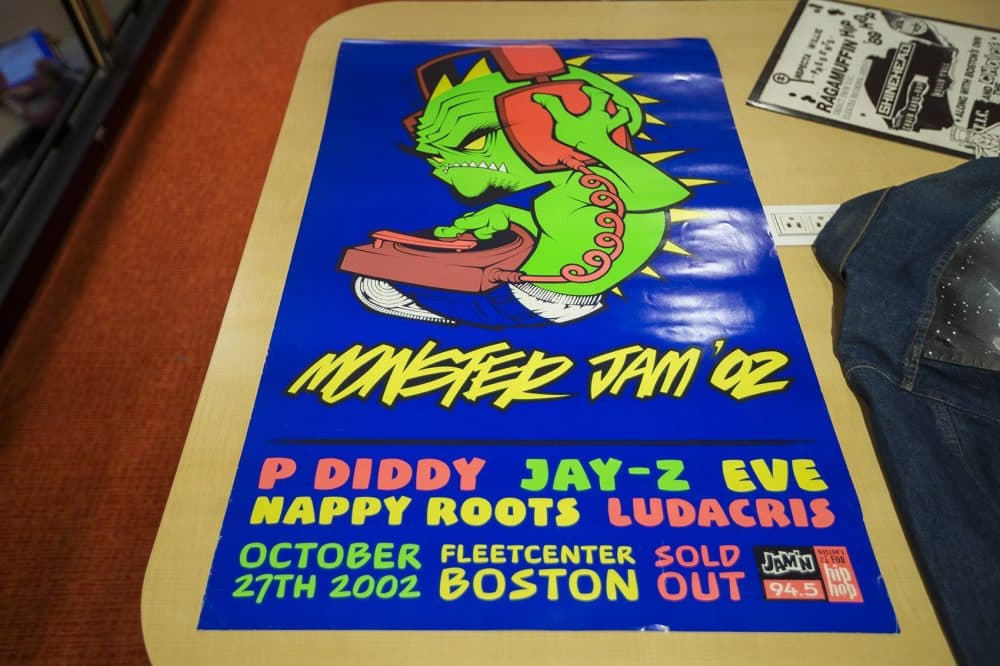 This Saturday, Stull plans to bring the poster, along with other relics of his youth, back to the Boston Public Library to be scanned and digitally archived. The event, titled "Show 'Em Whatcha Got," is part of UMass Boston's Mass. Memories Road Show series, an ongoing history project in which members of the public are invited to donate personal memorabilia to the university's archives. "Show 'Em Whatcha Got" is its "Hip-Hop Edition," and the images collected will be added to the Massachusetts Hip-Hop Archive, where they will be available to view for free on the UMass Boston website.
For Stull, who has enjoyed a decades-long career as an illustrator and graphic designer, revisiting his memories of Boston hip-hop also brings him back to his roots as an artist. Growing up in Brookline in the '80s, he was obsessed with Marvel and DC comics, and later incorporated the comic book aesthetic into his illustrations for hip-hop happenings.
Another one of his posters advertises an event at the Windsor Cricket Club in Dorchester in 1989. "Ragamuffin Hip Hop direct from N.Y.C." it trumpets by way of introduction to the "Elektra recording artist" Shinehead, whose reggae-inflected rap, dubbed "raggamuffin hip hop," made a splash in the '80s. A plethora of supporting acts crowds the bottom half of the poster, which touts appearances by Boston acts like the emcee T.I.C. and the breakdance crew the Choice Dancers.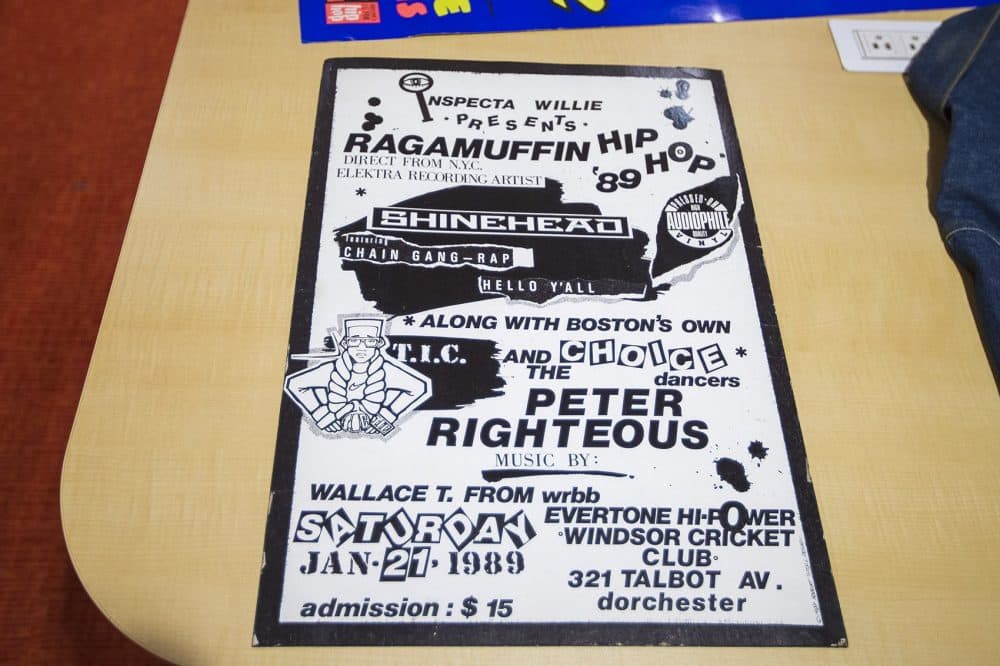 Looking at it now, Stull recalls how breakdancing groups like the Choice Dancers used to be a staple at hip-hop shows.
"Back in those days, in the clubs, you would go anticipating that somebody would clear the floor at some point, and form the circle, and people would start breakdancing," Stull, 50, says. "It was sort of intrinsic to the way we grew up, and it was an extension of our youth culture. When you think about all the cool things, and the trends and the eras, it's always young people that kick it off."
Stull flips through a binder and points to another one of his designs, which was used on a poster for "Guru's Jazzmatazz, Vol. 3: Streetsoul," the 2000 album by the Brooklyn-based rapper Guru, who pioneered the fusion of jazz and hip-hop. Guru grew up in Roxbury, and he and Stull ran in the same social circles. "He was cool," Stull says of the rapper, who died in 2010. "He was a lot more soft-spoken and laid-back than you would think."
Also spread out on the table is a denim jacket with a large purple rose painted onto the back. It was a custom piece, Stull explains, one of his earliest forays into entrepreneurship. He used to advertise his services in a friend's parents' T-shirt store.
"I must've been 14, 15 years old," Stull recalls. "I'm going straight from high school. Got a backpack full of books and homework, heading up to Coolidge Corner, Brookline T-Shirts and Jeans, and picking up whatever orders I had to fill. And going home, knocking out the homework as fast as I could to get to what I really wanted to do."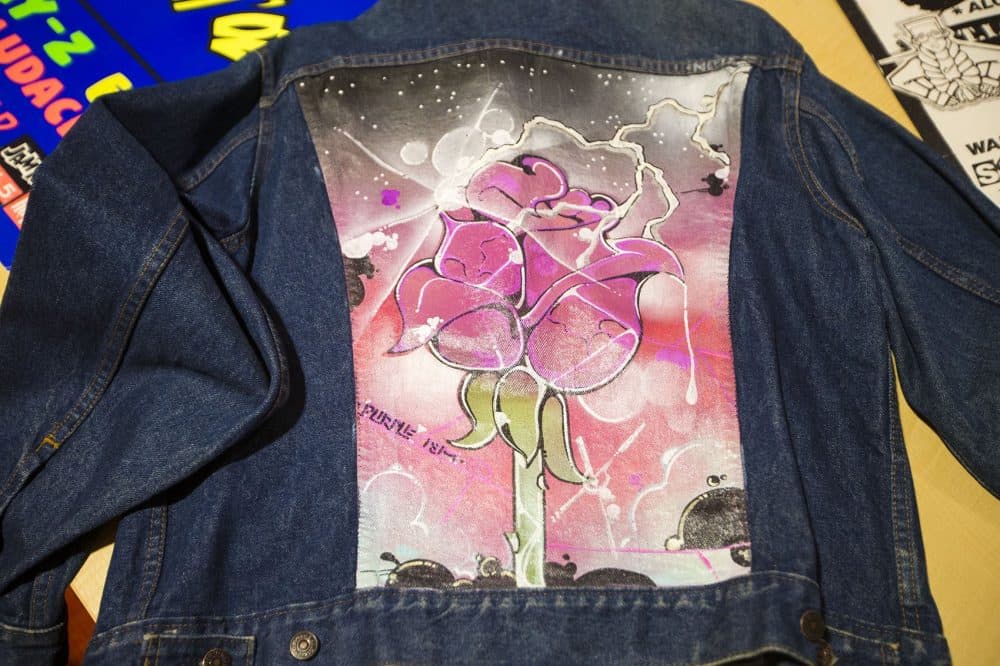 The rose has a monumental quality to it, licked by lighting as it sprouts into the heavens. The style, Stull says, was one he honed as a graffiti artist named Note: "I lived in Brookline, but I wanted my name not only all over the place in Brookline, I wanted it in JP. I wanted it in Newton, I wanted it in Roxbury, I wanted it in Dorchester. So oftentimes we would just walk. We would have a whole bunch of paint, and we would walk. I mean, I remember one time we walked from Dorchester all the way to Brookline, just hitting whatever we could."
Such walkabouts, Stull says, were part of a cultural movement that changed the course of history, and demonstrated young people's ability to innovate. Graffiti artists, like rappers and breakdancers, Stull argues, were just that — artists.
" 'I want people to see my art' — that's why any artist does what they do," Stull says. " 'What is the best and fastest way for masses of people to see my stuff?' Put it on a side of a subway train. That's genius, if you think about it."
And on Saturday, such youthful expressions of creativity will be enshrined in perpetuity — along with the memories that they carry. The Massachusetts Hip-Hop Archive will also be collecting oral histories from participants. "Being able to have your picture taken with whatever you're bringing, tell a story … and have it scanned" is one of the most appealing aspects of the project, Stull says.
"This is our legacy and we're given the opportunity to tell it in our own words. How often does that happen?"
---
On Saturday, May 19, the Boston Public Library is inviting Massachusetts' hip-hop community to share photos, objects and memories to be scanned and digitally archived for the Massachusetts Hip-Hop Archive.
This segment aired on May 18, 2018.