Franklin The Service Dog 'Provides A Real Calm' At Medfield School
Play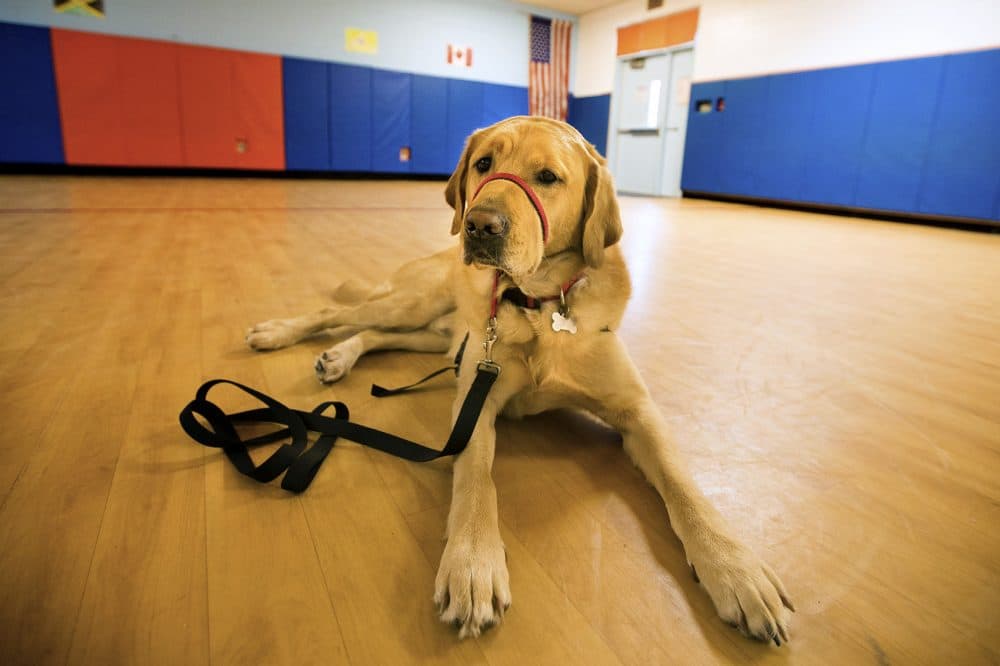 This article is more than 4 years old.
There's a celebrity at Ralph Wheelock School in Medfield. He has his own mailbox, he gets extra recess time, and he's Mr. Popularity.
His name is Franklin. He's a 3-year-old golden retriever-yellow lab mix.
Since Franklin came to the elementary school early last year, he's become a beloved fixture and a hard worker. He's a service dog. So when he's in school, he's on the job. He's at the school to calm kids when they're anxious and even soothe teachers who are having a tough day.
And he serves in ways his owner didn't anticipate.
"You know, I thought I had a good idea on the effect that he would have. But what I've learned through working with him every day and seeing him interact is his power is far more pervasive than I ever thought imaginable," says Kelley Kennedy, a special education teacher at Wheelock. She adopted Franklin from the service dog organization NEADS, in Princeton.
NEADS has placed dogs in 15 schools across the state. That's about 70 percent more assistance dogs than were placed five years ago.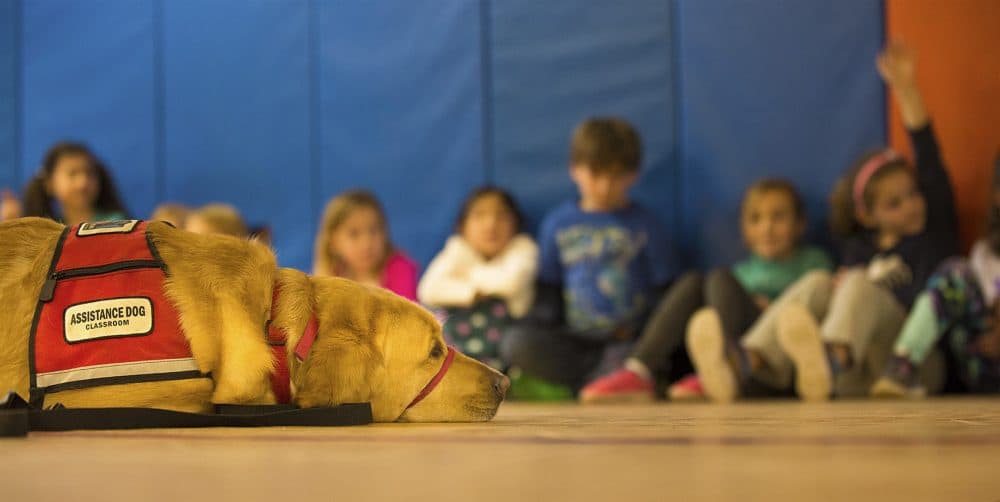 Franklin accompanies Kennedy to work every day, and the pair makes the rounds to various classrooms. On the day we visit they head to the gymnasium, where a class of second-graders lines up for some coveted Franklin time.
"Good morning everyone," Kennedy says to the kids.
"Good morning, Mrs. Kennedy!" they respond.
"I'm going to bring Franklin down the line so he can say hello to you." As Franklin walks by the kids, greeting them with licks, they giggle. "He kisses elbows, he kisses knees," Kennedy says.
Franklin seems oblivious to all the glee. After the greetings he lies down next to Kennedy, wearing his canvas canine cape.
"All the service dogs that you see, they wear these capes like Franklin has, to alert people to the fact that they are service dogs," Kennedy explains to the students. "And that is why we teach you and everyone in the community not to approach a service dog without permission. They are working very, very hard when they're out in the community. And they need to stay focused."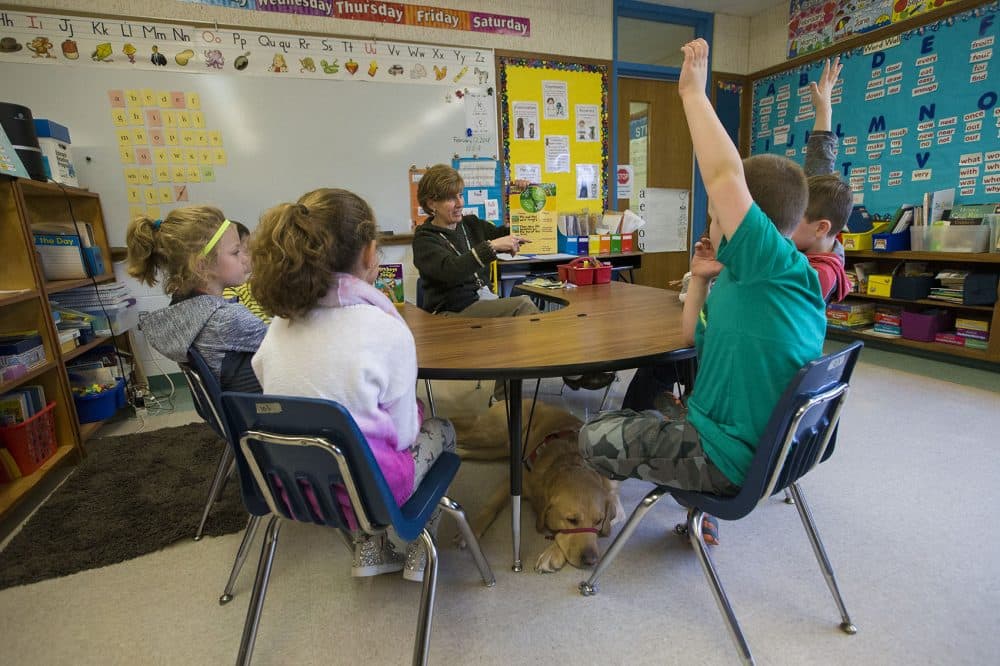 Franklin's duties are diverse. If a child is out of sorts, Franklin may gently lie across the student's lap. It's an instant tension diffuser. He escorts kids out of the building during a fire drill. He lazes under the table during group reading and math.
And, according to one second-grader named Cam, Franklin does something simply by being around: "Just make kids smile if they're in the hallway and they're like, 'Man, this hasn't been the best day.' And then if they see Franklin, they're like, 'Hey, Franklin!' And it kind of makes them feel a lot more happy, and, like, 'You know what? Maybe this can be a good day after all.' "
Franklin's even won over some of the more tentative kids.
"When I was littler, I used to be afraid of dogs because I thought they would lick me. I was afraid of them licking me," says one girl. "Franklin totally made a difference. And he's a very sweet dog."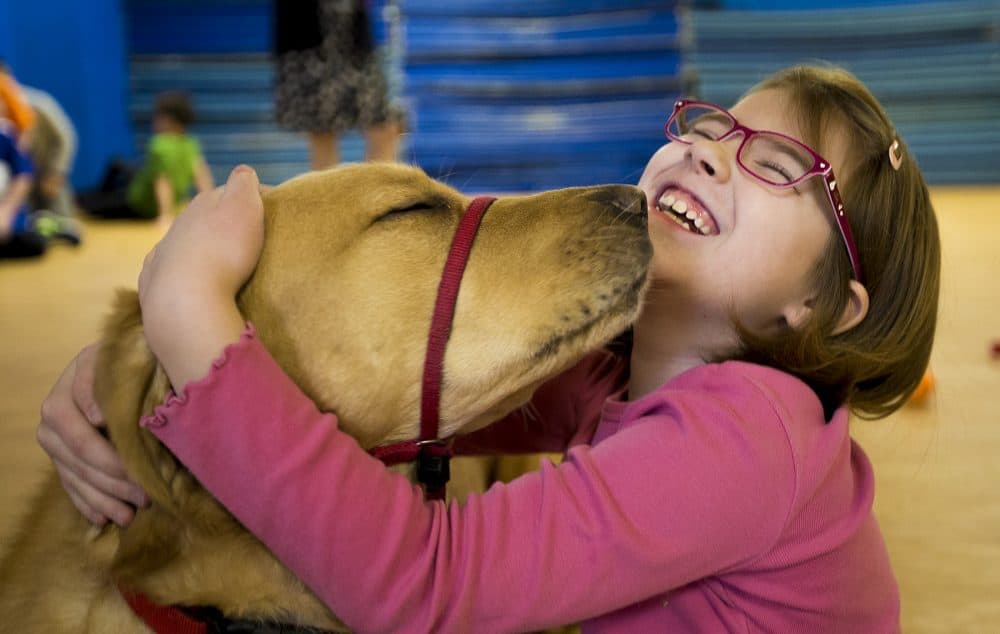 There were some concerns when the school was first considering bringing in a dog. A few parents worried about their children who have allergies.
School administrators say they've worked through that issue. Kids who are allergic to dogs don't touch or go near Franklin. But they do write him letters. He gets a lot of fan mail.
One of the dog's chief cheerleaders is Wheelock's principal, Donna Olson.
"I think we are seeing more anxiety in children today than we did years ago," Olson says. "Some of our children start the day very early; they go to before-school care, they go to after-school care. And, you know, for some it's a really long day. Some of them are tired. Having the service animal, I think in general, he provides a real calm for our school."
Service dogs can be expensive. Kennedy had to commit to raise $8,000 for NEADS. With the help of the school community, she raised more than $13,000.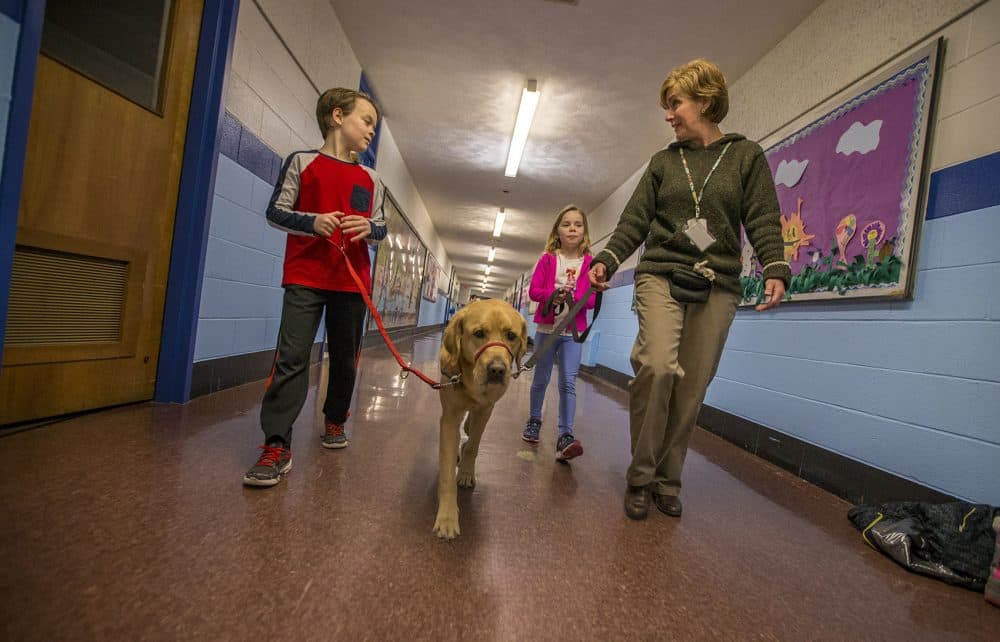 Kennedy assumes the cost of caring for Franklin. After school, when the day's duties are done, she takes off Franklin's work cape and walks him on conservation trails behind the school. That's his free time, when he gets to sniff around and be a regular dog again.
After that, she takes him home with her. He eats dinner and then, in her words, "pretty much collapses."
Kennedy says she's seen for herself the good that having a service dog at the school can do.
"I had a teacher call me because two of her students had gotten into an argument on the playground. So she asked if they could come down to spend some time with Franklin and talk it over," Kennedy recalls. "They sat with him by themselves and just patted him while they talked over their differences. And it didn't take long at all — less than five minutes — when they were both saying, 'Well I'm sorry I did this to you' ...  so that was a powerful moment."
Often, the school pooch's work is more lighthearted. Back in the gym, a lucky student gets to toss a tennis ball for Franklin. He scampers after the ball, fetches it, then stops short and wriggles on the floor for a good long back scratch as the kids erupt in laughter.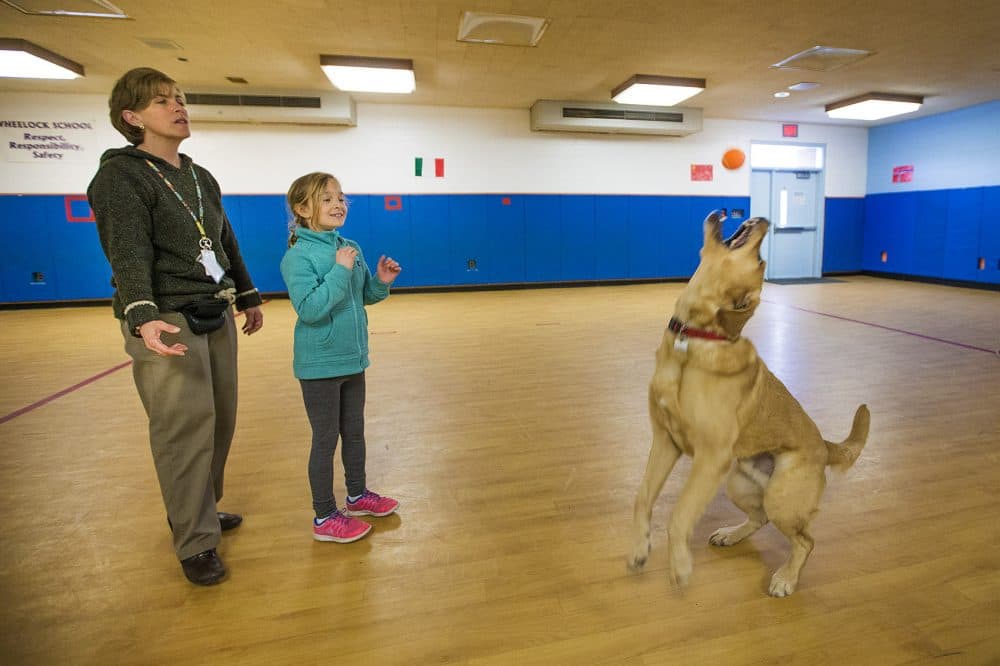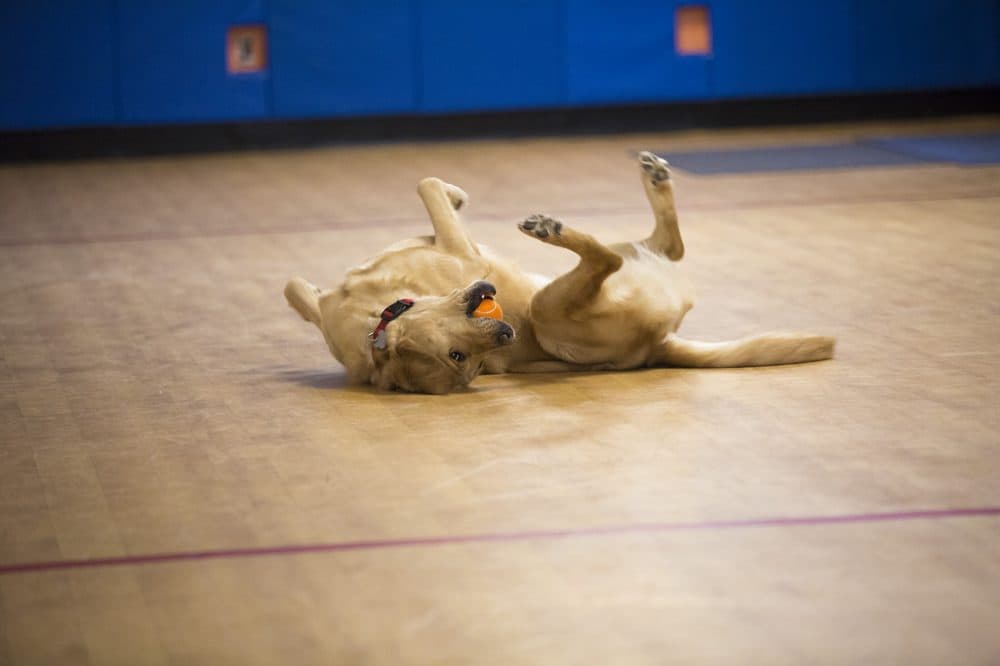 This article was originally published on May 17, 2018.
This segment aired on May 17, 2018.