Wheelock College, Soon To Merge With BU, Graduates Its Final Class
Friday marked a day of celebration and finality for Wheelock College's class of 2018.
The roughly 300 graduates were the last to leave with degrees from the small Boston college that has specialized in education and social services studies for the last 130 years.
Wheelock and Boston University announced in August that the two schools would be merging.
Proud families hooted, waved and applauded as their grads walked across the stage at Temple Ohabei Shalom, located just a short walk away from their now-alma mater. For some parents and students, Wheelock's final commencement before the merger has brought about mixed feelings.
As WBUR has reported, financial troubles — the likes of which have increasingly plagued small private colleges like Wheelock — prompted the school to enter merger talks with BU. The deal, which was finalized last October, allows all current Wheelock students in good standing to automatically enroll at BU in June.
During the undergraduate graduation, Wheelock Vice President of Academic Affairs Mary Churchill said the school's work will continue as it becomes the new Wheelock College of Education and Human Development at BU.
"It doesn't stop with this year," she said. "This is just the beginning of living out the Wheelock mission to improve the lives of children and families."
"People are very sad about losing that intimacy that small colleges give you, and yet there is a lot of opportunity and hope," David Chard, the school's president, said in an interview.
"In small colleges, the ability to advance new initiatives can often be limiting," he added. "This merger has included investments that will allow us to hire new faculty and expand some of the programs and work on new programs." The school, he said, will lose around half of its faculty and a little less than half of its staff. He said Wheelock will bring child life professionals and youth advocacy programs that he said "have not been a part of BU historically."
According to Chard, at least 300 undergrads and more than 100 graduate students will be continuing their studies at BU — though those numbers are still being tallied.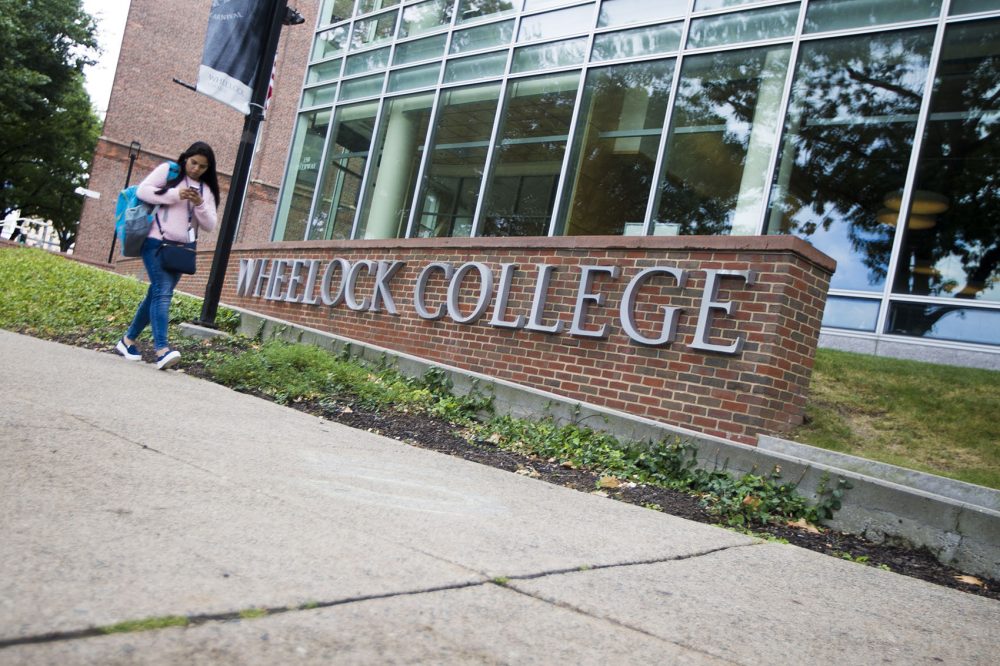 For Paula Correira, whose daughter, Alize Cabral, graduated with a bachelor's degree in human development with a focus in counseling psychology, the day was quite emotional. Tearing up, Correira said, "[I] had her shy, I was like, a few months from being 20, and it's just been a journey, so I'm so excited."
Correira said it was "bittersweet" that her daughter was among the last class to graduate with a degree from Wheelock, which she called a "great school, especially for kids that are interested in social services."
But she said BU is offering the students an excellent opportunity.
"If my daughter were to stay they were going to honor the same package that we had, so that was a good thing, and it wouldn't be hard for her to go back into BU to get her master's," she said. "They're a great school ... so it's not a bad thing. And it's a smooth transition, unlike Mount Ida [College] and what they are going through over there."
Sparking outrage among many students, their families and others, Mount Ida College — a small liberal arts college in Newton — announced abruptly last month it too would send off its final graduates this year. Just two days ago, the school closed on the sale of its 74-acre campus to the University of Massachusetts Amherst.
Amarielis Morales, 22, who on Friday morning received her bachelor's in juvenile justice and youth advocacy from Wheelock, echoed conflicted feelings about the merger.
"I'm honored to be the last graduating class of Wheelock College," she said. "... Because it was a small community, a small school, we really had close relationships with the professors and we were able to build on our strengths."
Morales said it's unfortunate BU does not offer a bachelor's in social work, an issue that's left some of her friends in a lurch. According to BU's student newspaper, more than 20 students in this situation will instead try to finish their degrees at Simmons College in Boston. BU does offer a graduate program in social work.
"Going through that mess, I know it interfered with them and their personal growth, and obviously it's a sudden change for them," Morales said. "And they're not going to be graduating with the same class that they came in with, where [at] BU, most of the students there are just all going together.
"I just really hope that we can keep Wheelock in ourselves, and keep that at BU."
Correction: This article has been updated to reflect that Wheelock College is primarily located in Boston, not Brookline. It has one campus building in Brookline. We regret the error.