The Lyric Stage Gives 'The Wiz' Some New Orleans Soul
Director Dawn M. Simmons doesn't just transport us to the magical land of Oz with her rendition of William F. Brown and Charlie Smalls' contemporary classic "The Wiz." She whisks the play itself into a still more magical realm, giving us a New Orleans riff on the show, delivering a Creole-infused, Zydeco-tinged fun fair of a production.
When Brown and Smalls brought their version of L. Frank Baum's fairytale to the stage in 1975 they didn't update it so much as re-imagine the story from an African-American perspective. The script is packed with clever (if often subtle) jokes, but it's the songs that define the show. From "Slide Some Oil To Me" to the strutting "I'm A Mean Ole Lion" and "Don't Nobody Bring Me No Bad News" to the show's signature tune "Ease On Down The Road," this two-hour production brims with humor and the cast power it with raw charisma. It's at the Lyric Stage Company of Boston through July 1.
You know the story: Dorothy (Salome Smith) is a girl on the cusp of young womanhood, a mixture of optimistic dreams and burgeoning self-possession. When a tornado strikes the family farm where she lives with her Aunt Em (Carolyn Saxon) and Uncle Henry (Damon Singletary), Dorothy's launched into a flight of fancy that brings her to Oz, a mystical land of fantastical creatures, including a living Scarecrow (Elle Borders), a man made of tin (Steven Martin) and an anthropomorphic lion (Brandon G. Green).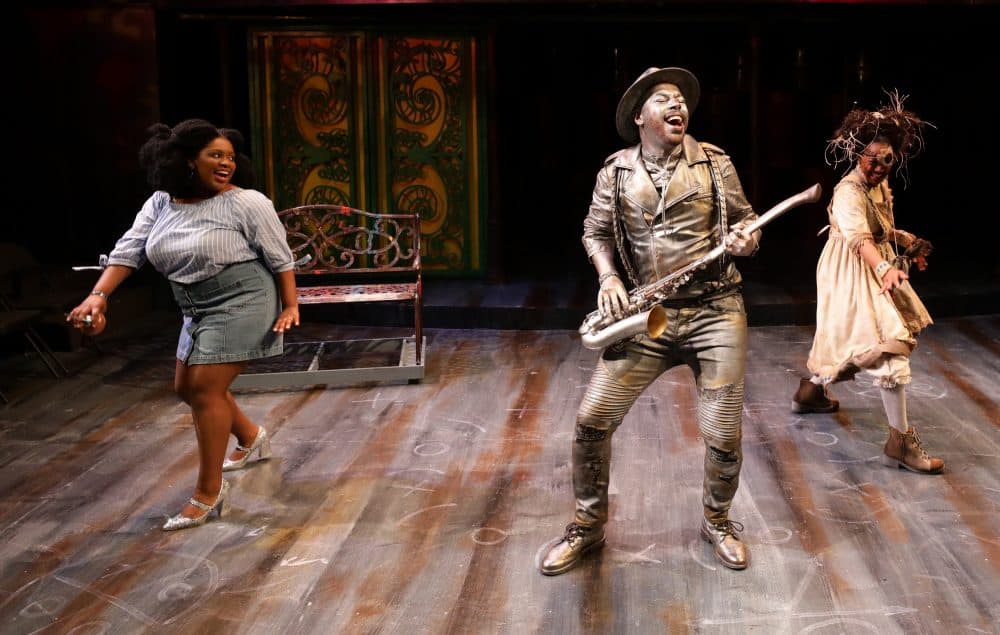 Dorothy and her new friends all have specific wants and needs. Scarecrow, who is more perspicacious than she realizes, yearns for a brain; Tinman, who used to be human, pines for a heart; and the Lion, who has a host of mommy issues, craves courage. They band together with Dorothy, whose own quest is to find a way to return to her family in Kansas, and the quartet make their way through perilous precincts to the Emerald City where they intend to petition The Wiz (Davron S. Monroe), a being possessing great magical power, to fulfill these requests. When The Wiz tasks the group with a questionable quid pro quo -- he'll grant their desires when, and if, they kill a feared rival, Evilene, aka the Wicked Witch of the West -- it begs the question as to whether the "great and powerful" Wiz might be less than he seems. But -- spoiler alert! There's a moral to all this! -- it also opens the door for our heroes to discover their own inner resources are greater than they had imagined.
It's both comic and telling that the magic in this wondrous land is of a rickety, hit-and-miss variety. Good witch Addaperle (Yewande Odetoyinbo) struggles with a crystal ball that's on the blink; she might be nothing more than a clumsy amateur parlor magician, though the glittery silver shoes she gives Dorothy seem to possess a certain power. Maybe it's nothing more than the glamor of a brand name, but the shoes have a way of intimidating foes and opening doors … including, when the time comes, the French-style gates to the Emerald City itself.
If the hocus-pocus wielded by the inhabitants of Oz seems a little dubious, there's no doubt as to the effectiveness of Simmons' vision to find the NOLA in Oz. Tinman is presented here as a literal ax man, carrying a saxophone that's been grafted onto an ax handle -- it's a splendid visual pun. When the Wicked Witch of the West (Odetoyinbo) dispatches her army of winged monkeys to abduct Dorothy and the others, what we behold aren't creatures with wings at all but rather voodoo priests dressed in black suits decorated white skeleton patterns. More helpful denizens of Oz wear African-inspired costumes of black and white, or else colorfully extravagant ensembles suitable for Mardi Gras.
By the same token, when it comes to the four main characters costume designer Amber Voner opts for designs that are more suggestive than literal. There are no prosthetics or complicated makeup effects, either; a daub of silver paint for Tinman, a tail pinned to the Lion and some straw-like strands woven into Scarecrow's hair tell us who they are and leave room for the imagination to play.
That approach informs the production overall and generally serves it well. Action scenes are sketched with lively, imaginative dance numbers; choreographer Jean Appolon captures the suspense and drama of confrontations between the good guys and their various nemeses (though one fight, between our heroes and the half-bear, half-tiger Kalidahs is utterly confusing: The energy of the piece and subsequent dialogue lets us know something big and dangerous just happened, but narratively it's unclear what that something was). Scenic designer Baron E. Pugh uses a stack of oil drums to convey bleak settings, ominous environments and magical lairs full of mystery.
One aspect of the play where a little too much is left to the imagination is the sound. The live orchestra is vividly audible, but the actors aren't miked and they often struggle to be heard above the music. Even the strong singers have a hard time -- and the show boasts some exceptional vocal talents. Less powerful singers are drowned out entirely (as happens when, here and there, we see a performer's lips moving but cannot hear the words at all).
There's enough audience participation here, in the form of invitations to clap along, that you might not mind this shortcoming. Plus, you can always hum along as you ease on down that road and bask in the theatrical magic Simmons serves up.
---
"The Wiz" continues through July 1 at the Lyric Stage Company of Boston.
---
Interested in theater? Join The ARTery's Facebook group convening our local theater community.