Mass. Selects Vineyard Wind For 800-Megawatt Offshore Wind Farm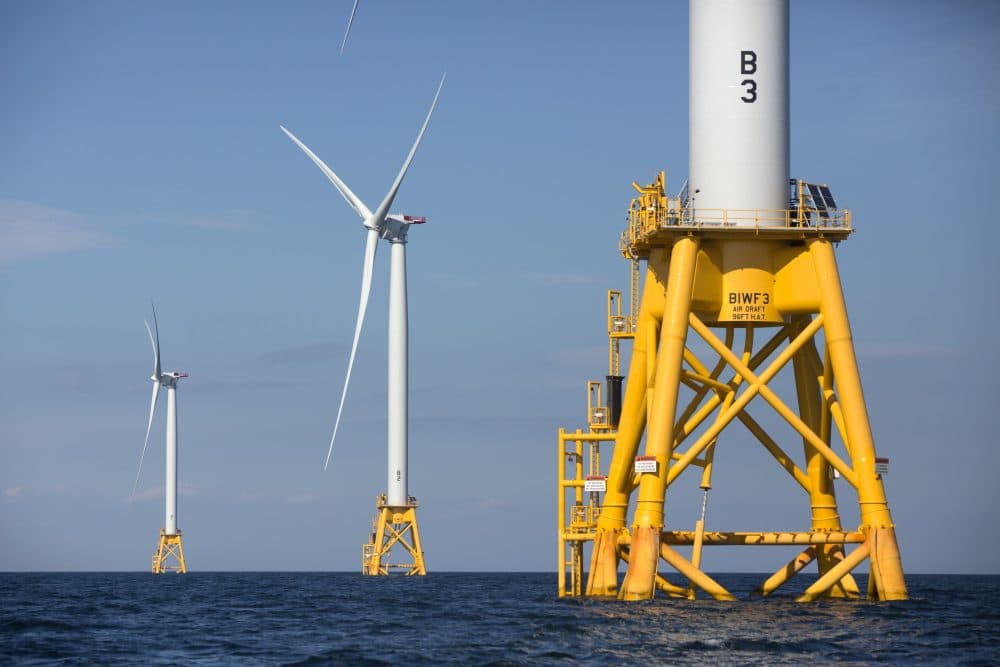 This article is more than 4 years old.
Vineyard Wind, a project backed by a Danish fund management company, has been chosen by the Baker administration and state utilities to build an 800-megawatt offshore wind farm off the southern coast of Martha's Vineyard, officials announced Wednesday.
The project beat two other competitors for the contract authorized under a 2016 renewable energy law that called for the procurement of major hydroelectric and offshore wind resources to help reduce the state's carbon footprint and deliver clean, cost effective energy to the region.
"Today's announcement brings the Commonwealth one step closer to achieving our administration's goals of creating a clean, reliable and cost-effective energy future for Massachusetts residents, and significantly reducing greenhouse gas emissions to combat climate change," Gov. Charlie Baker said in a statement.
Vineyard Wind has proposed to build its wind farm in waters 15 miles off the southern coast of Martha's Vineyard. The selection is contingent upon successful negotiations of a contract with Vineyard Wind, which is backed by Copenhagen Infrastructure Partners and Avangrid Renewables.
Current plans call for construction of Vineyard Wind's project to begin in 2019 and for the turbines to become operational by 2021.
Vineyard Wind beat out competing proposals from Deepwater Wind and Bay State Wind, which was a partnership between the Danish firm Ørsted and Eversource.
Deepwater Wind was chosen on Wednesday to develop a separate 400 megawatt offshore wind farm for the state of Rhode Island.
Baker administration officials highlighted Vineyard Wind's committment to locating an operation and maintenance facility on the Vineyard with funding for local workforce training, and said the company had also given a strong commitment to addressing the concerns of the fishing industry.
Officials did say that some consideration was given to spreading contracts across the three developers, but ultimately, after working with Rhode Island, Massachusetts chose to pursue the single project.
The 2016 law authorized Massachusetts to pursue 1,600 megawatts of offshore renewable energy, and officials said they expect to issue a second solicitation by next June in order to secure a second contract within two years.
With reporting by the WBUR Newsroom