'90s Alt-Rock Band Belly Is Back — And Playing Boston Calling
Play
This article is more than 4 years old.
It's been 23 years since Belly — the alt-rock band, not the rapper — released a new album. The group shot up the charts in '93 and was in heavy rotation on radio and MTV. Now Belly is on tour with new songs from the release, "Dove." The Rhode Island-born band is ready to rock this weekend in the city they're most often associated with at the Boston Calling Music Festival.
Singer and guitarist Tanya Donelly will never forget the moment Belly's debut album "Star" reached No. 2 on the U.K. Albums Chart.
"Sir Paul McCartney actually wrote us a note because he came in at [No.] 3," she recalled, smiling.
In the U.S., college radio DJs gave the album's single, "Feed the Tree," lots of love. The song's instrumentation buoys a catchy, confident chorus: "So take your hat off boy when you're talking to me, and be there when I feed the tree."
That kind of exposure helped land Belly gigs on network television with the likes of Jon Stewart and David Letterman. When that late night host introduced the band he joked, "I've just been told this is the No. 1 college band in the country, is that right? Bigger even than the Ohio State band?"
On a recent afternoon "Feed the Tree" — aka "FTT" — was listed among about 20 songs on a white board set list in the basement of Gail Greenwood's Rhode Island home. Belly's ranks sprung out of nearby Newport's hardcore scene.
The bass player affectionately dubbed the musty, but cozy rehearsal room the "Rock 'N' Roll Control Center." It's where Belly's other three members arrived to audition her back in the day when they needed a new bassist. (Yes, they came to her.) Greenwood jokingly says the only reason Belly chose her is because she had this space and a 12-passenger van.
The band's four musicians were game to play a pared-down version of their old hit:
Drummer Chris Gorman remembers the explosion of energy orbiting this tune in the early '90s -- with sold out shows, big venues, lines of fans around the block. He says a lot of Boston-area bands were also on the rise.
"And they were all gathering steam, it wasn't just like us and with a weird little spike — it was like a whole sort of wave of music was kind of happening," Gorman said.
Even though the musicians are all from Rhode Island, the band was claimed by Boston. "I mean, [it] didn't seem like it was a fight worth fighting," he said, laughing. Donelly said it felt like Boston was their "musical home."
Belly went on to play with other groups like The Cranberries, Radiohead and Oasis. The soundtrack of the '90s was fueled in many ways by the Nirvana-era, record label craze for signing the next big indie band.
"Anything that had slightly grungy guitars with a melody on top was considered indie rock," Tabitha Soren recalled. She was a reporter for MTV from 1991 to 1999.
"Courtney Love and Hole, people like Liz Phair and Tanya Donelly and Belly fit right into that," Soren told me on the phone from LA where she's now a photographer. "She was ripe for MTV."
Soren was already familiar with Donelly's poetic, fairy tale lyrics and ethereal voice from her time with Throwing Muses (which Donelly fronted with her step-sister Kristin Hersh) and The Breeders. But Soren said Belly had its own unique sound.
"You can't have a song with more hooks than 'Feed the Tree,' " she mused, "and the lyrics that went along with this very poppy but compelling, guitar-oriented song were also really smart. I loved the idea of someone having to 'take your hat off' when they are talking to Tanya. The song was full of attitude and feminism — and the way she articulated that line always made me stand up straighter."
Soren was also taken by Greenwood's energy. "Watching her play and do all this pseudo-heavy metal posturing while they're playing a melodic song was always super compelling to watch," she said. "I was never into shoegazers or people who didn't try on stage — and so many of the bands I liked were too cool for school in a live show — and Gail made sure Belly did not come across that way at all."
The fact that Belly was a 50-50 gender-split band powered by women was also attractive, Soren said.
Belly toured relentlessly, opening for major acts including U2 at the Paris Hippodrome in '93. Ultimately, though, the Rhode Island band's run didn't last long. They split in '95, not long after their second album "King" failed to meet record label sales expectations.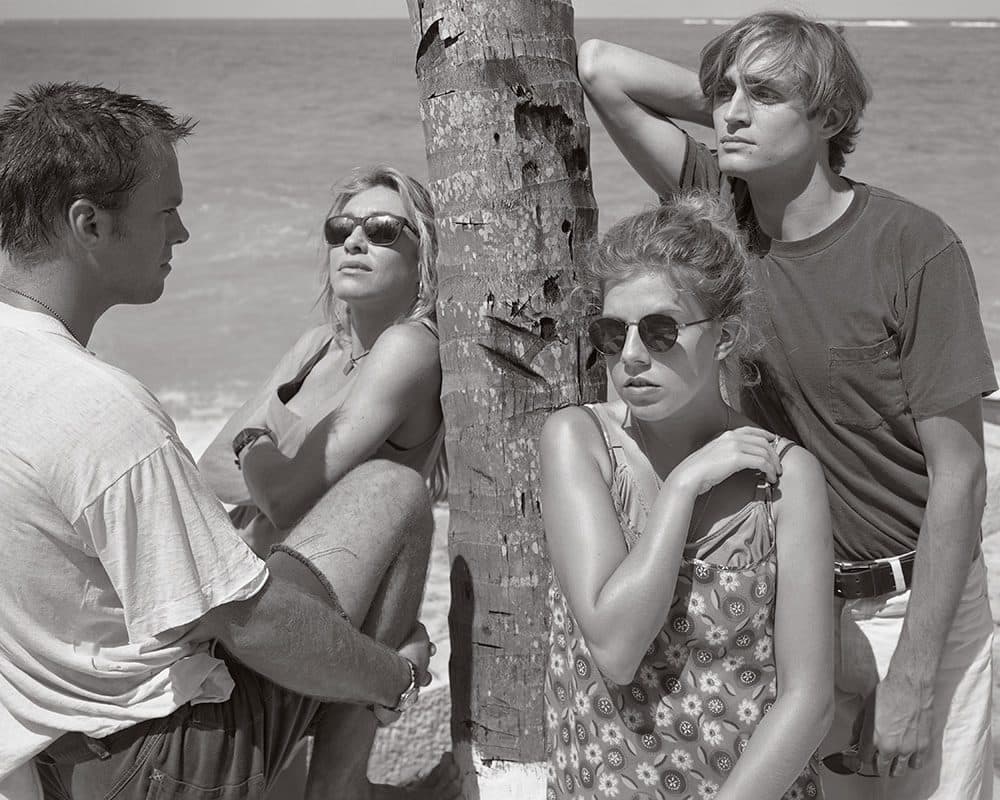 These days the musicians would rather talk about their reunion than the details of their long-ago breakup. They've stayed in touch over the years, sometimes playing together. They've raised kids and pursued solo projects. Among them: Greenwood embraced anti-sprawl activism. Chris Gorman wrote children's books. Tom Gorman is creating a permaculture farm. Donelly became a doula.
Then in 2016 the former bandmates felt like it was time to tour again. Fans responded enthusiastically to four new songs they wrote, and Belly was able to crowd source the funds for its new self-produced album, "Dove."
Independence from the record company system has been liberating for the crew. Guitarist Tom Gorman -- the drummer's brother — assembled and wove together the album's elements. He explained how he prefers a more polished sound (think The Beatles or Neil Diamond) over the deliberately lo-fi production style dominant in the '90s.
"Of course there's going to be a handful of people that are like, 'It's not edgy enough' or whatever," Gorman said. "But you can do anything you want."
The musicians were keen to collaborate on making this album and shared ideas and riffs via email. Donelly points to the song "Shiny One" as a prime example.
"Gail brought the chorus, and then Tom added chords and then I wrote the verse parts," she said, "and we kind of stitched them together. And then Chris' drums really informed where that song went."
Chris Gorman also crafted the video:
For Greenwood, the song started as a rail against patriarchy. Like, "enough dude," she exclaimed. "Mansplaining!"
"It turned into sort of the duality that comes with that," Donelly added. "You know, the fallen angel."
"Don't forget where you come from son," Greenwood continued, quoting the lyrics.
This song is one of 11 tracks the band is breaking out while on tour over the next six months or so throughout the U.S. and U.K. And then, they'll figure out what's next.
For now, though, they're happy to be a scrappy, "radically DIY operation" — as Tom Gorman called it — while they fit making music together again into their busy, mostly grown-up lives.
This article was originally published on May 25, 2018.
This segment aired on May 25, 2018.