Study: Out-Of-State Students With Lower Test Scores Admitted To UMass Amherst More
02:47
Play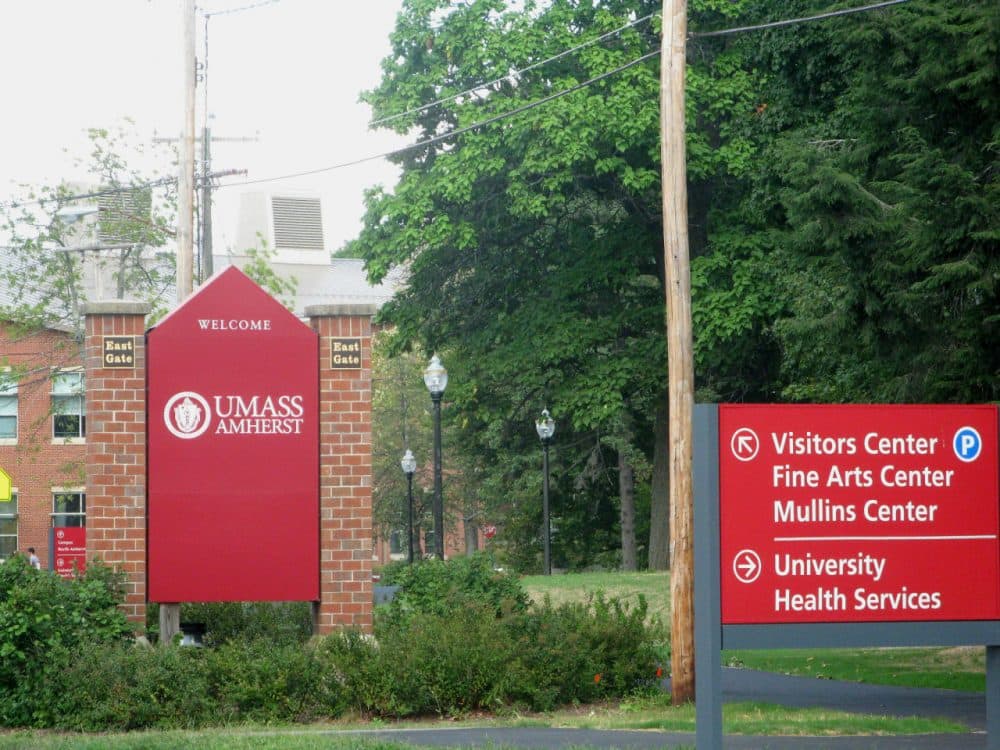 This article is more than 3 years old.
It's easier for out-of-state students to get into UMass Amherst than it is for in-state students, according to a study from the Pioneer Institute.
Since 2010, high school grade point averages and SAT scores for accepted students are lower on average for out-of-state students than for in-state students. The study also finds that in-state students admitted to UMass Amherst in 2016 had average combined SAT scores 23 points higher than out-of-state students.
It could be because Massachusetts students are simply better prepared.
"Massachusetts students no doubt are very well-prepared for SATs and for standardized testing in general," said Mary Connaughton, one of the authors of the study. "But the question is: Should they be penalized for being well-prepared? If their academic standards are higher than those from out of state, shouldn't they get first dibs on a seat at UMass Amherst?"
For students accepted as freshmen in fall 2016, the average GPA of an accepted in-state freshman was 3.97, while the average for an out-of-state student was a little lower at 3.78.
Out-of-state students pay higher tuition and fees than in-state students. And that helps UMass Amherst balance its budget. Connaughton recognizes that.
"Now we know there are financial incentives to have out-of-state students come to the school, because out-of-state students pay a lot more," Connaughton said. "Total costs for an in-state student at UMass Amherst is about $30,000 now, and for out-of-state, that's $49,000, so it certainly makes economic sense for the university to want to attract students from out of state to help fill the budget gap."
In 2016, out-of-state students made up 26 percent of the freshman class.
Ed Blaguszewski, a UMass spokesman, said in a statement Tuesday afternoon:
While the high quality education offered by UMass Amherst has made it a destination of choice for students nationally and worldwide, access and enrollment of in-state students has actually increased over the past 10 years. The number of Massachusetts residents has grown from 15,907 in 2008 to 16,798 in 2017. Our in-state enrollment in 2017 was 77 percent, higher than flagship campuses in a number of other states.

The university's enrollment of out-of-state students has increased as state support for UMass has stagnated. Today, the state appropriation accounts for only 21 percent of UMass Amherst's operating budget. Adjusted for inflation, the Commonwealth's spending on public higher education has declined by 14 percent since 2001, according to the Massachusetts Budget and Policy Center. In this same period, because the number of students has grown, the per-student spending has decreased by 31 percent. Massachusetts now ranks 43rd in spending on public higher education as a percentage of personal income.

Out-of-state enrollment is one way that UMass offsets this decline in funding. Of our 22,000 undergraduate students, UMass enrolled nearly 5,000 out-of-state students in 2017-18, which  produced a net revenue gain of approximately $136 million, providing significant funds for additional need-based aid for Massachusetts residents while enhancing educational quality.
State Sen. Michael Moore, co-chairman of the Legislature's Higher Education Committee, said if any preferential treatment should be given, it should be to in-state students.
"As it is, we have limited resources and those resources should be focused on our students," said Moore.
The Pioneer report finds that since 2008, the in-state acceptance rate at UMass Amherst has been lower than that for out-of-state students. It also finds that even as UMass Amherst is accepting more out-of-state students, fewer of those student choose to enroll, thus pushing UMass Amherst to accept less competitive students as it tries to increase its numbers of out-of-state students.
This article was originally published on May 29, 2018.
This segment aired on May 29, 2018.