In Her Netflix Show, Michelle Wolf Gives Us A 'Break' From All This News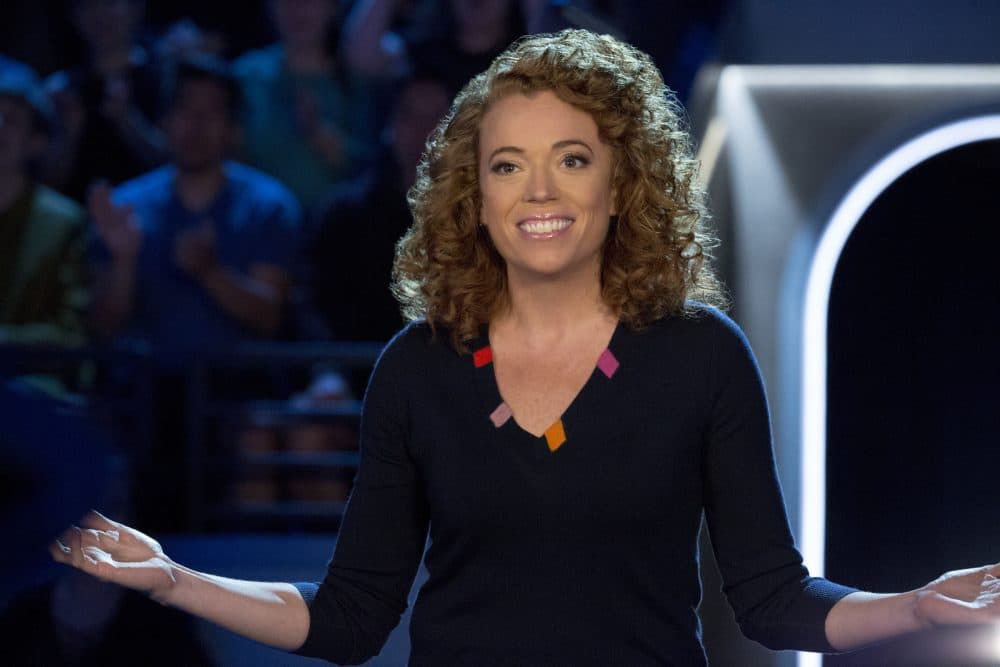 This article is more than 4 years old.
"Stick with it" isn't anyone's idea of a ringing endorsement, but when the "it" is "The Break With Michelle Wolf," patience is an easy virtue.
A month after her scorched earth campaign at the White House Correspondents' Dinner, where she dared to call Sarah Huckabee Sanders a liar to her face and indict the press for facilitating the goat rodeo that is contemporary American politics, Wolf's new variety show is available for streaming on Netflix. It's both the least likely and most appropriate home for her cheerfully corrosive comic style. Two episodes in (unlike every other Netflix series, this show is being doled out in weekly installments), there's bad news, and there's good news: The formatting is awkward enough to incite chagrin, but the jokes are so good, and Wolf's delivery is so on point, that nothing else actually matters.
Cut Wolf a little slack. Yes, "The Break" runs into glaring pacing issues in both its pilot, "Strong Female Lead," and its second episode, "Be Honest" — more so in the latter than the former. Wolf and her featured guest, Neal Brennan, have a bizarre, stilted bit of back and forth in the closing segment of the second episode. You get the sense that somebody on the other side of the camera is having technical difficulties, and if not that, then maybe she and he just aren't vibing well. There are kinks that need working out, wrinkles that need ironing.
More than a variety show, "The Break With Michelle Wolf" is a Michelle Wolf show. Like John Oliver, Samantha Bee or Stephen Colbert, Wolf satirizes the news cycle head on instead of circling around it with literal or figurative cartoonishness. She, like the rest of us, wakes up in the morning, reads the headlines and rolls her eyes at the unprecedented insanity we're living in. Unlike the rest of us, she also has a team of researchers, an argument she wants to make, an opinion she needs to put forth and brains enough to know that all she has to do is present the news as it is to achieve the comic effect she's after.
"Sometimes, the truth is even funnier than the joke," Wolf say to her audience during her opening monologue in "Strong Female Lead." The show, as she puts it, is literally a break: "I'm not going to try to teach you anything or discuss political policy with you. I guess I'm sort of like a cable news show in that way." There's an irreverence to Wolf her most devoutly silly peers lack, a feeling that she's embraced the possibility that we're living in America's end times and resolved to go out grinning ear to ear, excoriating racists, lambasting Roseanne Barr, poking fun at #MeToo and #TimesUp and ridiculing late night variety show tropes. There's nothing in life Wolf takes seriously.

Watching Wolf perform means watching a comedian who long ago deduced that life is a joke and has committed herself to laughing at it. The rest of us poor saps fruitlessly approach politics and pop culture with head-on sobriety. We're conditioned to anticipate the worst of our elected officials and our celebrities and each other. But that's where "The Break With Michelle Wolf" comes in. Wolf's anticipations are the same as ours, but she's adept at snarking her way through them. The world always threatens rain, but Wolf was born umbrella in hand. Nothing seems to trouble her. If it does, she's ready with a joke, whatever the subject: North Korea, Mario Batali, Ireland's abortion vote, or God forbid you get her started on Pompeii. ("Why are there still Pompeii archaeologists?" she shouts during her monologue in "Be Honest," bewildered there's anything left of the city worth excavating.)
How exciting this sounds to you hinges on how well you like Wolf. "The Break" has its objective flaws, but these are normal signs of a show's adolescence. They're also transitory. Eventually, I trust the production will find its groove. In the meantime, Wolf, at once self-deprecating and pointedly critical of anyone who pops up on her comedy radar, is a gifted enough comedian that the show demands our viewing.
Maybe you think her WHCD speech was in poor taste. Maybe you think she's disrespectful. Maybe you just can't believe that's her actual speaking voice, though if it's any consolation, neither can she. (It's one of the first wisecracks she makes after walking out on stage in the pilot episode.) But whatever you think of her, she stands out as one of today's most unique and increasingly essential comics. You won't learn much by watching "The Break" by design; you won't find out who really killed JonBenét Ramsey or who in the audience is having their own #MeToo moment, because darn it, they just keep running out of time! But you will laugh like a loon at her unflagging, earnest, charmingly caustic comedy.