Baker Administration Gets 'C' Grade On Environmental Efforts For 3rd-Straight Year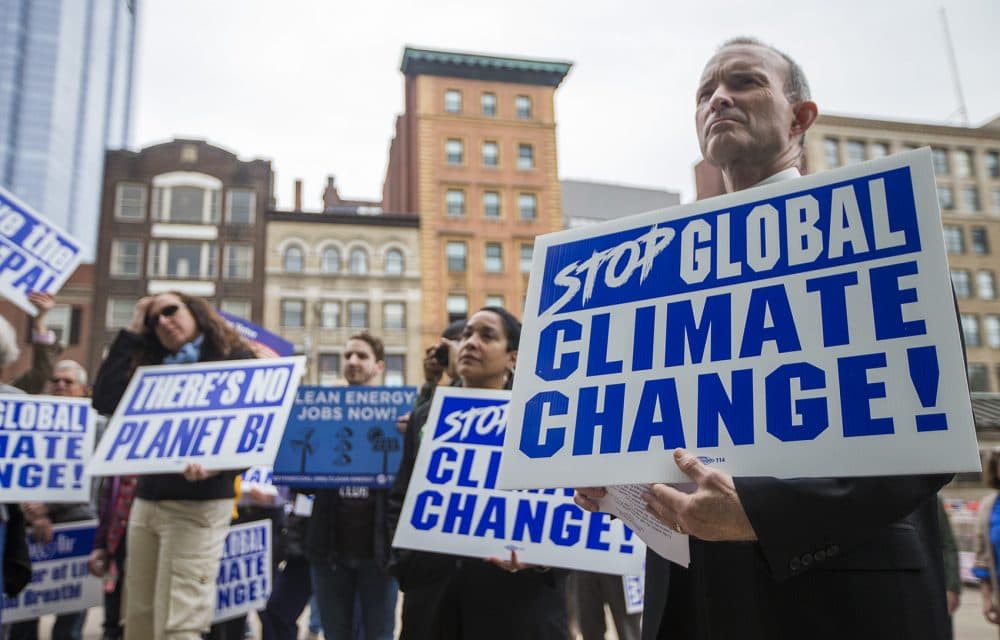 This article is more than 4 years old.
For the third year in a row, environmental advocacy groups in Massachusetts gave Gov. Charlie Baker an overall C grade for his administration's "lackluster" work on environmental issues.
It's the groups' third annual report. The report card, which was released Tuesday, evaluates the state's progress on a number of environmentally-focused metrics.
Individual grades were given on a range of topics. For example, the report gave the Baker administration an A for the state's commercial food waste ban, which was implemented in 2014. Although, the state simultaneously was presented with a C for its enforcement of waste bans, saying, "As was reported last year, MassDEP [Massachusetts Department of Environmental Protection] still has not hired dedicated waste ban inspectors to increase the diversion of these readily recyclable materials. As a result, waste ban enforcement remains stagnant, despite the best efforts by MassDEP staff."
The report also gave the administration an F on its attempt to transfer authority for water permitting from the U.S. Environmental Protection Agency to the state.
"In this last year of the Governor's first term, we remain disappointed that the Commonwealth is lagging in many areas where we should be leading," the report said. "While there is movement and even leadership in some areas, particularly around climate change and resiliency, much of the environmental agenda and EEA [Executive Office of Energy and Environmental Affairs] responsibilities are not getting the attention they deserve."
The report was issued by the Environmental League of Massachusetts, which worked with other groups to determine its findings, including the Massachusetts Rivers Alliance and the Massachusetts Sierra Club.
Nancy Goodman, with the league, told WBUR's Newscast that the state is not spending enough on the environmental budget.
"Our overall message is that we're not being ambitious enough and we're not seeing leadership," she said. "We're not seeing bold vision and that is something that we would expect from our leaders."
On Tuesday afternoon, the governor's office released a statement from Katie Gronendyke, press secretary for the EEA, that in reaction to the report said, in part:
The Baker-Polito Administration is proud of its nation-leading work on important issues like climate change, energy efficiency and conservation, in addition to recently securing the largest single procurement of offshore wind by any state in the nation. The administration looks forward to working with the Legislature and stakeholders to pass Governor Baker's $1.4 billion environmental bond bill before the end of session so that the Commonwealth can remain at the forefront of energy and environmental policy.
Read the full report card below:
This article was originally published on June 12, 2018.