Small, Private Mass. Colleges Seek To Avoid Mount Ida's Fate
Play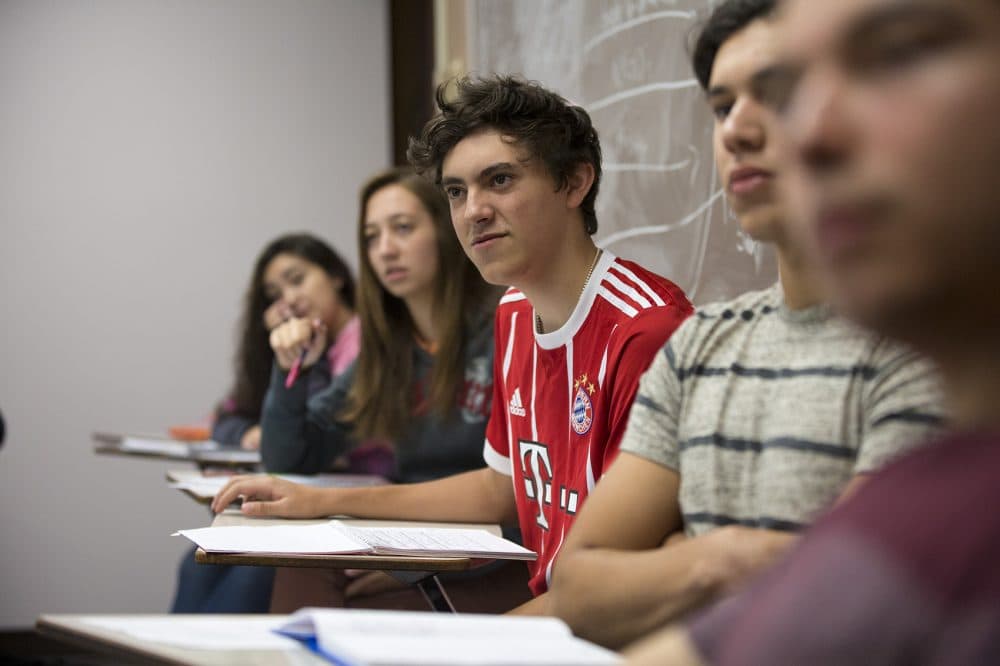 This article is more than 4 years old.
The day after Mount Ida College announced it was closing earlier this spring, President Barry Brown told an assembly on campus why.
"Over the past year we have tried to raise dollars to manage the college going forward," he said. "Those dollars include scholarships to each of the people here that come from this school of $29 million a year."
Brown said almost no one at Mount Ida was paying full price.
The college is not alone in offering huge discounts to nearly all students.
Mount Ida was awarding scholarships to more than 95 percent of its students. And on average, those discounts amounted to 58 percent of tuition.
But a lot of colleges have a similar profile.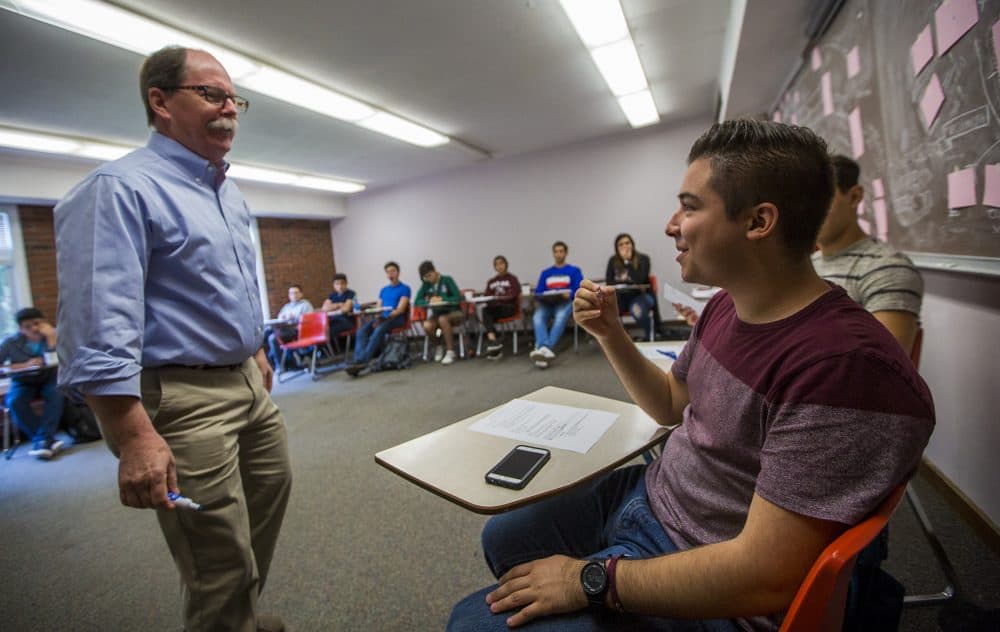 "They're tuition-dependent, and so they're dependent on enrollments in order to kind of fund their operations year to year," said Sabrina Manville, a co-founder of a Boston startup, edmit.me. It gathers data on how broadly and deeply colleges offer discounts.
The national population of college-age students is declining. That's particularly true in New England, and that matters — although we think of the region's colleges as attracting students from all over the world, most American students go to college within a few hours' drive of home.
Manville says small, tuition-dependent private colleges use similar strategies to stay afloat.
"And what they have done in order to incentivize students to attend is to play with pricing for different types of students," Manville said. "Sometimes that's based on the financial need of the student. Sometimes, it's merit scholarships, so that they can attract kind of academically gifted students that might not otherwise consider the school, but New England in particular has a lot of these small institutions."
On average, colleges in the United States are offering nearly a 50 percent discount on tuition.
In the Boston area, Manville says several small colleges discount tuition by half or more and offer some kind of discount to nearly all undergraduates.
"Curry College, Lasell College and Pine Manor, Simmons," Manville said. "All of these have discount rates of over 50 percent, and are giving discounts to 95 percent-plus of undergraduates, which is a similar profile to what Mount Ida had kind of reported in their data."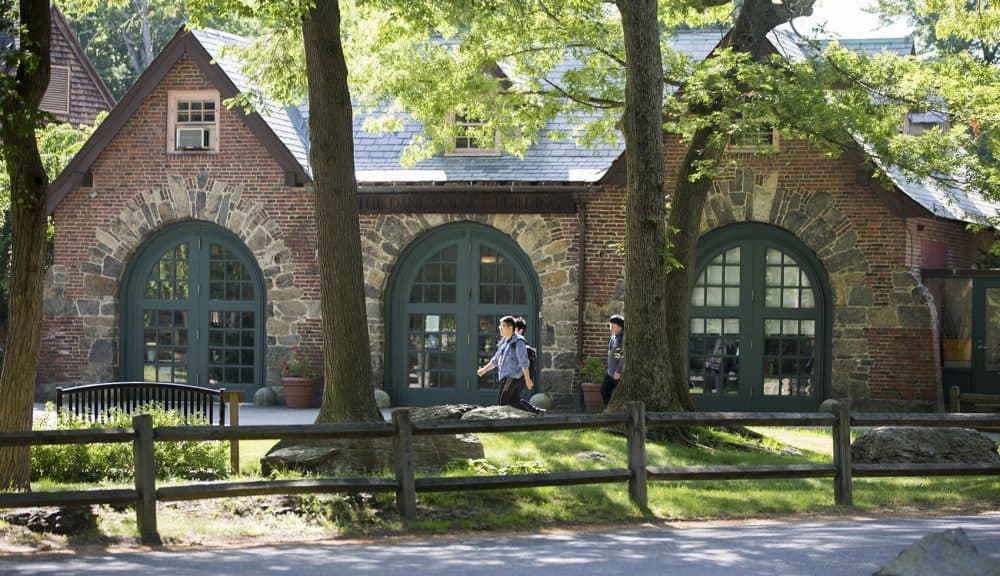 Curry confirmed that it offers, on average, a 53 percent discount on tuition, and offers some kind of aid to 95 percent of its traditional undergraduate students.
Lasell, Pine Manor College and Simmons College say their business plans are so different from Mount Ida's that they are on a much surer financial footing.
Among the graduating Simmons seniors in May was Kathleen Melendy. She said she had wanted a women-centered college. She applied to all of them. Simmons offered her the most aid.
"It was at least $20,000 more than any other school," Melendy said.
In July 2008, when Simmons's president, Helen Drinan, took over, the global financial crash had begun.
"We didn't have the cash in the bank to meet payroll," Drinan said. "We had to draw on our line of credit, which gets resolved as soon as tuition comes in a couple months later, but that is what it is to be a tuition-bound college. You have to really pay attention to your cash flows and how you are spending your money."
Drinan soon discovered that Simmons had what she calls a series of calamities.
"And as I began to dig in, I realized that we had actually been losing money on an annual basis for at least the last three years, to the tune of about $30 million," Drinan said.
Drinan found tuition was not covering expenses. She laid 72 people off. She faced pressure to offer discounts. She found out accepted undergraduates would walk into the admissions office asking if the college could beat the other offers they'd received.
Drinan turned to graduate education for revenue. Simmons was already famous for its graduate programs in nursing, social work and library and information science. In 2014, Drinan says the college started offering online programs in nursing, social work and some smaller programs.
"To the point where we now have a larger revenue base in online graduate education than either undergraduate education or traditional on-the-ground education, and that is what is called diversifying your revenues," Drinan said.
Simmons has 150 graduate students in its nurse-practitioner program on campus. In the same program, it has 2,000 students online across the country.
The college has also been leasing its valuable real estate to the Harvard School of Public Health and Children's Hospital. And that, Drinan says, has made all the difference.
"I think the magic in a college today is to remember that it is a business," said Pine Manor's president, Thomas O'Reilly. He has been diversifying that college's sources of income.
"The wise college president, the wise college will say: 'What else do I have to offer?' " O'Reilly said.
Traditional undergraduate tuition and room and board only make up a third of revenue at Pine Manor. The rest comes from international students, dorm room rentals to other colleges, large donors, renting the campus for special events, a daycare center, a graduate program in creative writing and English-language classes.
Pine Manor is counting on diversification to make itself sustainable.
Lasell College is adopting a similar approach.
"It's absolutely important that every small college in particular have other sources of revenue other than just tuition, room and board," said Lasell President Michael Alexander.
He explains that 83 percent of the college's revenue still comes from tuition, room and board, but other sources of income are being added to the mix.
"We have two early-childhood education businesses that serve the community and make money, and most importantly, we have Lasell Village, which we own and operate, which is a continuing-care retirement community," Alexander said.
The college also hopes to keep more students after their freshman year by offering a program that promises that tuition will decrease with each succeeding year. By keeping the students, it assures itself of continuing revenue.
Lasell, Pine Manor and Simmons are very different colleges. But their presidents agree that in an age of declining college-age population, all but the wealthiest colleges have to find new sources of revenue.
This segment aired on June 15, 2018.