WBUR Poll: Most Mass. Voters Would Pay Higher Taxes To Support Local Schools
Though Massachusetts public schools regularly rank as top in the nation, a clear majority of the state's voters believe they need improvement, according to a new WBUR poll (topline results, crosstabs) out Wednesday.
And the survey, conducted in late May, also shows most voters favor spending more on public schools, even if that requires local tax increases.
Seventeen percent of the voters polled said Massachusetts public schools "have serious problems and need a major overhaul." The majority of respondents, 54 percent, said the state's schools "have some problems and need to make some moderate changes." Only 21 percent indicated they believe schools in Massachusetts either "have few problems" or "are functioning well overall."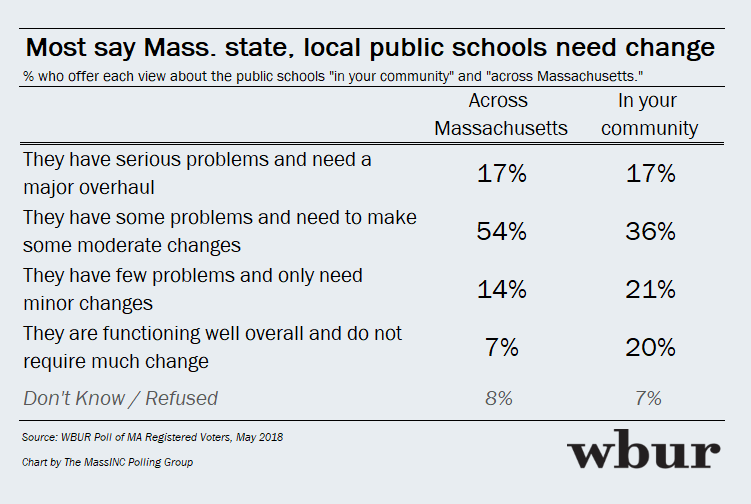 About 4 in 10 voters said schools in their own communities have neither improved, nor gotten worse, in the past five years. Forty-nine percent said their local schools had "stayed the same" over that period.
"Voters typically tend to rate things closer to themselves better than they rate things further away," said Steve Koczela, president of the MassINC Polling Group, which conducted the survey for WBUR.
That's true in this poll, but Koczela said "we found a pretty big appetite for additional changes and additional addressing of the problems that people perceive." Fifty-three percent of voters classified schools in their own communities as having either "serious problems" or "some problems."
A majority of Massachusetts voters want more funding for public schools.
Fifty-nine percent of the voters surveyed said the state spends too little on education. Only 5 percent believe the state spends too much money.
And voters are willing to pay higher taxes to support their local school systems. Fifty-five percent said they would support increases in taxes in their communities to "significantly increase" funding for local schools. Thirty-four percent said they would oppose increased taxes.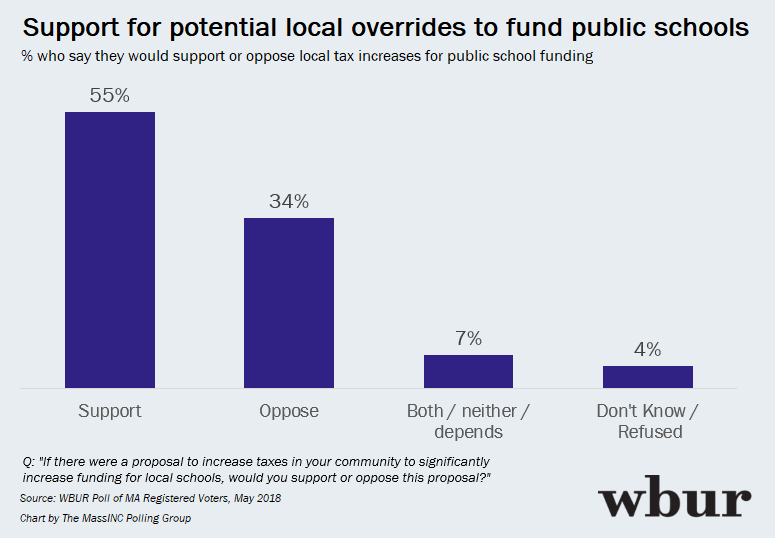 It should be no surprise, pollster Koczela said, if schools become a major issue in the fall elections in Massachusetts.
"Education is something that in any period will bring passions to the surface among parents and people who care about everything from children to the future of our economy," he said. "Public education is something that candidates will look to address."
A proposal to lift the cap on the number of charter schools in Massachusetts was soundly defeated nearly two years ago.
But that does not mean voters object to charter schools. Only 19 percent of voters polled said they want to see a decrease in the number of charter schools. Forty-three percent indicated the number should remain what it is now, and a quarter of voters said they want more charter schools.
The live telephone survey of 501 voters was conducted May 22 to 26. It has a margin of error of 4.4 percentage points.
Join our Facebook group to continue the conversation with other parents, teachers, administrators and WBUR's education reporters.