Remembering Ryles, A Storied Jazz Club That Lit Up Inman Square For 40 Years
Resume
It's a Thursday night at Ryles Jazz Club in Cambridge. The bar's fleet of little cafe tables is full, but its small stage is overflowing, a tumult of brass crammed amiably into three rows. Greg Hopkins, a trumpet-playing septuagenarian with a shock of white hair, darts from his spot with the band to conduct the group in the final strains of a boisterous big band number.
"This is the Greg Hopkins Jazz Orchestra, live," he says, surveying the crowd. "Thank you for coming. Everyone comes out for a funeral."
This is Hopkins' last hurrah before Ryles closes at the end of June. The Inman Square club, a storied jazz destination and popular spot for Latin music and dance, is shuttering after 40 years in business.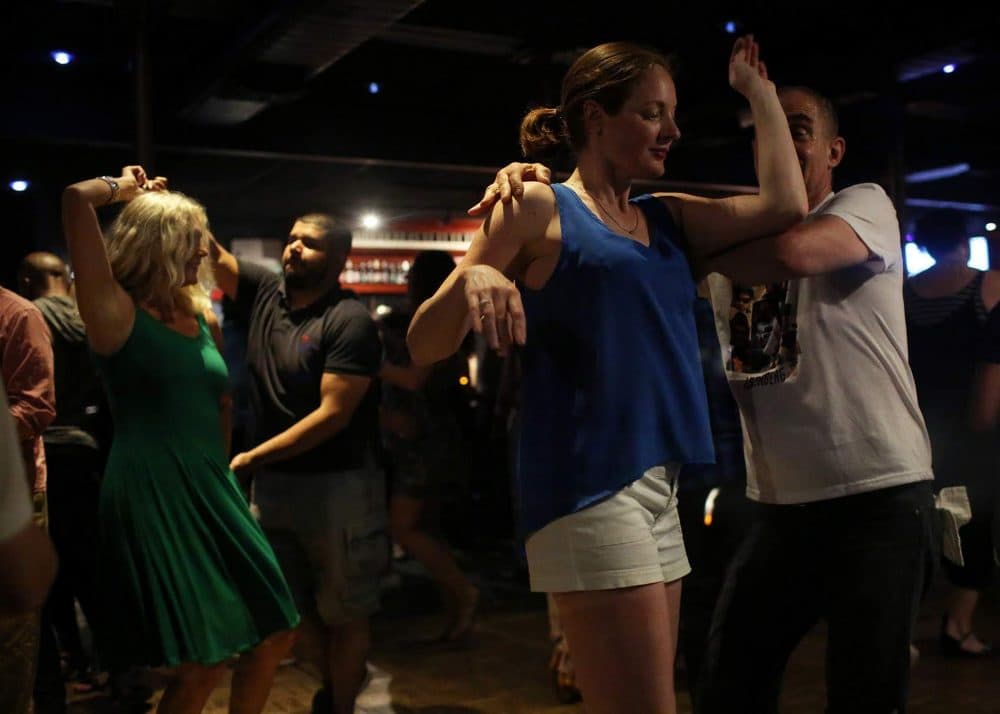 Hopkins has been playing there practically since it opened in the '70s.
"It was a little like a New York bar," Hopkins recalled in an interview in June. "Yeah, it was a nice place to hang. That's when people used to go out more, and drink a little bit, and eat. And they weren't afraid to spend time."
With that time, you could catch some of the best players in jazz: Arturo Sandoval, Randy Brecker, Pat Metheny. For Hopkins, there was no substitute for seeing such performers in a neighborhood club like Ryles.
"You get to hear these great people live, and I think live music is the only place I like to hear music," Hopkins says. "You get the mistakes — and all the brilliant ideas. In a club you can feel their humanity, you feel their soul."
Ryles opened in the mid-'70s, the brainchild of local club owner Jack Reilly. When Reilly died in 2016 at the age of 98, he had long since parted ways with Ryles. But during the two decades he ran the club, he established it as a place for young players to get their start. One of those musicians was Dominique Eade, now a voice instructor at New England Conservatory.
"He was windswept gray hair and khakis and a faded, bluish button-down shirt. He was quintessential New England, in many ways," Eade says of Reilly, who gave the singer her first regular gig in Boston. "I do sometimes remember him, if we were getting a little bit too loud, being in the back of the club waving his arms — 'down, down, down' — in the middle of someone's solo."
Reilly was a well-known figure in Cambridge nightlife, having run the rock club Jacks on Massachuesetts Avenue in the '70s and Club Casablanca on Brattle Street before that.
"He loved a good time, but he was not the best businessman in the world," says Rick Bogaert, a Ryles bartender since the early 1990s.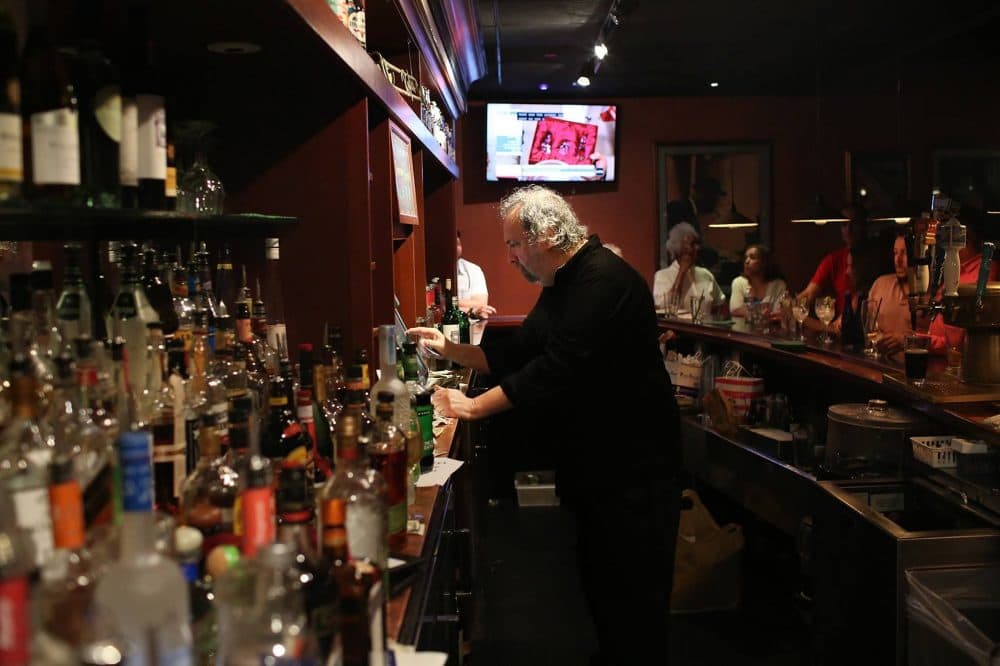 "When I got here, he was going broke," Bogaert continues. "He owed the employees, I think, five weeks back pay before they were going to see a check. But they all worked for him because they had such a good time here."
Not long after Bogaert arrived, Jack Reilly sold the business to the owners of the S&S Restaurant across the street. They've seen Ryles through the last quarter of a century, keeping it afloat with dance nights, private events and the ever-popular brunch. But in recent years the club has struggled to attract much of an audience for jazz.
"We'd have 25 people here for Jerry Bergonzi, who's one of the best saxophone players in the world," Bogaert says. "Or, you know, we'd have a great jazz quartet and I'd say, 'Wow, these guys are killing it' — and you'd look around, you'd see eight old men sitting there watching them. It breaks your heart."
When Ryles went up for sale earlier this year, it ignited a small controversy. A restriction on the deed prohibited a music venue or restaurant from taking its place for the next 30 years. Some speculated that S&S wanted to quash potential competition. Ryles owner Gary Mitchell would not be quoted for this article, but he did tell me that the deed restriction was part of an agreement he made with his family members years ago.
Bogaert says it's an understandable, if disappointing, move. "If I were a businessman in this neighborhood, and my business was everything to my family, maybe I'd put the same kind of restrictions on things, too."
But the deed restriction has left others with a sour taste.
"I hope it works out for them, but it's too bad to put such a damper on the possibility of having that square get lit up again," Eade says. "I mean, Lilypad and Outpost are there, and that helps, but they're smaller venues and they don't have the same kind of vibrancy that those bigger clubs had."
The club's continued vibrancy is thanks in large part to its three weekly Latin dance nights. "There are a lot of really great salsa events in Boston, but they don't feel like like what we had at Ryles," says Rob Timmins, aka DJ Rob Suave, who runs Salsa Sundays at Ryles and DJs for many of its Latin dance events. "Ryles was intimate and connected in a way that is different than you get in most of the other places."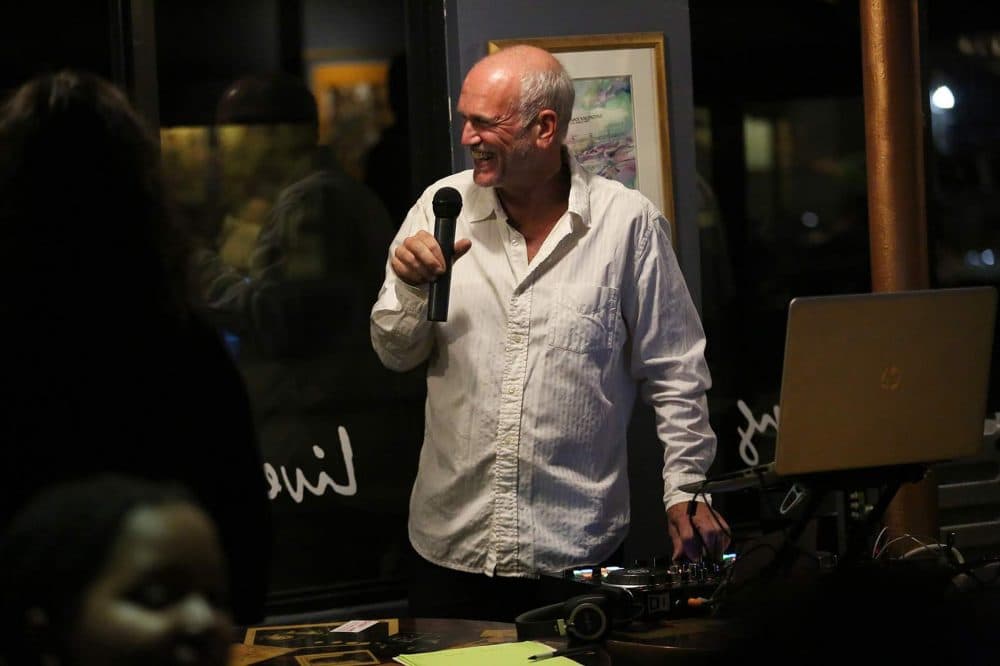 That intimacy was on display on a recent Salsa Sunday in June. The tables had been cleared away to reveal a shiny parquet dance floor. Timmins flitted from his spot behind the DJ console to take money at the door, weaving his way through the loose throng of dancers. Ana Masacote, a dance instructor with a mass of curls and an electric smile, watched from the sideline, nursing an injured ankle. She started coming to Ryles 18 years ago, soon after she moved to Boston.
"The minute that I walked through the door, I would just see all these bodies roaming around the room, and dancing, and having a good time," Masacote recalled in an interview later that week. "And it was just contagious, it was this contagious energy."
That welcoming feeling can be hard to come by in Boston, Masacote says, especially for people of color. "A lot of people of color, when they come into the city of Boston, usually have a very hard time getting acclimated to the city, and finding what they love about it and feeling that they're connected with other people of color," she says.
But at Ryles, Masacote has seen an inclusive community flourish.
"It's just such a diverse community, and it attracts such a beautiful group of people who really just want to dance," Masacote says. "So I have a lot of friends that will come into … our community, and say, 'Ah, I feel at home.' Because it's home for everybody."
The salsa community will certainly feel Ryles' absence when it closes. Fledgling jazz musicians will lose a welcoming venue to hone their craft. And the flavor of Inman Square will lose just a little bit of its character, its charm.
Still, Masacote remains hopeful. After all, clubs come and go. But lovers of the arts always find spaces to make their own.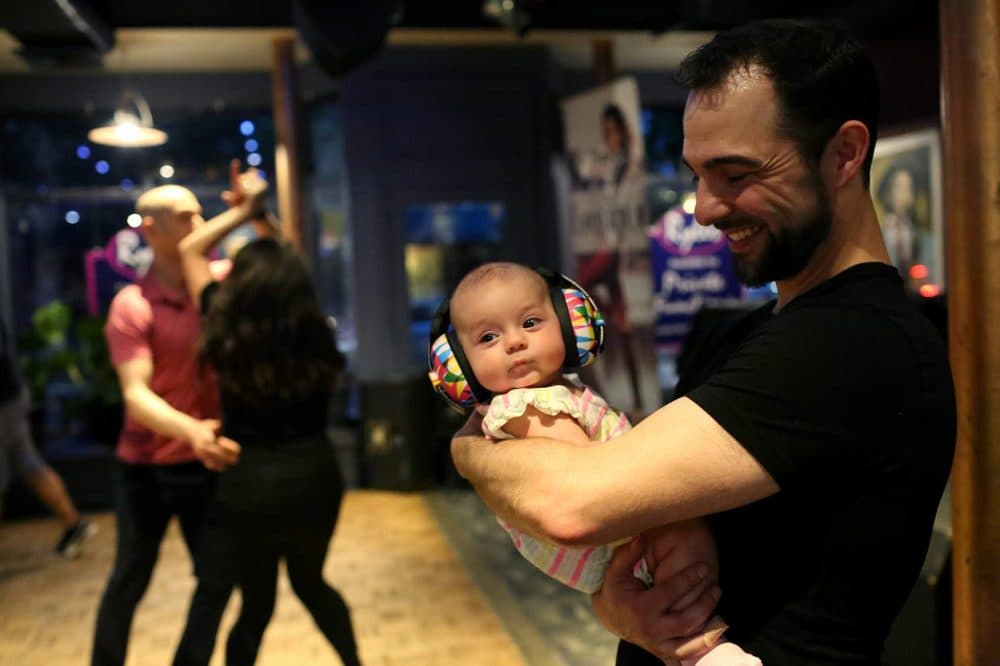 Correction: An earlier version of this post misspelled Rick Bogaert's name. We regret the error.
This article was originally published on June 29, 2018.
This segment aired on June 29, 2018.