Kavanaugh Nomination Draws Wave Of Opposition In Massachusetts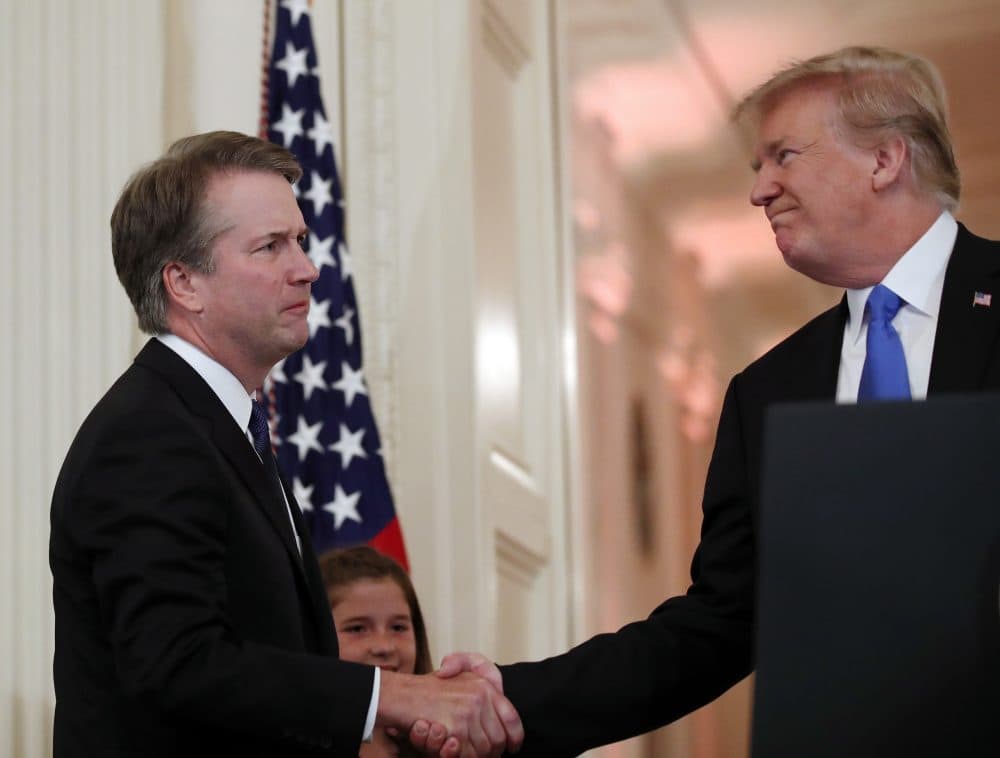 This article is more than 4 years old.
President Trump on Monday nominated Judge Brett Kavanaugh to fill Justice Anthony Kennedy's spot on the Supreme Court, immediately triggering waves of support and opposition around the country and mostly condemnation from public officials in Massachusetts.
Kavanaugh, 53, was once a clerk for Justice Kennedy, and also served as White House Staff Secretary under President George W. Bush. He served as a judge on the D.C. Appeals Court after being appointed by President Bush in 2003. Like the president's addition to the Supreme Court last year, Justice Neil Gorsuch, Kavanaugh would likely help swing the court towards the right for years to come.
"He is a brilliant jurist, with a clear and effective writing style, universally regarded as one of the finest and sharpest legal minds of our time," Trump said in his televised announcement Monday night.
If confirmed, Kavanaugh would replace a swing vote on the court and is expected to be less receptive to abortion and gay rights than Kennedy. In June, Kavanaugh ruled in favor of restricting an undocumented and unaccompanied minor in custody from obtaining an abortion. In a case anticipating the Supreme Court Hobby Lobby case of 2014, he defended the religious freedom of employers, an issue that was at hand in the Masterpiece Cakeshop case that gay rights activists recently brought to the Supreme Court. He has also defined the power of the executive branch as "expansive," and has said that investigations into a president should wait until after he or she is out of office.
Speaking at the White House Monday night, Kavanaugh said that he "will tell each senator that I revere the Constitution. I believe that an independent judiciary is the crown jewel of our constitutional republic. If confirmed by the Senate, I will keep an open mind in every case, and I will always strive to preserve the Constitution of the United States and of the American rule of law."
In addition to its long-term impacts, Kavanaugh's nomination and upcoming confirmation hearing will add fodder for the 2018 midterm Congressional elections.
Here's a sampling of local reaction Monday night and Tuesday morning to Kavanaugh nomination:
"Brett Kavanaugh's record as a judge and lawyer is clear: hostile to health care for millions, opposed to the CFPB & corporate accountability, thinks Presidents like Trump are above the law – and conservatives are confident that he would overturn Roe v. Wade. I'll be voting no." — Sen. Elizabeth Warren on Twitter
---
"Judge Kavanaugh would be the deciding vote to overturn Roe v. Wade. He would be the deciding vote to allow insurance companies to deny health care to children with preexisting conditions. He opposes common sense gun reforms. The extremity of his views and his opinions should be a warning to the members of the Senate who will now consider his nomination. For senators concerned about the future for women and families in America, the choice is clear: Vote no." — Attorney General Maura Healey
---
"Judge Kavanaugh has impressive credentials and extensive experience, having served more than a decade on the D.C. Circuit Court of Appeals. I will conduct a careful, thorough vetting of the President's nominee to the Supreme Court, as I have done with the five previous Supreme Court Justices whom I have considered. I look forward to Judge Kavanaugh's public hearing before the Senate Judiciary Committee and to questioning him in a meeting in my office." — Maine Sen. Susan Collins, a Republican who serves on the Judiciary Committee.
---
"Brett Kavanaugh is a right-wing ideologue selected off the ultra-conservative Federalist Society's judicial wish list. Judge Kavanaugh's record on important issues such as opposing the right to health care, consumer and environmental protections, and a free and open internet portends a rubber stamp for a conservative, right-wing agenda that would move us backwards as a nation. And it should come as no surprise that a president under federal investigation would nominate a judge who has written about the inadvisability of indicting a sitting U.S. president and the need to delay civil legal proceedings against one. Justice Kennedy was the crucial swing vote in several Supreme Court cases decided by a 5 to 4 vote, including historic cases on a woman's right to choose, environmental protection, and same-sex marriage. If Judge Kavanaugh is confirmed, women's freedom to make decisions about their bodies, reforms to our health care system, the quality of our air and water, and much more will be at risk. The Senate should reject this divisive nominee." — Sen. Edward Markey
---
"Trump promised he'd appoint justices who would overturn Roe and that's what he's doing. We need fierce female voices in Congress to protect reproductive rights. I'm proud to be the only MA Planned Parenthood-rated "champion" in the ma3 race and I'm ready to fight to #SaveSCOTUS." — state Sen. Barbara L'Italien, a candidate for Congress this year.
---
"In nominating Judge Kavanaugh to be the next Supreme Court justice, the Trump Administration is once again showing brazen disregard for the people it claims to protect. Judge Kavanaugh's dangerous views on the Second Amendment are far outside the mainstream of even conservative thought and stand in direct opposition to the values and priorities of the vast majority of Americans. America needs a Supreme Court justice who respects the Second Amendment but who also realizes reasonable regulations that reduce gun violence do not infringe on anyone's constitutional rights. But that's not the kind of justice President Trump nominated today." — Former Congresswoman Gabrielle Giffords
---
"Trump promised to only nominate anti-choice Supreme Court justices, and now he's kept that promise. Kavanaugh helped issue a block to keep an undocumented teenager from getting an abortion and dissented when the block was overturned. If confirmed to the highest court in the country, Kavanaugh could vote to overturn Roe v. Wade — presenting a grave threat to reproductive freedom. That's why it's critical that we help elect Jacky Rosen (NV) and Kyrsten Sinema (AZ), our two Senate challengers, and re-elect all 10 of our Senate women so Democrats have approval over Trump's nominees." — EMILY's List President Stephanie Schriock
---
"This is a judicial grand slam! As someone familiar with Judge Kavanaugh's record, I can say that – though the left may be upset – those who love our Constitution will be thrilled. His record in over 300 opinions reveals a judge truly committed to the constitutional principles of textualism and originalism." — Project 21 Co-Chairman Horace Cooper
---
"Today's announcement of Judge Brett Kavanaugh to fill the Supreme Court seat being vacated by outgoing Justice Anthony Kennedy puts the health care, consumer protections and civil rights of millions in serious jeopardy. As we continue to examine the background and opinions of Brett Kavanaugh, we at Community Catalyst will raise up what's at stake and stand strong against any nominee who would roll back consumer protections or who has shown animus toward laws like the Affordable care Act that allow people to access affordable, quality health care. We need a nominee who will protect health coverage for people with preexisting conditions, women, people of color, LGBTQ individuals and people living with disabilities in any case that comes before the Court. Brett Kavanaugh is not that nominee." — Executive Director of Community Catalyst Robert Restuccia
---
"Judge Brett Kavanaugh is eminently qualified to serve as an Associate Justice of the highest court in the United States. In our divisive times, where politics is pervasive in our society, we often look to the courts for clarity. I have every confidence that Judge Kavanaugh will serve with distinction on the Supreme Court; he will apply textualist and originalist reasoning to the legal questions of our time." — Republican Attorneys General Association Chairman and Arkansas Attorney General Leslie Rutledge
---
"The President's nomination of Brett Kavanaugh to replace Justice Kennedy threatens to force the Court even further to the right. It's all too clear that a Justice Kavanaugh would help President Trump to turn the clock back even further, first and foremost by eliminating an individual's right to make decisions about his or her own body." — State Rep. Juana Matias, a candidate for Congress this year
---
"Make no mistake: this nomination is a direct attack on women, on people of color, and on the most vulnerable in our society. Senator McConnell and the Republicans stole a Supreme Court seat, and now they want to entrench a far-right conservative majority for years to come. We need to stand up and fight back against this unjust nomination. We need to fight to protect a woman's fundamental right to choose what happens with her own body. We need to fight to protect LGBTQ rights. We need to fight for equal justice for everyone. And we need to show the Trump administration that we will never stop fighting for our American values." — Democratic Congressional Candidate Dan Koh
---
"Our democracy depends on three independent branches of government checking and balancing one another. President Trump's Supreme Court nomination jeopardizes this core function and injects the same partisanship into the courts that has crippled Congress and eroded confidence in the executive. Americans deserve justices and leaders who will earn our trust and move this country forward--not pull us into the past. Brett Kavanaugh does not meet that standard." — Congressman Seth Moulton
---
"We oppose the nomination of Brett Kavanaugh to the Supreme Court, and call on the Senate to do the same. There's no way to sugarcoat it: with this nomination, the constitutional right to access safe, legal abortion in this country is on the line. We already know how Brett Kavanaugh would rule on Roe v. Wade, because the president told us so. We take Trump at his word that Brett Kavanaugh would overturn Roe v. Wade and get rid of the Affordable Care Act. The balance of the Supreme Court is at stake — we cannot allow it to be tilted against the constitutional right to access abortion. Generations of people have grown up only knowing a country where they have the right to access safe, legal abortion, and if that is lost generations of women, especially women of color, will be affected. We cannot allow our children and grandchildren to have fewer rights than we do today." — President and CEO of Planned Parenthood League of MA Jennifer Childs-Roshak
---
"A nominee like Brett Kavanaugh should not be voted on during an election year. He's been the nominee for under an hour and we are already learning how extreme his record is. I stand with @SenWarren & @SenMarkey in opposition." — Boston Mayor Martin Walsh on Twitter
---
"The President's selection process is the most transparent in history. To my knowledge no other Presidential candidate has ever done that. He issued a list of potential Supreme Court nominees directly to the American people during his 2016 campaign. The list demonstrated the type of judges he would appoint to the bench. And the American people voted for President Trump in part because he promised to nominate these types of jurists. Any of the 25 individuals on the President's list would be an excellent choice and worthy of the Senate's serious consideration. But already, we're seeing from liberal outside groups and some of my Democratic colleagues a desperate attempt to block the nominee — any nominee —by whatever means necessary. Some Democrats have pledged to block anyone from the President's list without even knowing who the nominee is and regardless of his or her qualifications. Think about that: the President has a list of 25 names, but some Democratic senators have already said that not one of them is acceptable. Zero out of 25 highly respected, highly qualified individuals. Not even worthy of this body's consideration. That's incredible." — Iowa Senator and Chairman of the Senate Judiciary Committee Chuck Grassley
---
"His views are far outside the legal mainstream when it comes to access to health care, executive power, gun safety, worker protections, women's reproductive freedom, and the government's ability to ensure clean air and water, to name a few. We need a nominee who understands that the court is there to protect the rights of all Americans, not just political interest groups and the powerful." — California Senator and ranking Democrat on Judiciary Committee Dianne Feinstein