As Wentworth's New Building Goes Up, Students' Understanding Of Construction Does, Too
03:11
Play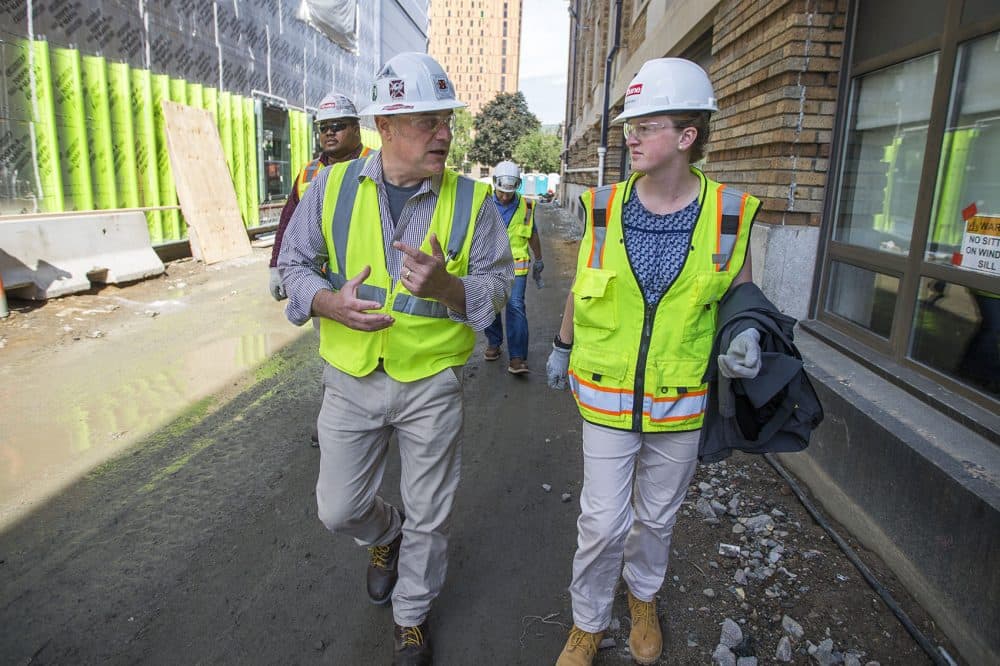 This article is more than 4 years old.
It may be summer, but Wentworth Institute of Technology is bustling with activity. Students are doing co-ops, and the school is putting up its first academic building in 45 years.
It's a massive $55 million construction project that the Boston college is now integrating into its students' education.
Learning On The Job, On Campus
"So as we go to the basement, guys, be careful," says project manager Mike Harris. "There's a lot of pipe on the ground, so definitely watch your step."
Harris is leading students on a tour of what will become Wentworth's new building for engineering, innovations and sciences.
"Along this wall is the equipment to create lab air and lab vac," Harris explains.
It's a complicated building with sophisticated ventilation systems that can vacuum noxious fumes out of labs quickly. In the basement, Harris continues his tour.
"So," Harris says, "all those acids that you drop down the blue pipe come down here, get neutralized, and then they get dumped into a tank and ejected out into the city safe."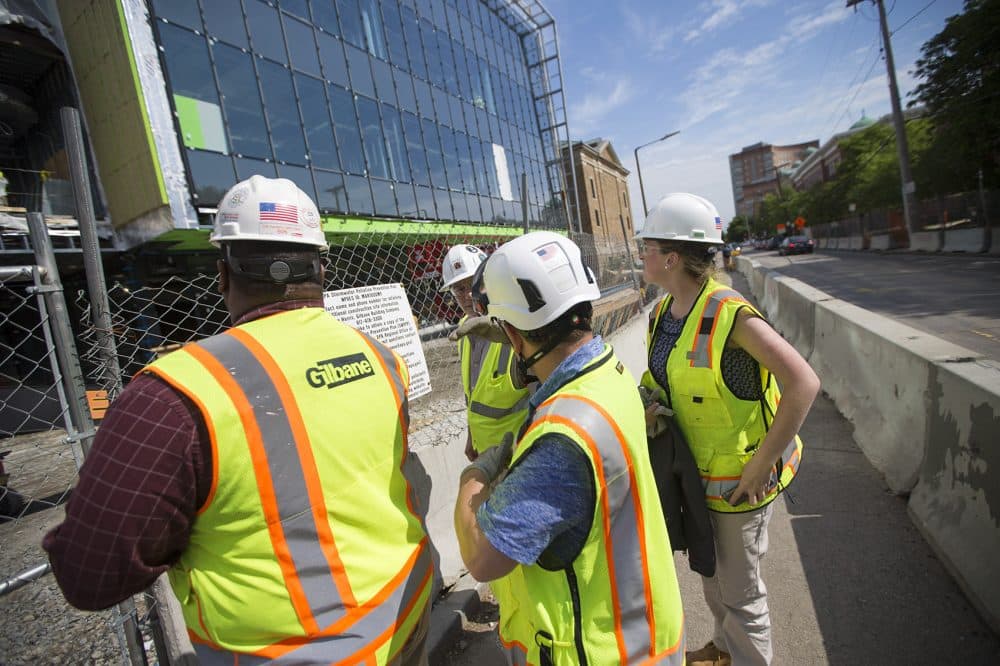 Wentworth touts the new building as a big step in the expansion of the institute's scientific and engineering programs.
It's also an integral part of the huge construction management department at Wentworth. More than 500 students major in the institute's renowned program.
"Our students are having a better understanding of how a building really goes together," says Scott Sumner, who chairs the construction management department.
Students can work on co-ops on the building project. Classes also take periodic tours after the day's construction work winds down.
"I'm learning so many different skills that I can't learn in a classroom that you actually need to interact with other people to get," says Shannon Sturz, who's going into her junior year and who would like to go into the construction management field. She's working on the building through an optional summer co-op.
"It's really cool that I can be in class talking about and looking at plans for this project, and then looking outside and seeing what's actually happening," she says. "And now that I'm on this site, I get even more inside access to that."
Seeing the intangible made tangible for students makes Kevin Smith, Wentworth's Clerk of the Works, very happy. Smith runs all of the school's big construction jobs.
"It's just great to see their eyes light up when they go from reading about something in a book to pointing at it and touching it and talking about it. And 'why is this here?' And 'why is that there?' " Smith says. He has been archiving the work so that future students can learn from the project. There is a website with updates and a live cam.
Zorica Pantic, president of Wentworth, said this is the sort of project that draws students to the institute.
"What I like to say is that, Wentworth graduates build Boston and Massachusetts," she says, "because when you look at construction companies in the leadership you usually have at least one Wentworth graduate."
At the moment, Wentworth students have a case study right on their campus.
This segment aired on July 17, 2018.