Baker, Sanders Still 'Most Popular' In Voters' Rankings Of Governors And Senators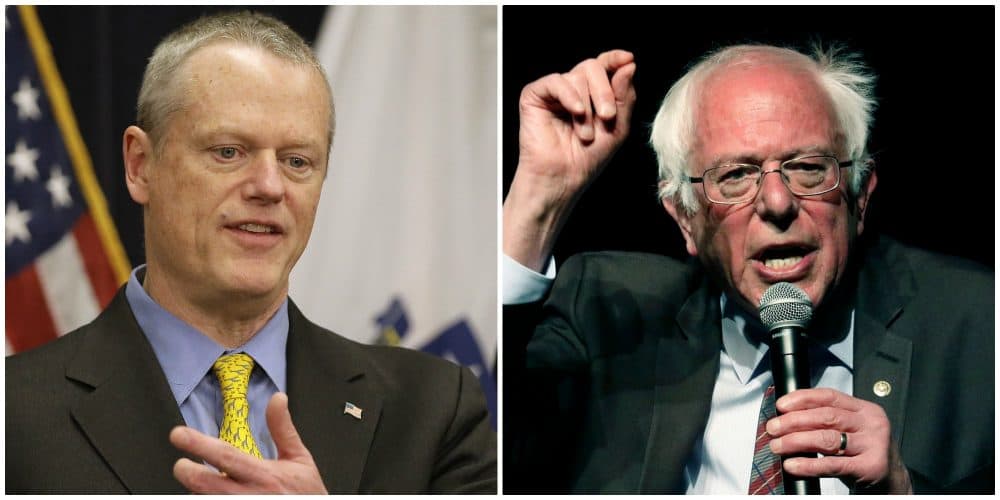 This article is more than 4 years old.
Massachusetts Gov. Charlie Baker and Vermont Sen. Bernie Sanders retained their most popular status in rankings of the job performance of U.S. governors and senators released on Wednesday.
Vermont voters approve of Sanders, an independent, by a 63-32 margin. Sen. Mitch McConnell of Kentucky remains the most unpopular senator, with a 30 percent approval rate in his home state and 56 percent disapproval.
Baker, a Republican, had a plus-52 net approval rating, with 69 percent of Bay State voters approving him and 17 percent disapproving. Oklahoma Gov. Mary Fallin was the least popular governor, with 19 percent approval and 74 percent disapproval.
Morning Consult's senator rankings are based on 331,218 surveys with registered U.S. voters conducted from April 1 through June 30. The governor rankings are based on 326,051 surveys with registered U.S. voters over the same period.
As they seek re-election, New Hampshire Gov. Chris Sununu has a plus-39 net approval ranking in the survey, Rhode Island Gov. Gina Raimondo is a minus-3, New York Gov. Andrew Cuomo is at plus-9 and Vermont Gov. Phil Scott is a plus-5.
A WBUR poll released in June finds that Baker — who faces a Republican primary challenge from controversial pastor Scott Lively -- holds a strong lead in his bid for re-election against Democratic candidates Jay Gonzalez and Bob Massie.
With additional reporting from the WBUR Newsroom