Chakrabarti And Folkenflik Will Be New 'On Point' Hosts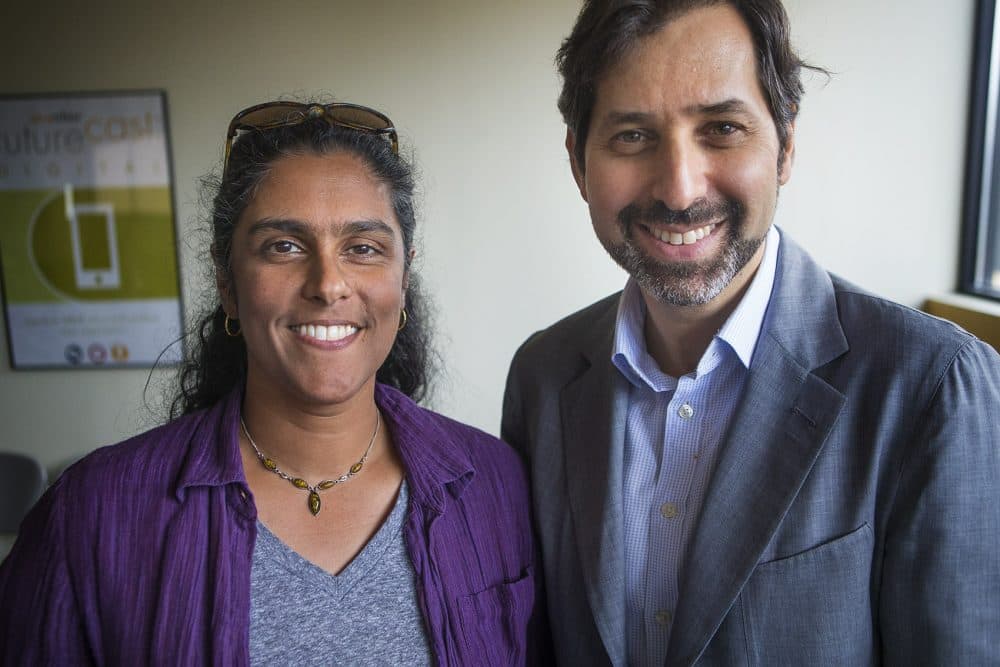 This article is more than 4 years old.
On Point, WBUR's syndicated weekday talk show, will hit the reset button with two new hosts.
Meghna Chakrabarti will be the voice and face of the national two-hour morning program Monday through Thursday. David Folkenflik will host on Fridays. Both will start the week of Aug. 20.
They replace founding host Tom Ashbrook, who was dismissed in February after an investigation conducted by Boston University, which owns WBUR's broadcast license, found that Ashbrook had created an abusive work environment.
"At a time when media is so polarized, On Point has long been the home for America's national conversation on public radio," WBUR General Manager Charlie Kravetz said in a statement. "We're excited for Meghna and David to carry on the tradition at On Point of inspired conversation and respect for a wide range of opinions."
Chakrabarti is the current host of Radio Boston, a one-hour weekday program on WBUR, which will begin a search for her replacement. Previously, Chakrabarti was a reporter in the WBUR newsroom, and had been a producer and director at On Point.
"It's an honor to join the On Point staff and serve its nationwide community of listeners," Chakrabarti said in a statement. "For the past ten years, I've been lucky enough at WBUR to hone a style of journalism that combines a reporter's dogged, enterprising approach along with the freshness and intensity of live conversation. It's a privilege to bring that to a national stage and to work with David, who I've followed and admired for years."
Folkenflik is and will remain the media correspondent for NPR while hosting On Point one day a week from New York.
"Our era calls for meaningful news and conversation about the issues, people and events that define contemporary life," Folkenflik said in a statement. "On Point will be infused with a sense of history, humanity and humor -- and it will endure as a forum where our listeners can themselves be heard. I'm gratified by the trust shown in me by WBUR and NPR in naming me to this new role, and to share it with someone as talented as Meghna."
Folkenflik arrived at NPR in 2004 after more than 10 years at The Baltimore Sun, where he covered higher education, national politics and the media. He's a four-time recipient of the National Press Club's Arthur Rowse Award for Press Criticism and the author of "Murdoch's World: The Last of the Old Media Empires."
In addition to Radio Boston, Chakrabarti hosts Modern Love: The Podcast and is the primary fill-in host for Here & Now, a midday news program produced at WBUR and distributed by NPR. Radio Boston, with Chakrabarti, has won numerous awards.
Rebuilding On Point's brand and market share will be one of the hosts' first challenges.
At least five stations have dropped the show or one of the hours in the eight months since Ashbrook was placed on leave and later dismissed. On Point has consistently trailed its main competitor, "1A," out of Washington, D.C., when it comes to daily listeners.
Five station managers, who spoke on background because they don't want to harm station relations, say they've been frustrated by the extended search for a new On Point host. Some have seen the show's numbers drop in their markets; others say the ratings have been steady. WBUR says On Point ratings are up since Ashbrook's departure in three top 10 markets.
"We've been incredibly heartened by how many stations, out of hundreds of stations, stuck with the program, believe in On Point," Kravetz said in a WBUR interview. "Very few dropped it or cut back. They were waiting patiently while we auditioned people and came up with these final decisions."
On Point is currently heard on 273 stations, including WLRN in Florida.
"I am happy with WBUR's choices of new hosts for On Point," Peter Maerz, WLRN's director of radio programming and a member of the On Point host search committee, said in an email. "Meghna Chakrabarti was an early favorite of mine for the post and David Folkenflik proved to be energetic and engaging as an On Point guest host. Both are well known to public radio audiences. I think their fresh and diverse voices will do well to retain and expand On Point's popularity with our listeners."
Chakrabarti and Folkenflik will also have to cement the show's production team. The show's executive producer and directors are all veterans. Staff say the churn that was typical during the Ashbrook era has slowed, but that only one senior producer remains. News Analyst Jack Beatty is staying. Jane Clayson will continue to be the primary fill-in host.
In an email to WBUR staff, WBUR GM Kravetz thanked the On Point staff "for the phenomenal job they have done maintaining the exceptionally high standards of On Point while working with a wide-range of fill-in hosts."
Chakrabarti and Folkenflik will begin just after WBUR employees are expected to be briefed on an independent report on station management, triggered by Ashbrook's departure.
As WBUR has reported, more than 20 current and former employees say they had asked station managers to help stop Ashbrook's verbal assaults, bullying and unwanted touching. Two earlier investigations concluded that WBUR management was aware of the abusive behavior and spoke to Ashbrook about it but were not able to stop the problems.
BU says the report was delivered to top executives at the university in early June. Staff are to be informed of the findings in August, findings that are expected to include ways to improve the culture at On Point and the station as a whole.
This article was originally published on July 25, 2018.