Marijuana Entrepreneurs Given 'Priority' In Mass. Are Struggling To Get Through Licensing Process
Resume
So you've got priority in getting your marijuana license application reviewed in Massachusetts. But you've got a major hurdle ahead of you — getting through the actual application.
Applicants who get priority are from communities disproportionately criminalized for marijuana — like people of color. Marijuana use is similar among different groups, but minorities have been punished for it at far higher rates.
The state set up the priority status to help them get a piece of the new legal cannabis market, a potential billion-dollar industry. The status fast-tracks the license review process.
But many of the people eligible for the priority status are struggling with the regulatory process.
Kijana Rose, 28, is one of those people. She teaches yoga classes out of her home in Roslindale. On a recent weekday evening, she leads a small group through exercises in her backyard. There's upbeat music, courtesy of Beyoncé, some ab work — and marijuana.
The group vapes before class and again halfway through.
"I'm switching strains," Rose explains. "This is going to calm them down because they just did all those flows. So their hearts [are] racing right now. This is going to bring them back down so we can get kind of like chill for the rest of the evening."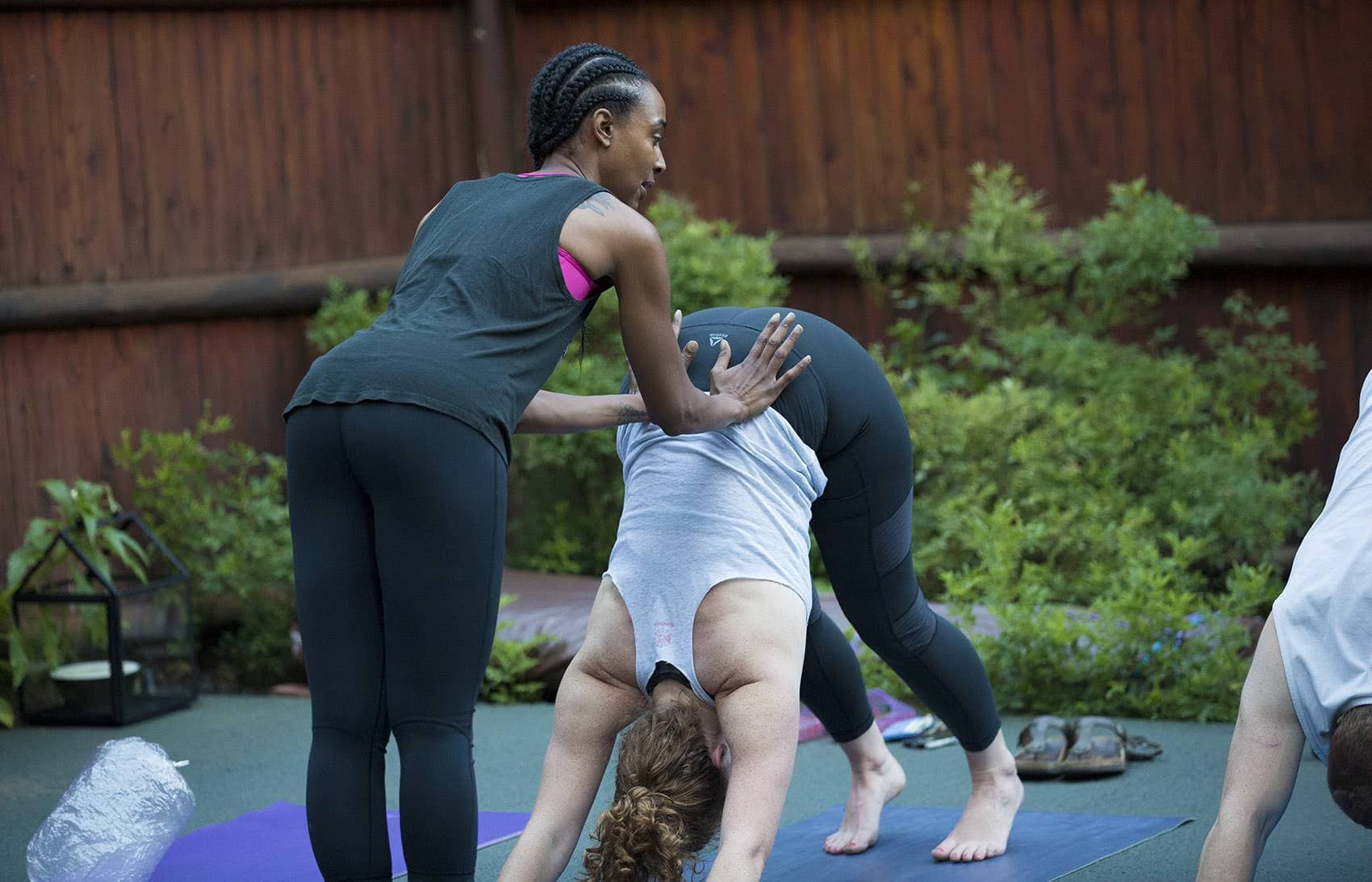 Rose also makes berry tea and vegan lemon cookies infused with cannabis that she gifts to her clients, neatly packaged in mason jars and boxes with a rose label. And they appreciate these touches.
"I absolutely love it," says 29-year-old Brea Thomas, who has been taking the class for a few months. "Especially when we're doing it outside and I get to look up at the clouds and I'm just like: I'm here, I just need to relax for a moment because I work at a stressful job and you know life, and all of that, it gets in the way. And to come here every week and just let go, it's amazing."
This is the experience Rose wants to create with her ganja yoga classes, and she wants to build her business. She's applying for a micro-business license that will allow her to grow, make and sell marijuana products.
"I just happened to be someone who's like uniquely suited to do this because I grew up Rastafarian," Rose says. "I grew up really ingrained in this cannabis culture. There was like never any stigma for me."
Kijana Rose was one of the first people to get the economic empowerment priority. But Rose says she's struggling with the licensing process.
"It just feels like the process was kind of set up to make it easier for the well-resourced individuals to get right on through," she says. "It's not like the CEO of whatever dispensary is like doing this application himself like I am. Like, no. They just call their lawyer and have a lawyer who is versed in that script fill it out. That's a major resource."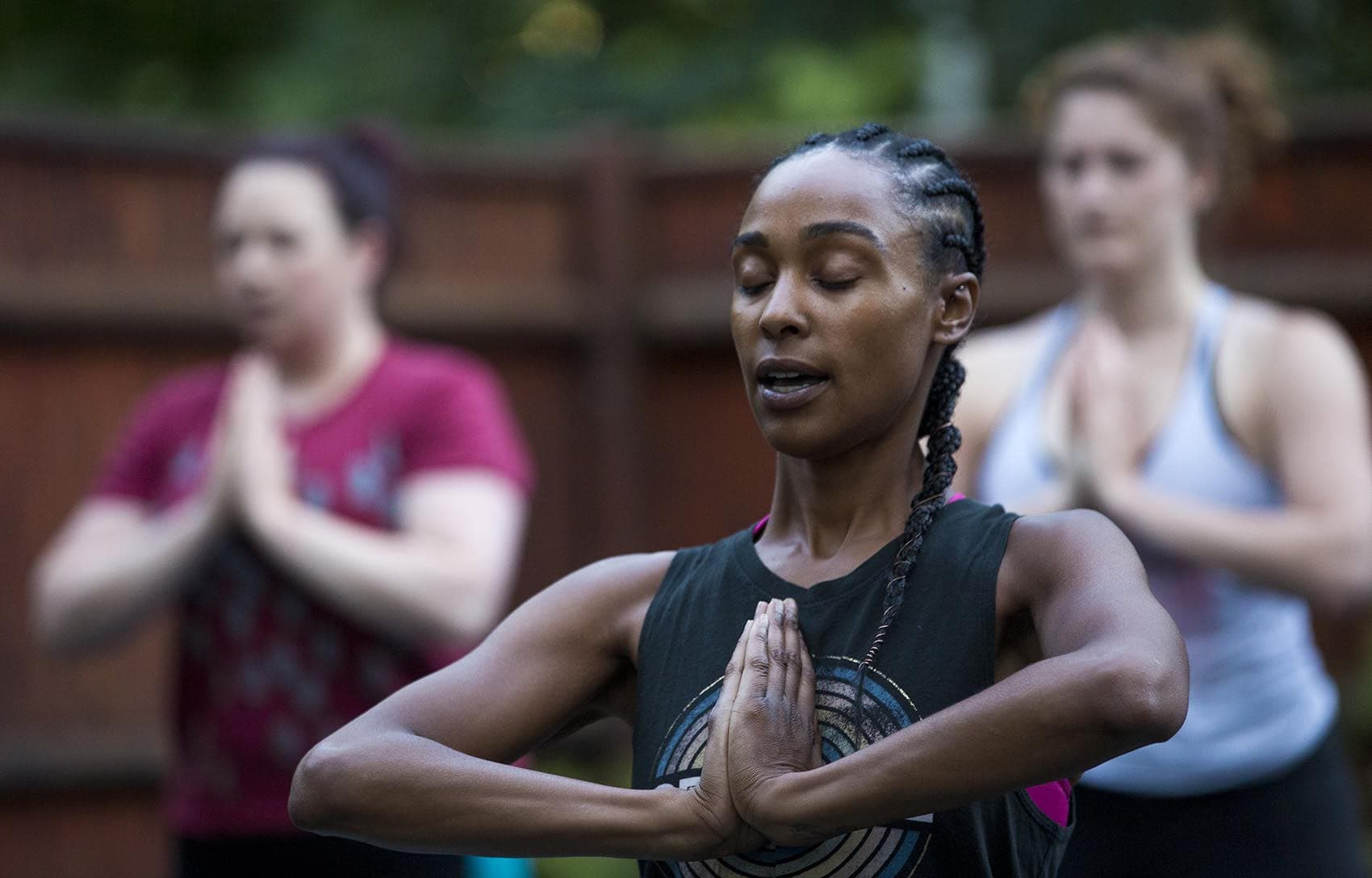 Another challenge: If you want to open a marijuana business, you have to sign an agreement with your city or town. And some of these local agreements require companies to shell out thousands of dollars in annual fees.
"I mean what message is that sending us, especially as people of color who are trying to get into the industry," Rose says. "It feels really bad. It feels like we're being already slapped and hit with sanctions before we even got anywhere."
Only three complete economic empowerment applications have been submitted. That's compared to more than 40 from medical marijuana dispensaries and around two dozen general applications.
Rose says the economic empowerment priority hasn't given her the help she needs to actually get through the licensing process.
"All I've gotten is an email that says you're an economic empowerment applicant," she says. "That's it. That's the only thing I've gotten. It's just a designation."
Other economic empowerment applicants share this frustration. Several attended a recent cannabis event in Boston to network and promote their businesses.
Gerardo Ramos, 44, wants to open a cultivation and retail space in Holyoke. He says finding investors is his biggest challenge. He needs the capital to design his facility with grow rooms, retail space and a security system that's all up to standard.
"This is a very complicated process that you have to go through the state and the city. So we need the resources in order to make that happen," Ramos says.
Some are further along in the process, like Matt Pavini, 38, who hands out edibles at a nearby table. He's going for a retail and manufacturing license in Worcester so he can make and sell his goods. He has investors but it's taken him years of groundwork to get to this point.
"I've been going to conventions for the last four or five years and I go to multiple conventions every year," he says. "So I've done a lot of networking and it's taken me five years to get to this point where I'm at. And you know I'm still relying on other people."
Many economic empowerment applicants say they want the state's Cannabis Control Commission to provide more resources, whether that's workshops, access to lawyers or assistance with the application. Some also say regulators should take a closer look at the local approval process and rein in the excessive fees cities and towns are requiring.
It's important to note that state regulators have a social equity program that will provide training and resources. But that program isn't off the ground yet and not all economic empowerment applicants will qualify for it.
"I'm concerned by the low number of applications," says Shaleen Title, a longtime cannabis advocate and lawyer who pushed for the state's marijuana law to include social justice efforts like the economic empowerment priority.
Title is now one of the state commissioners tasked with regulating the new cannabis industry. She says the commission recently sent out a survey to learn about the experiences of economic empowerment applicants.
"We'll be able to say, 'OK, here are the barriers to entry that they're facing and here's how we'll address it,' " Title says.
The Cannabis Control Commission is expected to discuss the survey results at its public meeting Thursday.
"I love Boston, it's my home, I grew up here, but I have to do what's best for me and my business. And if the city and the state are going to make it so hard for me to get a license, I'm not going to waste my time struggling here."

Kijana Rose, Boston resident and entrepreneur
A clear issue for economic empowerment applicants is at the local level: Real estate is expensive and hard to find, and zoning can be difficult to navigate.
State regulators are working on guidance for cities and towns to implement their own efforts to help people in disadvantaged communities get through the marijuana licensing process.
Title says it will still be a process.
"There is a balance between the level of regulation and the access to the industry," Title says. "This is a tightly regulated industry and the Legislature has put in place a number of requirements that the commission is bound to follow."
But yoga instructor Rose is losing confidence in the process. She's decided to hit pause on her application. And she's researching other options.
"I'm seeing what other states are offering for licensing opportunities and I am analyzing what is the best opportunity for me," Rose says. "I love Boston, it's my home, I grew up here, but I have to do what's best for me and my business. And if the city and the state are going to make it so hard for me to get a license, I'm not going to waste my time struggling here."
She's looking out west to California, where she feels she may have an easier time building her cannabis business.
For more updates on the industry, join WBUR's Facebook group, Green Rush: Cannabis in Massachusetts.
This segment aired on July 26, 2018.