Shaw 54th Regiment Memorial To Undergo Restoration
The beloved memorial to Robert Gould Shaw and the 54th Regiment on the Boston Common will come down next spring for several months of restoration.
The memorial, created by Augustus Saint-Gaudens, was unveiled in 1897. It depicts the men of the 54th Regiment, the first African-American unit in the Civil War, leaving Boston to march off to battle. They are led by the white Robert Gould Shaw on horseback.
Marita Rivero, executive director of the Museum of African American History in Boston, said the men of the 54th Regiment joined despite the fact that if they were captured, they would certainly be enslaved or killed.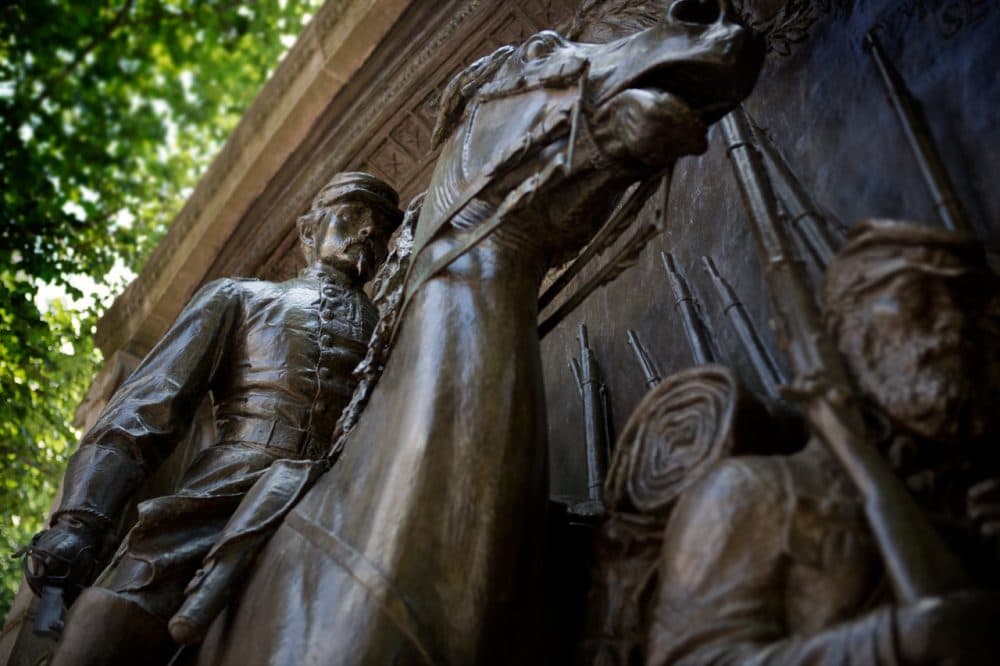 "The regiment proved without doubt their ability, courage under fire and their valor," Rivero said. "This was additional cause for celebration because it changed the stereotypical and cartoonish picture of black men that had been promoted. They became so well known they were referred to as simply the 54th."
The $2.8 million restoration — a collaboration between the city, the National Park Service, the Museum of African American History and Friends of the Public Garden — will repair the brick core of the monument. Over time, water damage has made it "vulnerable to seismic events," said Liz Vizza, executive director of the Public Garden group. Workers will construct a new concrete foundation and install a stainless steel frame to secure it.
The work is expected to take five to six months, during which time a large part of the Boston Common will be fenced off. The bronze relief won't be visible during that time, but the organizers plan to put up a screen with an image of the artwork.
Often referred to as one of the greatest works of public art in the United States, the monument is of even more significance in the current climate.
As the country grapples with Confederate monuments still intact, northern cities like Boston are also coming to terms with other signifiers of the United States' legacy of racism. During the formal announcement of the restoration on Friday, Mayor Marty Walsh noted a confluence of public art the city is reviewing on the topic: the restoration of this work, a large memorial to Martin Luther King Jr. and Coretta Scott King, and a proposed work by Steve Locke to honor the victims of the slave trade at Faneuil Hall.
Walsh and Vizza, of Friends of the Public Garden, said the restoration would be accompanied by a year and a half of programming around the topics of race, freedom and justice.
"Boston is proud, but we can't rest in that pride," Walsh said Friday. "We must use that pride to set a standard for today and have conversations we need to reach that standard. That's what this memorial project will help us do."