Lawmakers Send Opioid Bill To Baker's Desk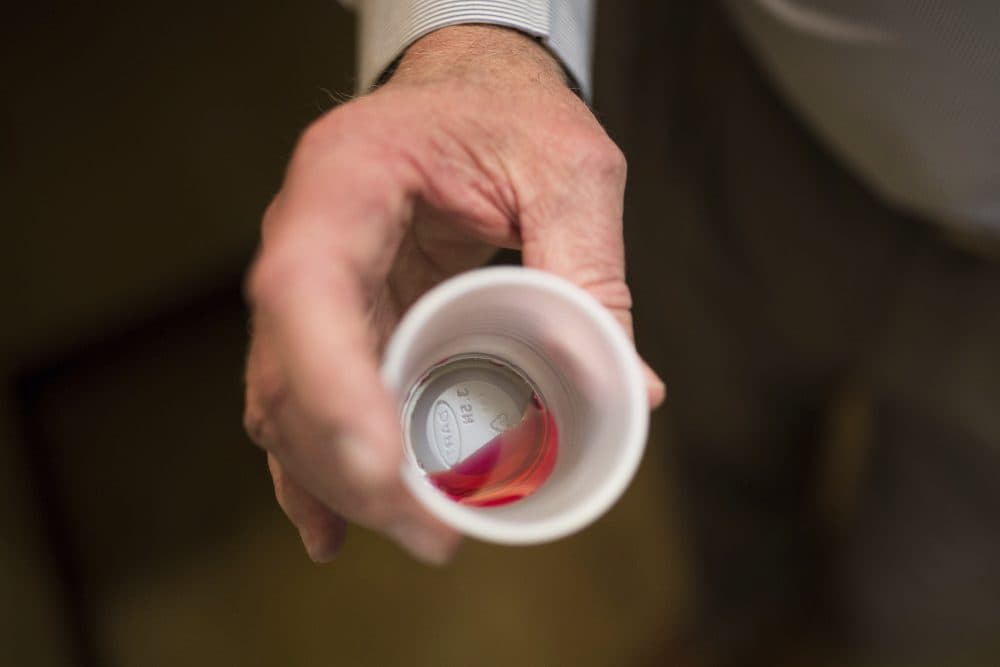 This article is more than 4 years old.
The Massachusetts Legislature late Tuesday sent Gov. Charlie Baker legislation expanding access to medication-assisted addiction treatment, studying the use of supervised injection sites, and phasing out paper pharmaceutical prescriptions.
The House voted unanimously to enact the bill at 11:25 p.m. Tuesday. The Senate approved the bill 37-0.
The bill represents the latest effort by lawmakers to stem the tide of death and heartache brought about by highly addictive and deadly opioids such as fentanyl, heroin and prescription pain medications.
Negotiations on the bill (H 4866) were led by Rep. Denise Garlick in the House and Sen. Cindy Friedman in the Senate. The legislation expands access to the overdose-reversal drug naloxone without a prescription by establishing a standing order to allow pharmacies to dispense the drug often referred to by the brand name Narcan. It also allows certain sheriffs to purchase naloxone at a lower cost through the state's bulk purchasing program and allows local governments and agencies to exchange unexpired naloxone.
The bill will expand access to medication-assisted treatment in prisons and possibly jails, as well as mandating that emergency rooms and involuntary commitment facilities provide it.
Medication-assisted treatment (MAT) includes methadone and buprenorphine, brand name Suboxone, which help stave off cravings for opioids, and Vivitrol, which blocks the effects of opioids.
The idea of starting patients on MAT after an ER visit is still relatively new in Massachusetts and across the country. The Massachusetts Health and Hospital Association is drafting guidelines to help emergency room physicians, who don't currently prescribe buprenorphine, prepare for this requirement, as well as the follow-up care drug users on MAT need.
Advocates say there's a clear need for MAT in prisons and jails. State data shows the opioid overdose death rate is a staggering 120 times higher for drug users who've been incarcerated.
Under the bill, the state Department of Correction would create a program of MAT for incoming prisoners at Cedar Junction, as well as evaluation and treatment before their release. The bill also mandates that detainees and prisoners at the Massachusetts Alcohol and Substance Abuse Center in Plymouth, the women's correctional facility at Framingham and the South Middlesex Correctional Center who were receiving medication-assisted treatment can continue that course of therapy while behind bars, unless it is deemed no longer medically necessary.
In addition, "there will be five pilots for continuing treatment, for people who come in with a valid prescription or under medical care," said Sen. Friedman, describing programs she hopes will be offered in in Hampden, Hampshire, Franklin, Middlesex and Norfolk county jails. Funding for these pilots has not been appropriated.
Those facilities will also evaluate sentenced inmates prior to release and provide treatment as needed, said Friedman, who is the Senate chairwoman of the Committee on Mental Health, Substance Use and Prevention.
"Sheriffs really came forward on this, this is something that is really important to us," said Middlesex Sheriff Peter Koutoujian, who worked with Friedman and Garlick on the medically-assisted treatment provisions. "This is not a mandate on us. Five sheriffs stepped forward and said, 'We want to do this,' and, 'How can we do this?' And I know there are other sheriffs who want to join this down the line."
Baker's proposal to authorize medical professionals to hold a patient for up to three days for substance use treatment was not included in the compromise.
The bill also calls for extensive collection of data on MAT, Koutoujian said, to guide future decisions about the program and its effectiveness.
"This is a well thought-out, detailed piece of legislation that will allow for an incredible amount of innovation and data collection," he said. "This will allow us to save lives, protect public safety, and improve our communities."
When someone is involuntarily committed to a facility for substance abuse treatment through a judicial process known as Section 35 they will gain access to MAT at that facility, Friedman said. The bill also creates a study of Section 35 and the outcomes of that existing involuntary commitment process.
Lawmakers adopted a proposal from the governor's opioid bill to establish a commission to recommend credentialing standards for recovery coaches.
"We're going to figure out how to make recovery coaches a sort of embedded part of the way the health care system works in Massachusetts," Baker said in February. "I would love to see the feds get really aggressive about recovery coaches because I think they are a huge opportunity, if we do this well, to really help people who get into recovery stay in recovery."
A Baker proposal to add an addiction specialist to the Board of Registration in Nursing was also included in the House-Senate compromise. Though Baker's proposal to authorize medical professionals to hold a patient for up to three days for substance use treatment was not included in the compromise, lawmakers went along with the House's idea of a commission to study the idea of a 72-hour hold.
Health and Human Services Secretary Marylou Sudders tweeted a note about the bill:
Baker is expected to comment on it Wednesday, and say whether he plans to offer any amendments.
The bill follows the Senate's lead and establishes a commission to make recommendations on supervised sites for illegal drug use. The Senate's opioid bill initially called for a harm reduction site pilot program to establish a so-called safe injection site that would have been administered by the Department of Public Health.
As the Senate was considering the bill, U.S. Attorney Andrew Lelling said such facilities would violate federal law and anyone working at or using one of the sites could be subject to federal criminal charges. The Senate instead adopted an amendment calling for a study of so-called supervised injection facilities.
The departments of Mental Health and Public Health would be given more control over treatment beds in the state under a provision in the bill that would require a determination of need process for new treatment facilities.
The compromise bill also:
removes the age 18 requirement for purchase of a syringe;
requires prescribers to check the Prescription Monitoring Program before prescribing a benzodiazepine because these drugs are often taken in conjunction with an opioid and increase the chances of an overdose;
prohibits discounts and rebates on certain prescription opiates;
expands access to non-opioid pain management options;
creates a special commission that will be charged with studying ways "to strengthen Massachusetts consumer protection laws to hold corporations responsible for their role in the opioid epidemic";
and establishes privacy protections for students age 15 and older who are screened for drug use.
With reporting by Colin A. Young and Andy Metzger of State House News Service, and WBUR's Martha Bebinger
This article was originally published on August 01, 2018.