Younger Democrats Seem To Be Angling For A Changing Of The Guard
Resume
The midterms are just three months away, and Democrats are pulling out all the stops in the battle to retake control of the U.S. House of Representatives. But there's another struggle going on — a struggle for the future of the party itself.
A new WBUR poll of Democratic primary voters (topline results, crosstabs) shows a sharp generational split on a number of issues. The poll, taken in the state's 7th Congressional District, finds younger voters more likely to support challenger and Boston City Councilor Ayanna Pressley, while older voters would prefer to keep incumbent U.S. Rep. Michael Capuano in place. Older voters tend to dominate party primaries, so this split likely bolsters Capuano's re-election prospects.
But these divisions also reflect a tension about where the party is headed, and how much longer the current leadership will hang on.
Democratic Party leaders are old. You see it in the House. You see it in the Senate. You see it in the age of many of the Democrats rumored to be eyeing a 2020 bid for president. Meanwhile, younger members — and now younger voters — are beginning to agitate for a changing of the guard.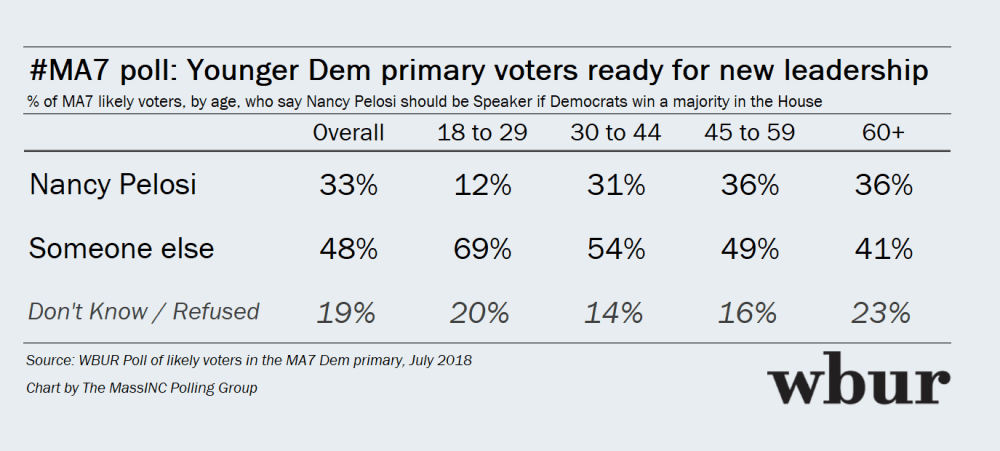 On a whole series of questions, younger Democratic voters are looking to move in a new direction. Asked about the trade-off between experience versus new ideas, younger voters want new faces and perspectives, while older voters would rather have someone in Congress who has been around a while and knows how it works. This divide extends beyond just which candidate voters would prefer in this specific primary.
A key question for Democrats is who will lead the House, should they retake the majority. The WBUR poll finds just a third of the district's Democratic primary voters say Nancy Pelosi should become speaker again if the party wins the House. Among voters under 30, just 12 percent want another Pelosi term as speaker, while 69 percent would prefer someone else.
On any number of issues, it's often the young people on the leading edge of major change. The question for the Democratic Party is whether the old guard is ready to move aside, and make way for a new generation of leaders.
This segment aired on August 3, 2018.