Lowell's Mills Will Be Featured On New U.S. Quarters
A "mill girl" working at a power loom in Lowell will soon be depicted on a new quarter, the U.S. Mint announced this week.
The new 25-cent piece is part of the Mint's America the Beautiful Quarters Program, in which quarters represent a national park or other site in each state and U.S. territory. 2019, with the Massachusetts quarter and four others, will be the 10th year of the program.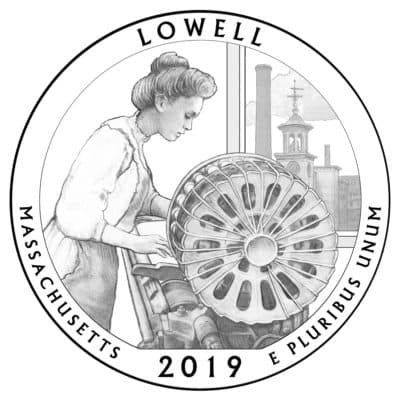 According to the Mint, the design for the Lowell National Historical Park quarter "depicts a mill girl working at a power loom with its prominent circular bobbin battery. A view of Lowell, including the Boott Mill clock tower, is seen through the window."
In its own statement, the Lowell park said the "circular part of the loom, the Northrop automatic bobbin changer, was one of the great innovations in machine technology that changed the experience of textile factory work in the early 20th century."
Additionally, the park says the clock in the background "reminds of the shift from pre-industrial time based on the rhythms of the natural world to the 'on the clock' time of the industrial revolution."
The selected design was one of 18 proposed for the Lowell quarter. All depict the mill industry.
Some other New England quarters include the White Mountains in New Hampshire, Acadia National Park in Maine and the Block Island National Wildlife Refuge in Rhode Island.
With reporting by WBUR's Ben Swasey