Pawtucket Red Sox Sign Letter Of Intent To Relocate To Worcester
Get ready for the Worcester Red Sox — perhaps WooSox, for short.
The Pawtucket Red Sox announced Friday the team has signed a letter of intent to relocate to Massachusetts and build a ballpark in Worcester's Canal District.
If it's OK'd, the 10,000-seat park would be scheduled to open in 2021. The city plans to borrow nearly $100 million to finance the park's construction. It will be named Polar Park, for Worcester-based Polar Beverages.
"We are eager to build an innovative, family-friendly ballpark that reflects the love and appreciation of baseball and that unifies Central Massachusetts and the Blackstone Valley Corridor," PawSox Chairman Larry Lucchino said in a statement.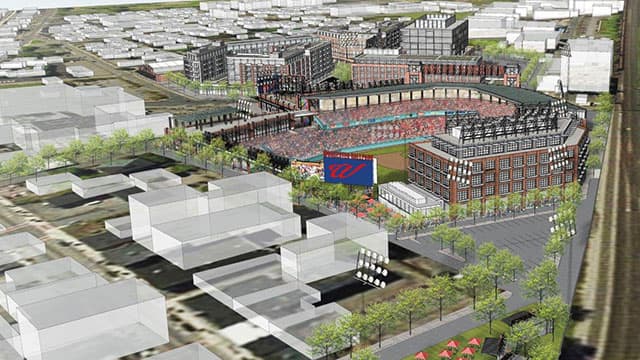 WBUR had reported Thursday that a tentative deal, subject to approval, had been reached between the team and Worcester officials.
The state has committed $35 million to the effort over two to three years, the Baker administration said in a statement. The money will support new market rate housing and public infrastructure.
"The administration is committed to working with our partners at the local level to support economic development opportunities across the Commonwealth to create jobs and strengthen communities," Gov. Charlie Baker said in the statement. "We are pleased to continue to invest in the City of Worcester and look forward to working together to welcome a premier professional ball team to the state."
The PawSox, which are the top minor league team for the Boston Red Sox, will remain in its current Pawtucket, Rhode Island, stadium the next two years.
The team has been housed in Pawtucket since 1973.
Lucchino said the team will not forget its roots.
"We thank the fans of the Pawtucket Red Sox for all they have done to host this team so gracefully and so supportively for so many years," he said.
Rhode Island's Democratic Gov. Gina Raimondo told WPRI-TV that she will ask for another chance.
The question in Worcester is whether the stadium financing plan can win popular support and City Council approval. Minor League Baseball also needs to OK the project.
Lucchino had been eyeing the team's departure from Pawtucket since he purchased the club in 2015, and Worcester City Manager Edward Augustus Jr. had been quietly negotiating with the club for more than a year.
Worcester business leaders told WBUR this week that they would welcome the team to town, if convinced that economic benefits would justify a large, public expenditure.
City Councilor Candy Mero-Carlson said it's a historic day.
"The addition of the Worcester Red Sox ballpark will bring thousands of people to downtown and the Canal District each and every night year-round as the ballpark hosts family affordable games, but [also] community events, conferences," she said.
With reporting by WBUR's Newscast Unit, and Ben Swasey, Callum Borchers and Laney Ruckstuhl
This article was originally published on August 17, 2018.