'GameSense' Aims To Help Gamblers Understand The Odds Stacked Against Them
Resume
Part 1 of a two-part series. Here's Part 2.
As MGM opens in Springfield this week, regulators and casino operators are required to make sure problem gamblers have access to help. There's a new program called GameSense they hope will fulfill that promise.
Research shows that when a new casino comes to town, there's often a spike in the number of people who develop a gambling addiction. State legislators took that into account when they wrote the 2011 law permitting casinos in Massachusetts.
That's why, just a few blocks from where MGM is set to open Friday, psychologist Lori Rugle was recently running a GameSense training in downtown Springfield.
Six workers were spending hours a day there, several of them former casino employees.
Israel Rosario, for instance, said he worked at the Mohegan Sun casino in Connecticut. "I started in security, customer service, then table games," he said.
But in this job, these workers won't run any games. They're hired as gambling "advisors" in the GameSense program.
"I saw the opportunity of staying in the casino, different angle," Rosario said.
Research shows that when a new casino comes to town, there's often a spike in the number of people who develop a gambling addiction.
State law requires that all casinos make space, onsite, for an independent body that can address problem gambling.
So the state gaming commission hired the Massachusetts Council on Compulsive Gambling to find one — and they chose GameSense.
It was developed in Canada, and made its U.S. debut at the slots parlor in Plainville.
Although the law actually states that there should be a mental health counseling service in the casino, Rugle doesn't describe GameSense that way.
"The GameSense advisors are really designed not to be counselors at the casino, but to be a friendly person who can relate to customers within a gambling setting," Rugle said. "Empathic and nonjudgmental, and just being someone you can feel comfortable talking to if you don't understand how the game is working."
This may sound like part of the marketing plan, but gambling regulators consider it an addiction prevention program.
"Gambling problems can often arise from misunderstandings about what gambling is and how and how to gamble," said Mark Vander Linden, head of the responsible gambling division of the Massachusetts Gaming Commission.
The theory is if a customer understands how much the odds are stacked against them, they will see gambling more as entertainment, and less as a financial strategy.
"If you feel like you have a strategy that can beat the house, with those types of myths in mind, it can lead to problems down the road," Linden said. "What we want to do is provide information so that they can make an informed choice about when to gamble, when to stop and when to walk away."
UMass researcher Rachel Volberg studies gambling trends for the state.
"People have all kinds of weird ideas about gambling," Volberg said. "You know, like, this slot machine hasn't paid out for an hour, so it's going to pay out any second now, and I'll just keep shoveling money into it."
Volberg agrees that misunderstanding the odds of winning can contribute to compulsive gambling, but she's not sure educating people will solve the problem.
"It's not a bad thing," she said. "I don't know how effective it is, because you know, people like their little fallacies, and they like to think how they think."
Volberg does think GameSense can help at-risk gamblers in other ways — for instance, by suggesting people take breaks from gambling, or helping them set, and stick to, a limit for how much money they'll spend.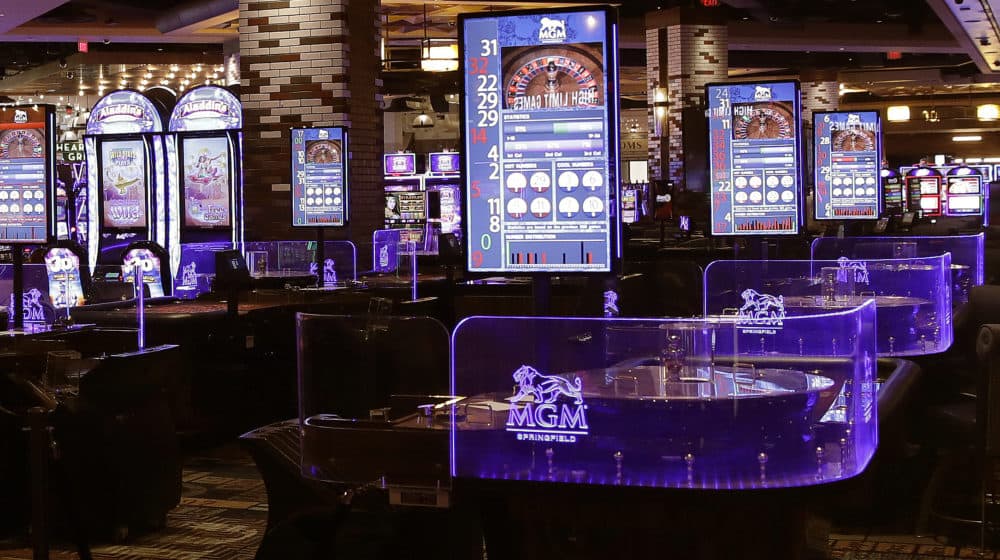 That's the opposite of what some of the advisors used to do.
Ray Fluette, who was at the GameSense training, used to run table games at Foxwoods casino in Connecticut. His job was to keep people spending money in the casino, even if it went beyond their means.
"It's very easy to get people to come play and gamble," Fluette said. "It's part of pretty much everybody's nature. But in our case, [to] gamble responsibly is a totally different thing. A lot of people don't want to hear that. It's definitely outside my comfort zone, I'll tell you that."
When the GameSense advisors can't teach gamblers better habits, they're meant to spot the ones in trouble.
Rugle helps teach the signs.
"Getting angry, getting irritable, getting mad at the dealer, getting mad at the machines, saying, 'I don't know what I'm gonna do,' 'I gotta win this time.' "
At that point, they can offer to sign up the customer for "self-exclusion" — where they put themselves on a list of people not allowed back in the casino.
Advisors may also give out a help-line number and a list of local counselors who are certified in gambling treatment.
Fluette said that in his previous casino work, that approach didn't work too well.
"Most of the time, I'd hand the card out to somebody, and they'd take it and throw it away," he said. "But in this case, they're gonna go talk to somebody and ask somebody to fill their head with interesting facts."
In other words, they're more likely to take advice, he said, if it comes from someone they already know.
But if a problem gambler decides they are ready for counseling, the question remains: Is the community outside the casino prepared to help?
We look to answer that question in Part 2 of this series. This story was first published by New England Public Radio.
This segment aired on August 23, 2018.