Our Favorite Street Art From Lynn's Beyond Walls Mural Festival
This article is more than 4 years old.
Artists from Argentina, France, the Dominican Republic, Cambodia, the Netherlands and several other countries descended on Lynn this August to unleash their art on empty walls for the second annual Beyond Walls Mural Festival. This year, the festival transformed 28 walls, an increase from last year's 15 murals.
"Last year, the city got behind us in a big way. It's been great to see the artists and community come together to create something incredible again," said Al Wilson, the founder and executive director of Beyond Walls.
Check out this map to discover all of the murals for yourself and, in the meantime, here are our 12 favorites:
Wasp Elder | 270-280 Union St.
U.K. artist Sam Worthington aka Wasp Elder has traveled the world painting pictures of "enigmatic figures and unstressed backgrounds, enticing a sentiment of an obscure journey."
In Lynn, he's painted inventor Jan Ernst Matzeliger, the son of a Dutch engineer and a Surinamese black woman, who was said to have been enslaved. Matzeliger moved to Lynn in 1877 and later invented a machine that mechanically shaped the upper portions of shoes. Worthington's mural recognizes Matzeliger and the women workers of Lynn's shoe industry during the 18th and 19th century.
"I wanted to make a work that was a homage to him and his story because he would have gone unrecognized during his time because of the color of his skin," said Worthington about Matzeliger.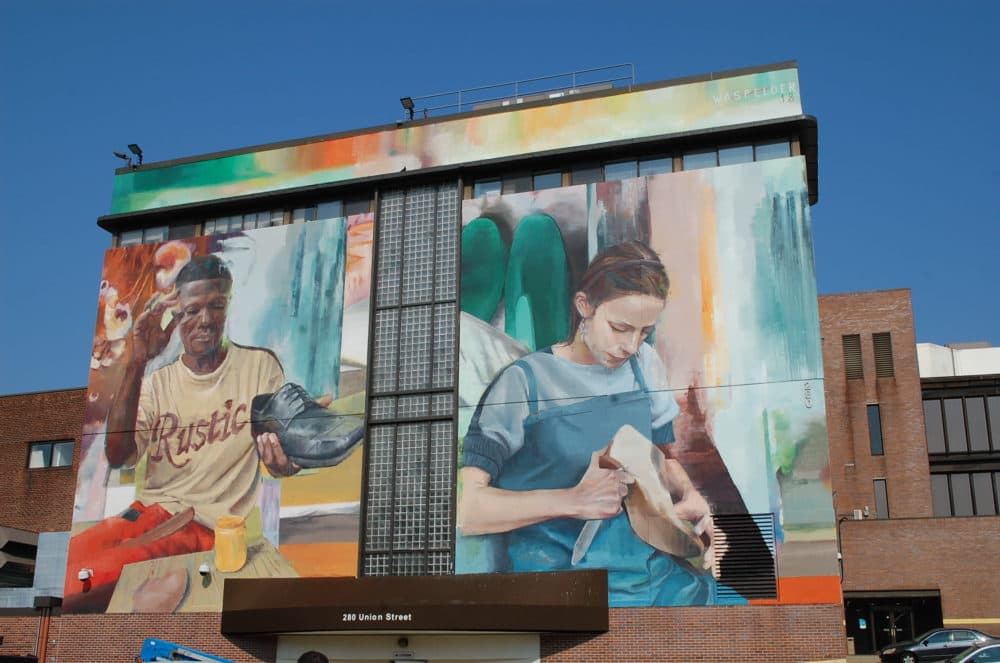 ---
Bunnie Reiss | 73 Buffum St.
Coming from a large Polish and Russian family, Bunny Reiss draws inspiration from her cultural traditions. Her brightly colored folk murals can be found in countries like Mexico, Italy, France, India, the Philippines, and in U.S. cities like Detroit, Milwaukee and New York.
In Lynn, Reiss said she wanted to preserve the character of the former Lucky Strike Lanes building on Buffum Street. "I worked the design into the history instead of the other way around," she said. "Lynn is special because it's a small town and there tends to be a bigger impact."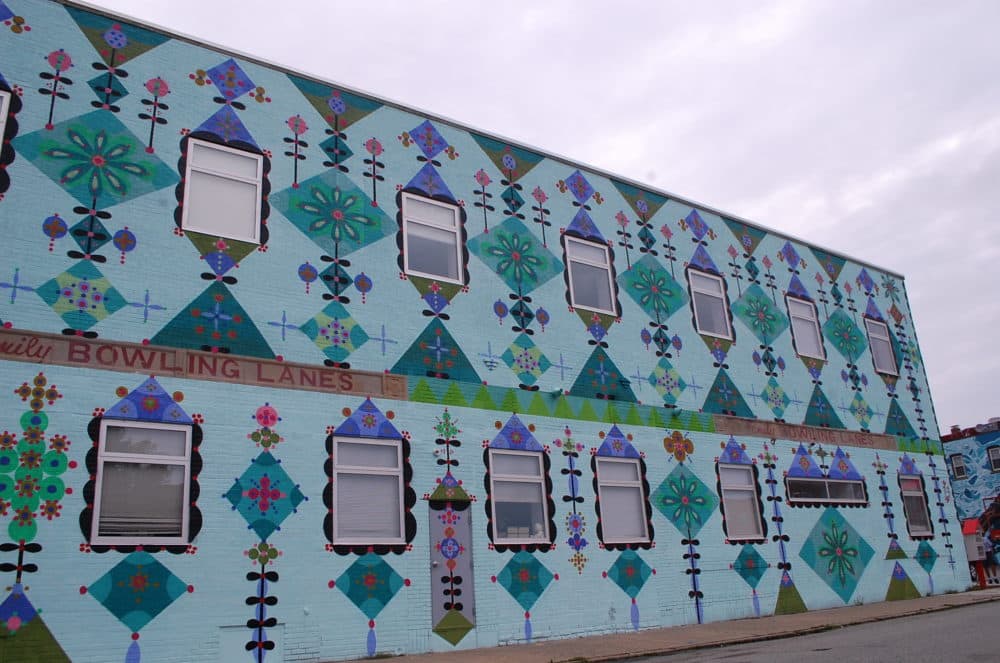 ---
Damaris Cruz | 271 Western Ave. (Lydia Pinkham Building)
Damaris Cruz tackled one of the largest walls available in Lynn this year with a mixed media piece using paint, phone books and printed media. Cruz, who graduated from the University of Puerto Rico, works to blur the lines between the mural and the environment surrounding it. Cruz's work also plays on the sentimentalism of tropical kitsch, beliefs and traditions.
In Lynn, she first painted the four-story building on Western Avenue with bright yellow paint — and then came the hardest part. Along with a few assistants, Cruz ripped out volumes of paper from discarded Yellow Pages to plaster along the side of the work as a three-dimensional border. Inside, Cruz scanned a photograph of a woman tending to her various plants.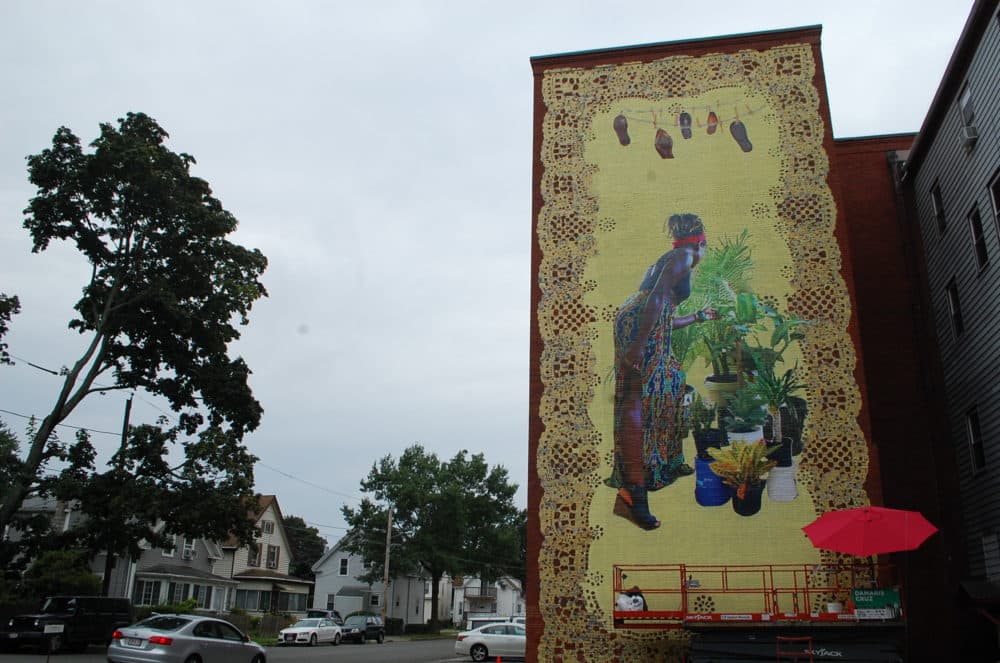 ---
Sipros | 95 Munroe St.
Wellington Naberezny, better known as Sipros, is a native of São Paulo, Brazil whose graffiti can be seen throughout New York City. Known to freestyle his art, Sipros chose to use fellow Beyond Walls artist Ruben Ubiera as his muse and painted him with heart balloons floating on a paper boat.
"[The festival] generates the opportunity for people with common interests to share their experiences, and so everyone wins — artists, the city and population," Naberezny said.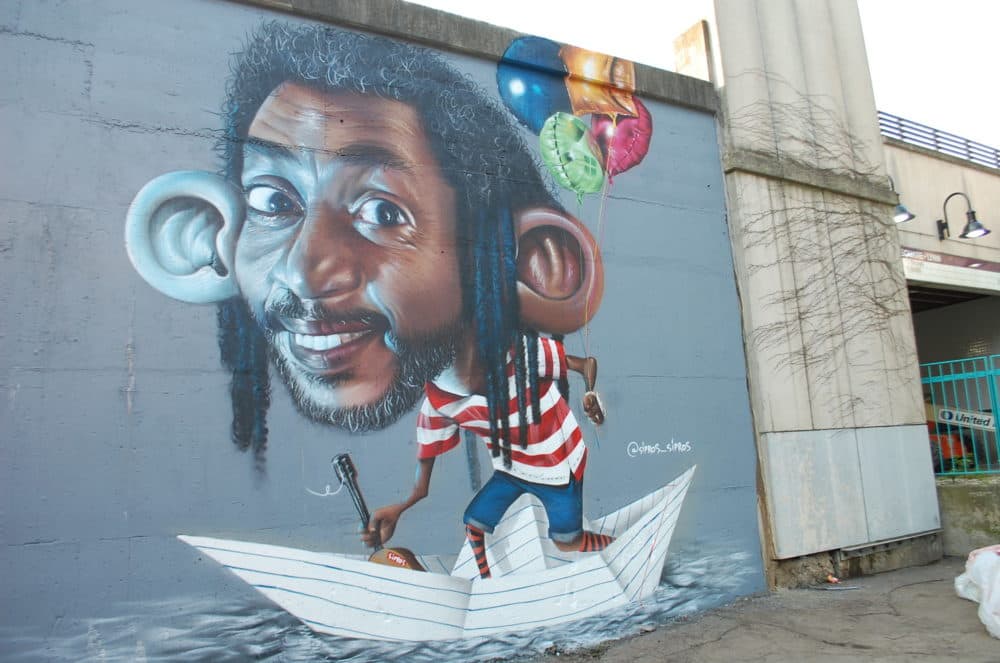 ---
Ruben Ubiera | 95 Munroe St.
Born in the Dominican Republic, raised in New York City and Salem, Massachusetts, and currently residing in Florida, Ruben Ubiera is a student of the world. Ubiera paints in what he calls a post-graffism style.
"In post-graffism, lettering no longer becomes the focus," he said. "Concept and technique and control are what's key."
Ubiera painted a deconstructed Greek statue, carved in pieces with vibrant colors seeping out through the cross sections. In the background, Ubiera has utilized the post-graffism style, leaving nods to the history of the art form.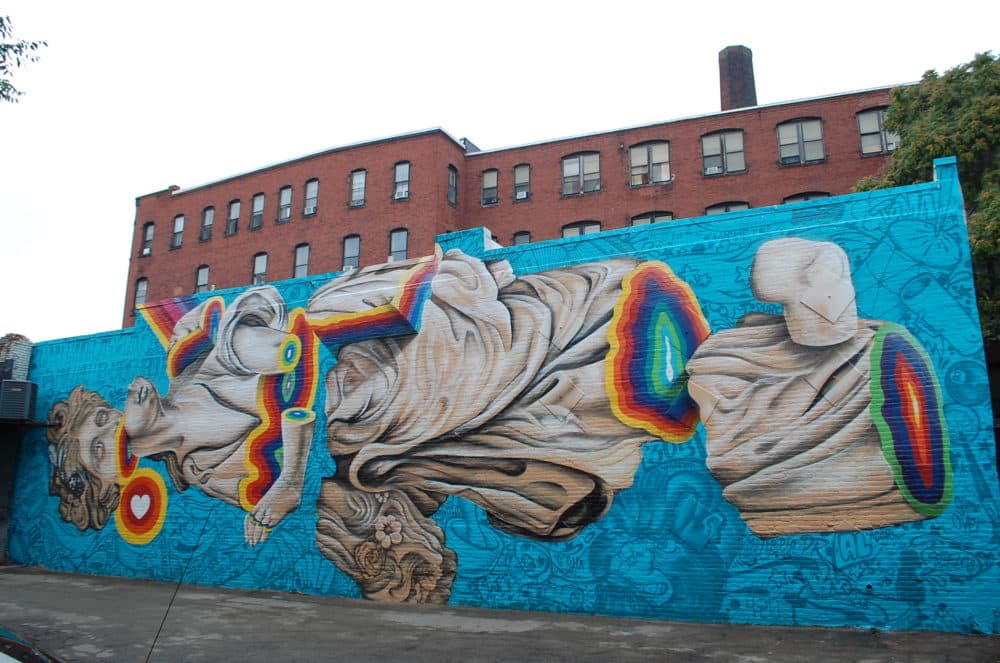 ---
Golden | 95 Munroe St.
Venezuelan artist Golden has painted several murals in Salem for the Punto Urban Art Museum. Golden's work exhibits a cartoon-like quality with bold and bright colors. In Lynn, he painted the East Coast International Church with his signature "Love Worm."
"Love is my message," he said. "I wanted to continue with the flow and beauty around the alley, so I continued with the colors and beauty that were already on it."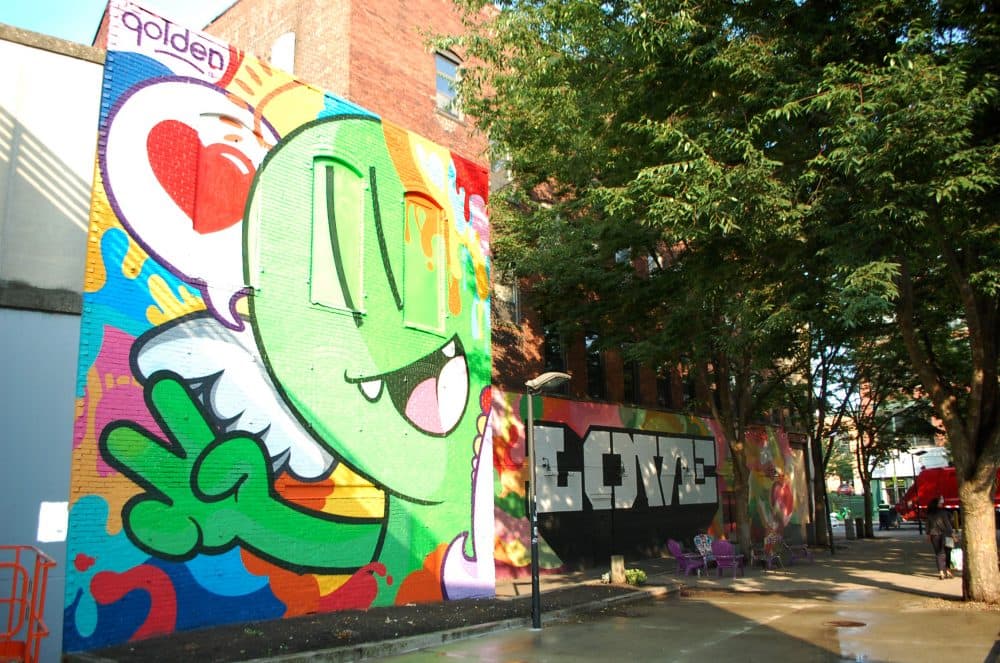 ---
Free Humanity | 269 Union St.
Based in Los Angeles, Free Humanity has been working as a street artist for almost a decade with most of his walls going up in California and New York City.
In Lynn, he painted three walls using a "shotgun" spray technique in which he punctures the sides of spray paint cans, releasing the colorful paint abstractly as a background.
"I strongly believe that the color we paint is more important than what we paint. Colors make people feel a certain way, so I use a color palette to evoke a sense of calm and hopefully wonder," he said.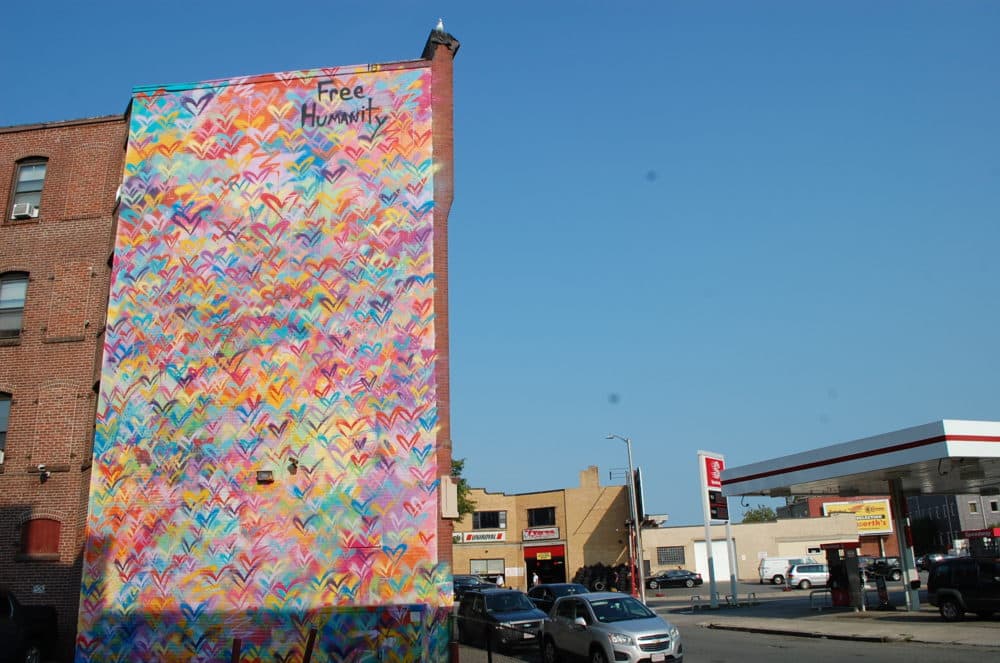 ---
Eltono | 43 Tremont St.
Beyond Walls first teamed up with the French artist Eltono last year, collaborating on the IDEO building in Central Square in Cambridge.
Known for his geometric, serialized and colorful style, Eltono used a dice roll to determine the color and shape of his work in Lynn this year.
"It changes the environment just by adding a bit of color," he said.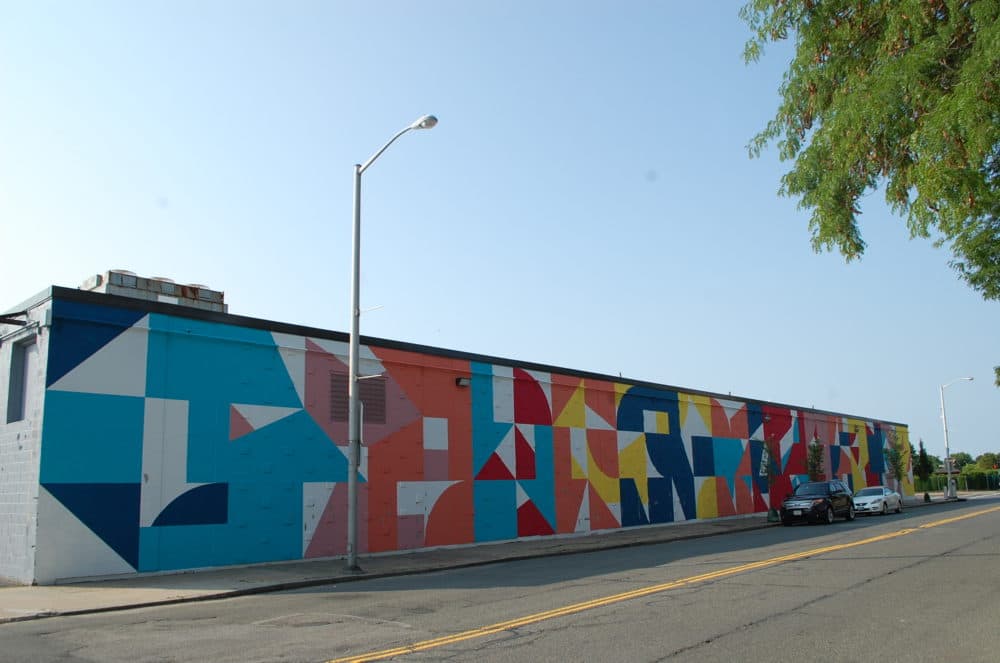 ---
Andrew Hem | 305 Union St.
Andrew Hem's dreamlike style stems from the unique circumstances of his birth and upbringing. Born during his parents' flight from Cambodia in the wake of the genocide carried out by the Khmer Rouge regime, Hem says he's influenced by the rural heritage of his ancestors and the urban sensibility of Los Angeles, where his family came to reside. Inspired by graffiti, tribal and supernatural imagery, Hem's paintings feel ethereal and personal.
In Lynn, his mural depicts a young woman, in Hem's signature style, wearing a dark blue shirt and red-patterned scarf.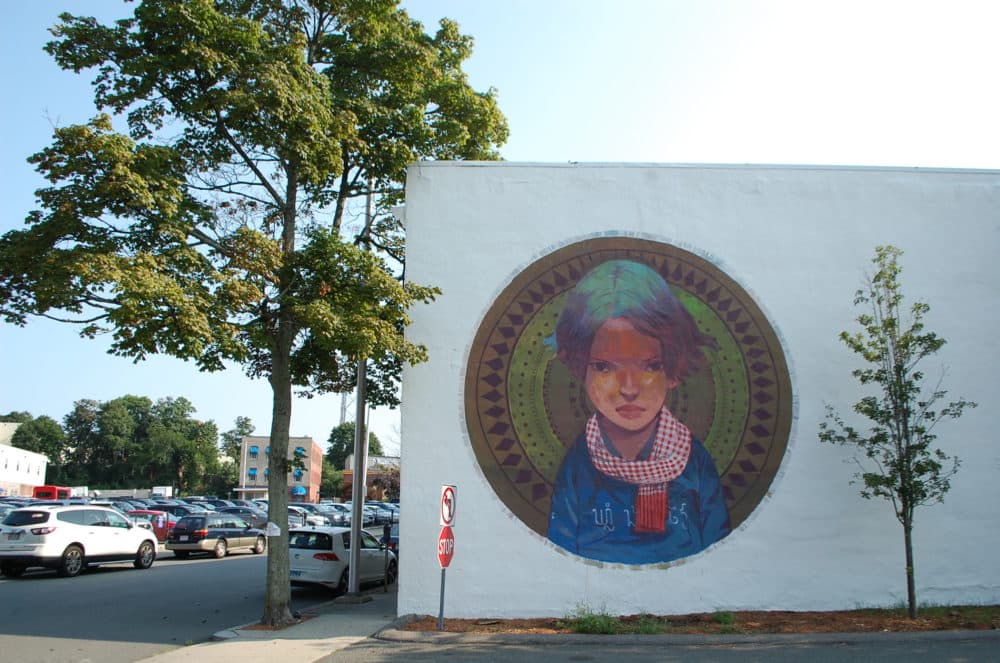 ---
Yu-Baba and Key Detail | 50 Silsbee St.
Artists Yu-Baba and Key Detail work as a team and have completed almost 80 murals over the last six years. Originally from Belarus, Yu-Baba works on portraits portraying women with a magical or dream-like style who exude strength. Key Detail, active on the street art scene since the early 2000s in New York has developed a surreal form that blends almost seamlessly with Yu-Baba's aesthetic.
In Lynn, the pair drew inspiration from the nearby ocean, painting two portraits of beautiful mermaids under the water. "We believe that there are many fantastic and weird creatures in the ocean," Yu-Baba said. "We wanted to add something magical to this area."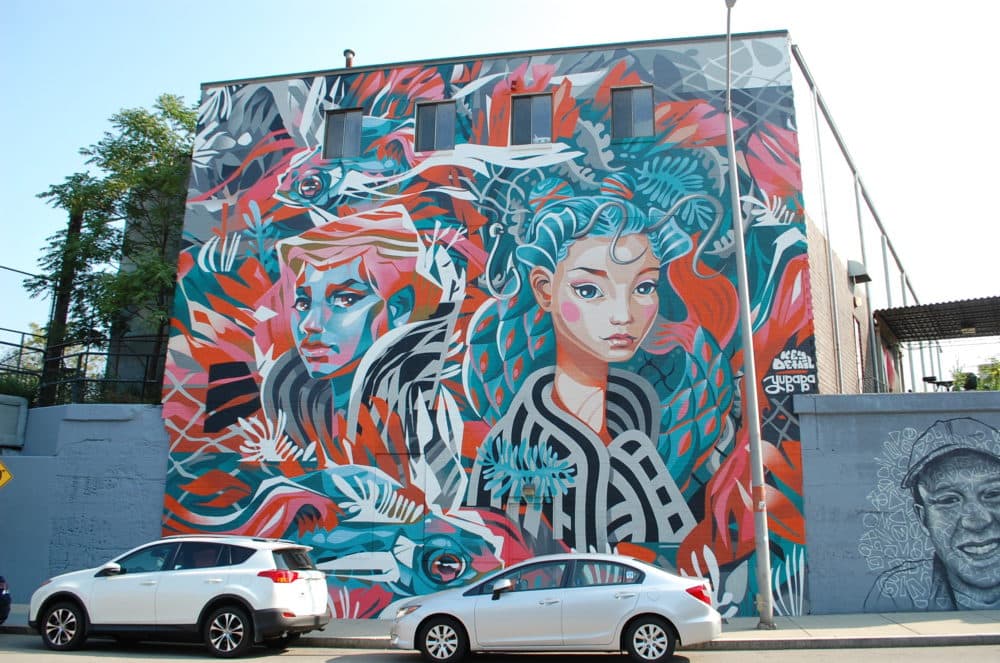 ---
JUURI | 170 Liberty St.
Juuri was born in Tokyo and moved to the U.S. with her family when she was 6. She uses her background as inspiration for her work and, after dabbling as a graphic designer, jumped into fine art in 2010.
"My work usually consists of a beautiful figure surrounded by lush florals and Japanese kimono motifs," she said. "But if you look deeper, you can see a look of defiance or pain in their eyes. For this piece I wanted to make a statement against suicide since it's such a problem [throughout] the world, including in Japan. I want people to see the piece and know that even though life is hard and sometimes seems impossible, it is worth fighting for."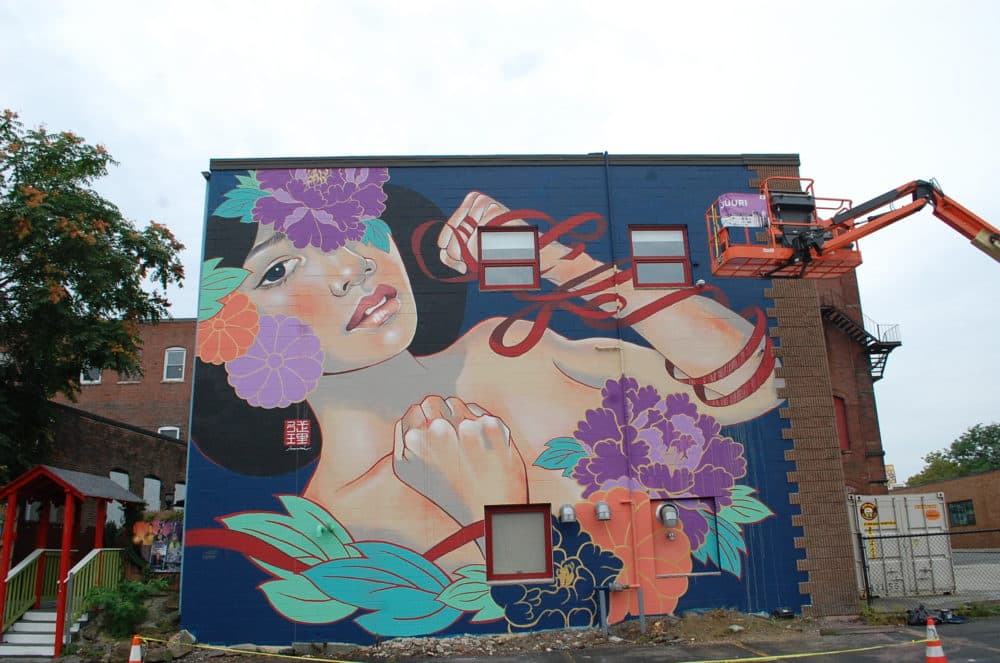 ---
Imagine | 501 Washington St.
Known by her graffiti name Imagine, Nepal transplant Sneha Shrestha has emerged as a creative force in Boston, with a street art style that reflects her native culture. She fuses traditional graffiti styles and the aesthetic of Sanskrit scriptures and manuscripts.
For her work in Lynn, Imagine tackled a five story building on Washington Street, adorning it with the repeating mantras for love, compassion, community and imagination in Nepali.
"I believe these are the ingredients necessary to bring about positive change in a city," she said. "The aesthetic is inspired by a flower in Nepal that is used for auspicious occasions. I believe Beyond Walls is creating auspicious occasions for people to celebrate their unique lives."