These Black, Queer 'Femcees' Are Changing Boston's Hip-Hop Scene
When rapper Oompa recruited fellow Boston based rappers Red Shaydez and Brandie Blaze for a show on Aug. 30, she wasn't necessarily aiming to subvert the traditional narrative of hip-hop. "But I knew I wanted performers who were adjacent to me," she says. "I knew I needed black femmes up on that stage." A femme is a queer, non-binary or gender non-conforming person who presents themselves primarily in a feminine way.
The show, going down at City Winery in Boston, is really the first of its kind in the city. It's not often that one sees a lineup comprised of only femme, black and non-hetero rappers. There are connecting threads among the three artists and yet their sounds carry a weight that is unique to each lyricist.
"I love that we have similar narratives" Oompa says of the lineup. "But we deliver it in our own way."
Brandie Blaze's biting wit and spitfire rhymes are quite different from Oompa's melodic verses that are occasionally interspersed with soulful vocals. Red Shaydez, who grew up with a father in a hip-hop group, is a succinct wordsmith whose music  explores the underpinnings of society.
"Yes we're three womxn. But we have different content and we all have our own sounds. But it's going to flow together in an amazing way," says Blaze. (Womxn is an inclusive term meant to encompass more non-conforming gender identities than the traditional spelling.)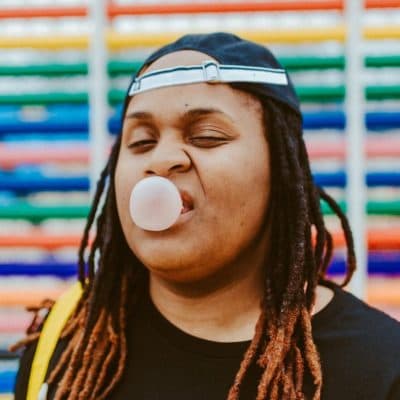 Despite the three artists' singular stories and lyrical delivery, they've all felt the uncomfortable, overarching presence of misogyny, homophobia and fatphobia in hip-hop.
There is no shortage of straight men in rap. Google searching the word "rappers" will return a long list of men, interspersed with Nicki Minaj and Cardi B.
Ironically, these two female rappers have been pitted against each other for the better part of 2017 and 2018, by both fans and the media. The feud between Cardi and Nicki is merely a reiterated manifestation of the invasive hip-hop mythology that there can only be "one" successful femme rapper at a time.
"I've experienced nothing but love from other womxn," Blaze points out. "But it's like the industry pushes this idea that there's only one room for one hot female rapper."
Whether it was Salt-N-Pepa popping back at Roxanne Shante or Lil Kim and Foxy Brown's long standing beef, the culture has always been overly keen on positioning femme rappers as opponents instead of as potential collaborators.
Though female rappers have broken this trope time and time again, the narrative persists. Breaking it means extending to female rappers the same ability and privilege to be individuals, as the industry and our culture already do for men.
But how does that work in a genre that constantly forces femcees to cater to the male gaze? The LA Times asked the same question in 1990, in an interview with Queen Latifah, MC Lyte and Yo-Yo who all spoke about the overbearing misogyny in the industry. Nearly 30 years later, it's a quandary that still plagues femme rappers. "I felt like I didn't have a place," Shaydez recalls of her earlier days in music. "I was always pressured to have that 'look.'"
Fellow men in the industry told Shaydez that her look, which oscillates between the binary of masculine and feminine, wasn't going to help her as she pursues her musical career.
Blaze is unapologetic about her size, though people in her past have doubted her because of her weight. "I know that there are a lot of times where not having that "look" has hurt my career ... but just as many doors that've been closed on me, as many have opened up."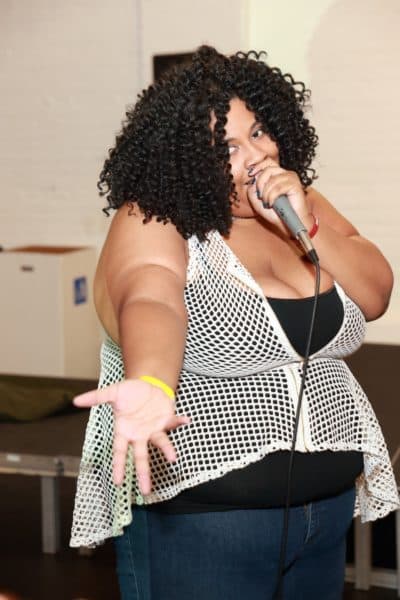 This expectation to fit within a certain paradigm of beauty has been a long time parasitic companion to femcee-ship. Lil Kim stands as an infamous example of what colorism and misogyny can pressure women into. In the '90s, she began addressing the expectation to be lighter skinned with a certain "look."
"Being a regular black girl wasn't good enough," she said in a 2000 interview with Newsweek. Her recent plastic surgery and skin bleached skin have spawned numerous think pieces penned by black women on the impacts of representation and misogynoir.
"It's an industry standard that women are constantly asked to play into. It's important that autonomy is there and that womxn are allowed to fully claim themselves," says Oompa, who is queer and masculine presenting. She's not a stranger to being asked to pander to or excuse the impacts of the male gaze. "This show is meant to help break that paradigm down," she says.
Representation is an inherently important part of the culture, as is visibility. This show provides representation for both different and similar groups of people.
Sexuality and black bodies are historically and restrictively intertwined. Black bodies that don't fit into the binary of male and female are often left out of the equation or are fetishized or tokenized. Blaze has the most sexually charged music of the three performers. She uses her sexual expression to tear down misogyny and fatphobia.
"I think that's why I love Brandie's music so much," says Oompa. "I'm kinda reserved and I don't really go into my sex life. But Brandi's music is unabashed and real about it. It's relatable as hell."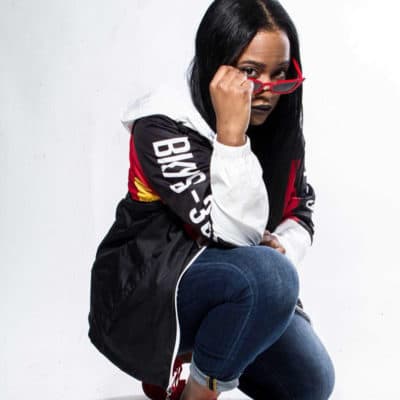 Shaydez, who identifies as pansexual, is also more ambiguous about her sexuality in her music. "I don't hide my sexuality but I am a private person...my music reflects that."
Whether or not they meant to, these femcees will be changing the face of hip-hop in Boston on Aug. 30. This show, they hope, will set a precedent of non-hetero, femme black rappers joining forces to put on for a culture that has never exalted or cherished their presence.
"Making space" is a laborious concept that marginalized peoples often have to take on in order to feel like they have the privilege of self expression.
Oompa, Brandie Blaze and Red Shaydez's occupying and dominating the stage on Thursday is doing just that — taking up space that hip-hop told them they shouldn't have in the first place.
---
Update 8/29: Oompa with Brandie Blaze and Red Shaydez were originally scheduled to perform at Sonia in Cambridge. However, the show was moved to City Winery's Haymarket Lounge amid news that the Middle East Nightclub (and Sonia) co-owner Joseph Sater was retiring in light of sexual assault allegations.
This article was originally published on August 27, 2018.