Hollywood's New 'A Midsummer Night's Dream' Is Irreverent And Hip But Still Misses The Mark
The course of true love never did run smooth, especially not when adapting "A Midsummer Night's Dream" for the screen. Said to be Shakespeare's most frequently produced play, this story of squabbling young lovers in an enchanted wood has nonetheless stymied filmmakers from Max Reinhardt's famous 1935 flop starring Jimmy Cagney to Michael Hoffman's strenuously whimsical 1999 production.
Writer-director Casey Wilder Mott's hip, irreverent, present-day take on the tale at first feels like it's going to buck the trend. A dazzling opening third overflows with wit and invention before getting bogged down right when it should be starting to sizzle. So quick bright things come to confusion.
Mott transfers the text to contemporary Los Angeles, where the Hollywood sign now reads "A-T-H-E-N-S." Duke Theseus (Ted Levine) is the harried head of a movie studio whose biggest box office star, Hermia (Rachael Leigh Cook) wants to bust up her betrothal to musclehead finance bro Demetrius (Finn Wittrock) and run off with Hamish Linklater's sensitive fashion photographer, Lysander. To adjudicate the matter Theseus enlists the assistance of his gorgeous trophy girlfriend Hippolyta (Paz de la Huerta) and Lily Rabe's scorned screenwriter Helena. It isn't too long before we discover what fools these mortals be.
Mott's "Midsummer" bursts out of the gate with a blast of Mendelssohn music and a barrage of clever sight gags. It's a kick to see The Bard's language transplanted into text messages or hear Siri interrupting soliloquies. Keep an eye out and you'll find famous phrases from Shakespeare's other plays appearing as advertising slogans, tattoos or on coffee cups. (My favorite is the montage of Hermia's movie posters mimicking recognizable hits, such as the "Pretty Woman" spoof "300 Ducats.") The Quince Players have been reimagined as AFI students — that's the Athens Film Institute, where the brochure tells us "all the world's a stage." It's there that egocentric actor Nick Bottom (Fran Kranz) takes the lead role in a project ill met by moonlight.
I must confess that I was not above laughing out loud at the film's most groan-inducing references, as when Kranz wanders the halls looking for room "2B" or Levine ordering his damned dog Spot to get out of his chair. I wish Mott had tried to keep up this level of zaniness, which woefully ebbs once the young lovers are stranded in the Hollywood Hills with no cell reception — and the faeries begin to have their way.
Pretty much every "Midsummer Night's Dream" adaptation stumbles over the supernatural stuff, which is done no favors by the specificity of a movie camera and perhaps needs the abstraction of a stage. In a disappointing contrast to his smartly updated protagonists, Mott's pedestrian vision of the faeries looks like a bunch of thrift shop owners got lost on their way to Burning Man. Avan Jogia's Puck is here envisioned as a ripped surfer dude living out of his VW minibus on Venice Beach, and in an affliction common to actors playing this particular character, he's nowhere near as funny or endearing as he seems to think he is.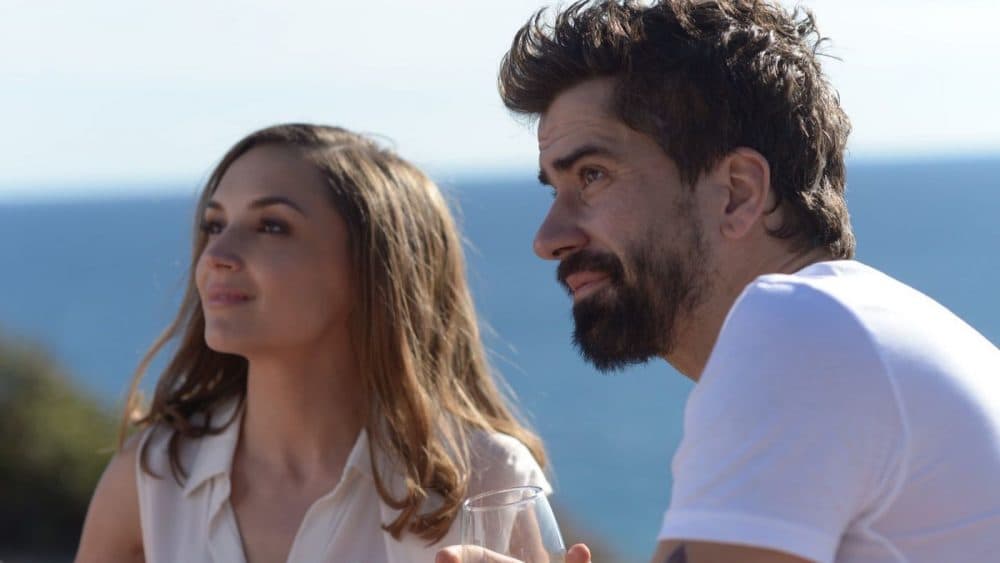 But maybe Mott's biggest misstep is the harsh, shadowy red light with which he and cinematographer Daniel Katz have shot the night sequences, conveying a feeling more sinister than enchanted. (The crimson woods call to mind the brake-light illuminated disinterment of Billy Batts in Martin Scorsese's "GoodFellas." Not a good visual association for your romantic comedy.) Some of the play's funniest material gets muffled under this eye-straining aesthetic choice, and the empty clearing in which these scenes take place provides little opportunity for variety in the blocking.
Then there's the peculiar decision to update Bottom's overnight affliction, changing his magical transformation into a jackass to something even more literal and befitting his name. While certainly a bold choice to have Kranz wear two large, prosthetic butt-cheeks over his face, I can't say that it quite comes off — however relieved I am that Mott didn't alter the "neighing" noises made by the character accordingly. (It is worth noting that at looking at an oversized rear end was still preferable to Kevin Kline's incessant mugging in the 1999 version.)
I enjoyed the relaxed charm of most of these performers, particularly Ted Levine — an excellent actor who was perhaps too convincing as serial killer Buffalo Bill in "The Silence of the Lambs" and thus will unfortunately forever be remembered for dancing with his genitals tucked between his legs. Levine has a warm, avuncular presence in "A Midsummer Night's Dream," but after the movie grinds to a halt with a "Star Wars" parody gone awry, most viewers will agree with his studio boss' insistence that this production doesn't need an epilogue.