Beyond 'Hamilton,' Here Are 11 Productions To See On Boston Stages This Fall
This article is more than 4 years old.
Here's the fall theater preview in a single word: "Hamilton." Yes, the Broadway phenomenon, a sung- and rapped-through musical about American Founding Father and Caribbean-born proto-immigrant Alexander Hamilton, with book, music and lyrics by Lin-Manuel Miranda, performed by actors of color in period costume, will finally pull into the Boston Opera House for a two-month run (Sept. 18 through Nov. 18), courtesy of Broadway In Boston. The Tony-, Grammy- and Pulitzer-winning musical has taken its sweet time getting to this particular colonial hub. But tickets are flying as fast as the bullets between its titular namesake and Aaron Burr.
Meanwhile, here are some alternative ideas for theater enthusiasts waiting in line (or online) to surrender their wallets to "Hamilton." And as if in homage to Miranda's mega-hit, few of them take a traditional, favorable approach to privileged white men.
'The Black Clown' | Aug. 31 - Sept. 23 | American Repertory Theater
Composer Michael Schachter and bass-baritone Davóne Tines, both Harvard grads, team up for what they call a "vaudeville oratorio" based on the Langston Hughes poem of the title. Seen here in its world premiere at the Loeb Drama Center, the "music theater experience," scored for bass baritone, chorus and orchestra, "fuses vaudeville, gospel, opera, jazz and spirituals to bring Hughes' verse to life onstage and animate a black man's resilience against a legacy of oppression." Direction is by Zack Winokur, with music direction by Jaret Landon and choreography by Chanel DaSilva.
---
'The Niceties' | Aug. 31 - Oct. 6 | Huntington Theatre Company
Less dainty than its name is this incendiary two-hander by Huntington playwriting fellow Eleanor Burgess, receiving its world premiere at the Calderwood Pavilion. Set in contentious groves of academe, the play, rooted in a 2015 incident at Yale, begins with a meeting between a black student and her white professor regarding the student's term paper "about the impact of slavery on the American Revolution." The two women's debate "devolves from a war of words into an incident that foments campus furor, garners national headlines and threatens to ruin both their lives." Apparently taking its cue from "Hamilton," the play "considers who tells America's stories and what prejudices the purveyors of history may have held." Kimberly Senior is at the helm of the premiere, which will move on to the Manhattan Theatre Club and Princeton's McCarter Theatre Center after its run in Boston.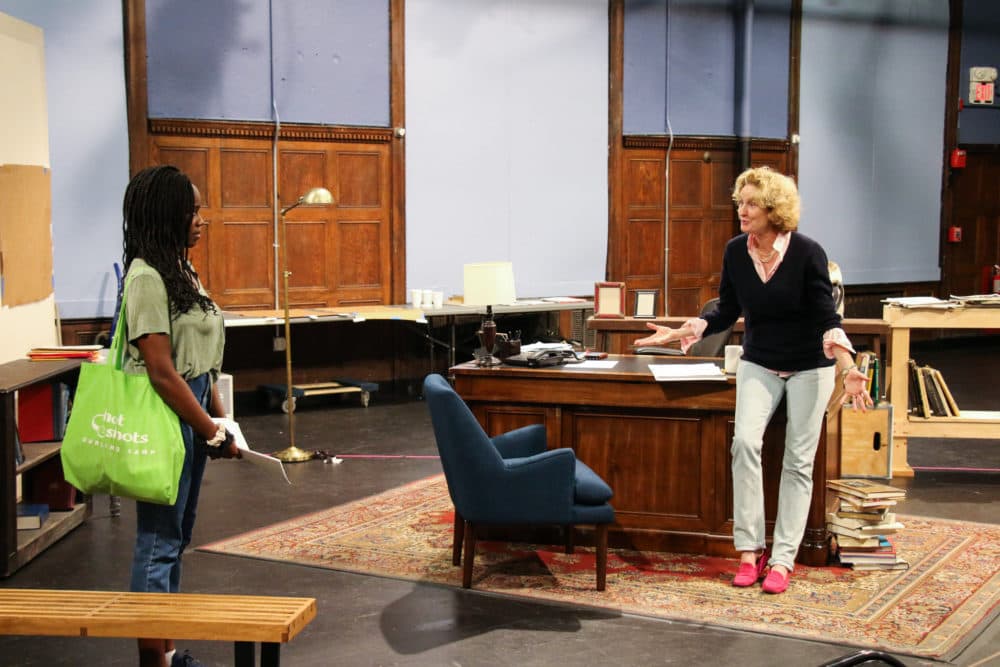 ---
'Between Riverside and Crazy' | Sept. 14 - Oct. 13 | SpeakEasy Stage Company
This 2015 Pulitzer Prize winner by estimable scribe (and frequent Philip Seymour Hoffman collaborator) Stephen Adly Guirgis is seen here in its New England premiere at the Calderwood Pavilion. "A dark urban comedy that explores with both disarming tenderness and street-smart wit the slippery nature of justice," it's about an African-American ex-cop's battle to hold on to "one of Manhattan's last great rent-subsidized apartments." Tiffany Nichole Greene, who appeared in SpeakEasy's "Bootycandy," helms a cast that includes Broadway, film and TV vet Tyrees Allen as well as Boston favorites Maureen Keiller, Celeste Oliva, Alejandro Simoes and Lewis D. Wheeler.
---
'Straight White Men' | Sept. 7-30 | New Repertory Theatre
Obie-winning writer/director Young Jean Lee ("We're Gonna Die") made her Broadway debut in July with this subversive 2014 take on the titular demographic, in which dad Ed and his three grown sons celebrate Christmas Eve, trash-talking, pranking and enjoying takeout Chinese. Ultimately, however, they confront an elephant in the rec room: "When identity matters, and privilege is problematic, what is the value of being a straight white man?" Director Elaine Vaan Hogue heads up a creative team whose members are female, transgender or people of color. Ken Cheeseman, Shelley Bolman, Michael Kay and Dennis Trainor Jr. play the SWM.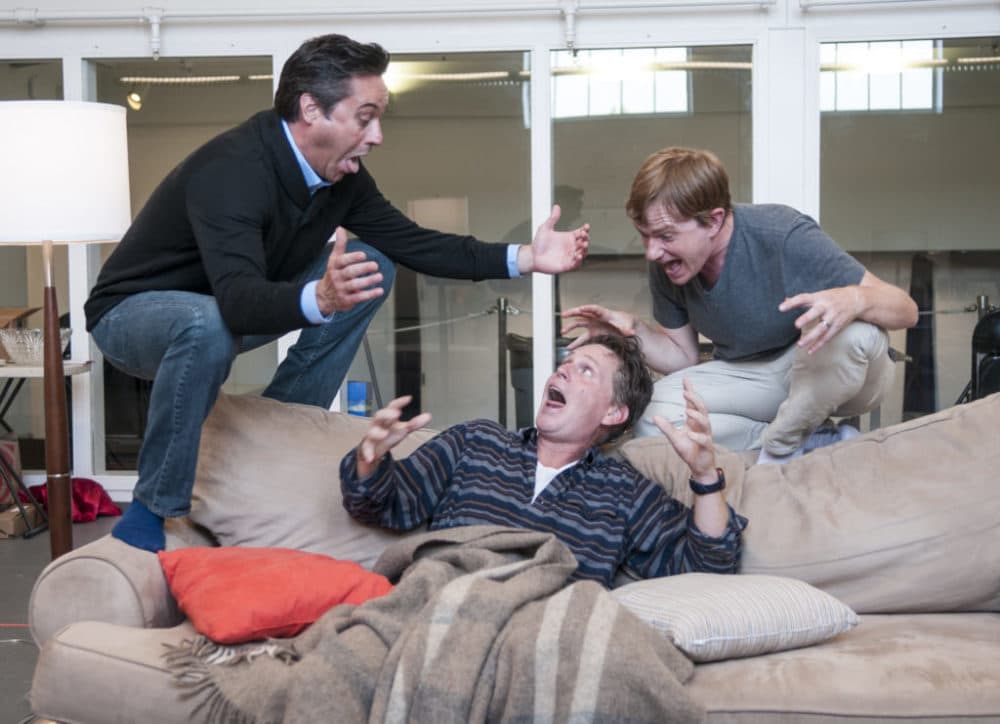 ---
'Vicuña' | Sept. 14 - Oct. 6 | Zeitgeist Stage Company
When this play by two-time Pulitzer finalist Jon Robin Baitz opened in Los Angeles in October of 2016, it was a blatant political satire. Zeitgeist Stage is taking a chance that it will not now play as a tragedy with jokes. Baitz's barbed comedy centers on an Iranian-American tailor and his Muslim apprentice, who are commissioned to stitch a bespoke suit (from the luxury wool of the title) for "a blustering real estate tycoon and reality TV star" who is running for president as the unlikely candidate of a major party and wants to look snappy for his final debate. Artistic director David J. Miller is at the helm of a risky ship.
---
'Hamnet' | Sept. 20 - Oct. 7 | ArtsEmerson
Dublin-based Dead Centre comes to the Emerson Paramount Center with the U.S. premiere of this 60-minute "moving, meticulous, multimedia wonder" at the center of which is William Shakespeare's only son, who died at the age of 11, without ever knowing his father. With text by Bush Moukarzel, Ben Kidd and the Bard (and direction by the two who are not Shakespeare), the "fascinating production" (according to the British newspaper the Guardian) takes us into a child's view of the world, without any sentimentality." And this engagement affords the last chance to see young actor Ollie West, whose tour-de-force performance in the title role was dubbed by the Guardian "riveting and completely poised."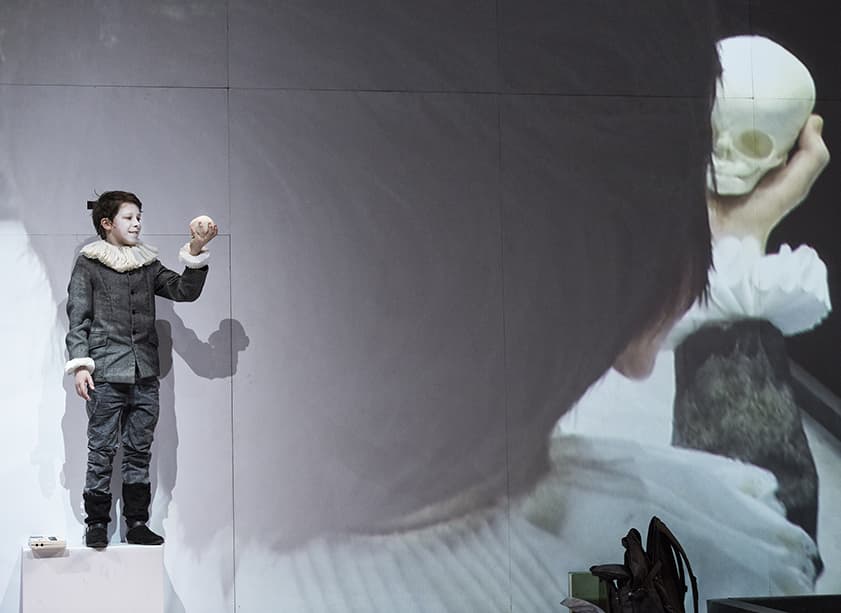 ---
'Frankenstein' | Oct. 4 - Nov. 4 | Nora Theatre Company
Central Square Theater celebrates the 200th anniversary of Mary Shelley's gothic tale with the area premiere of British writer Nick Dear's acclaimed 2011 stage adaptation, which opened at London's Royal National Theatre with Holmesian heartthrobs Benedict Cumberbatch and Jonny Lee Miller alternating as Dr. Victor Frankenstein and his monster. (They shared an Olivier Award.) The adaptation, directed here by area master of the macabre David R. Gammons, tells the story from the cast-out Creature's perspective. The delightfully off-kilter John Kuntz plays Frankenstein, with cast members Remo Airaldi, Ashley Risteen, David Keohane, Omar Robinson and Debra Wise all taking a turn as the Creature. A Catalyst Collaborative@MIT production, the staging explores "scientific responsibility and the nature of good and evil." And it happens at Halloween.
---
'Equivocation' | Oct. 11 - Nov. 10 | Actors' Shakespeare Project
Actors' Shakespeare Project follows its season opener, "Macbeth," with an intriguing pairing: this 1605-set work by Bill Cain (who many years ago helmed the Boston Shakespeare Company). In the wake of a plot to assassinate King James I and explode Parliament, the government orders up a play: the king wants a cautionary tale, and he wants witches. As Shakespeare struggles with the idea of becoming a propagandist for the crown, his fellow Globe Theatre thespians consider speaking truth to power — and paying with their heads. ASP artistic director Christopher V. Edwards is at the helm of the production, which features local favorites Steven Barkhimer, Maurice Emmanuel Parent, Nael Nacer and Ed Hoopman.
---
'The Tragic Ecstasy of Girlhood' | Oct. 11 - 21 | Boston Playwrights' Theatre
Very young women are taking center stage in various venues, from the Bo Burnham film "Eighth Grade" to Ruby Rae Spiegel's "Dry Land" and Alexis Scheer's "Our Dear Dead Drug Lord." Now comes this workshop production of Texas-bred Boston University MFA-in-playwriting candidate Kira Rockwell's new work. Set in a Texas residential care facility where one of the populace has committed suicide and her housemates are struggling to cope, the play probes the difficulties encountered when "you're forced to raise yourself in the shadow of the System."
---
'Universe Rushing Apart: Blue Kettle & Here We Go' | Nov. 7 - 18 | Commonwealth Shakespeare Company
Commonwealth Shakespeare Company, which offers free Shakespeare on the Common every summer, moves to the Sorenson Center for the Arts at Babson College for this experimental bill by prolific British playwriting legend Caryl Churchill ("Top Girls," "A Number"), directed by Bryn Boice. "Blue Kettle" first appeared in 1997; its ostensible focus is a middle-aged con man representing himself to various elderly women as the child they gave up for adoption. But the work's real subject is the breakdown of language. The 2015 "Here We Go" is a Beckett-esque triptych exploring death, described by British critic Michael Billington as "a striking memento mori for an age without faith." The cast features Boston divas Karen MacDonald and Maureen Keiller, as well as Shakespeare & Company vet Ryan Winkles.
---
'WET: A DACAmented Journey' | Nov. 8 - 25 | ArtsEmerson
It would be hard to get timelier than this solo show by 34-year-old Los Angeles-based actor, spoken-word artist and social worker Alex Alpharaoh, which has moved from LA's 50-seat Ensemble Studio Theatre to a national tour. Winner of a Los Angeles Drama Critics Circle Award for Solo Performance, the autobiographical theater piece tells "a true story of what it means to be an American in every sense of the word except one: on paper." In it, Alpharaoh, a college-educated DACA Dreamer, tells his own story, beginning with his illegal entry into this country at the age of three months and replete with industry, uncertainty, harrowing border crossings and administrative hassle. The show's in the intimate Jackie Liebergott Black Box at the Emerson Paramount Center.
---
Correction: The original post incorrectly identified the director of "Universe Rushing Apart: Blue Kettle & Here We Go." We regret the error.
This article was originally published on August 30, 2018.