1 Dead, About 20 Injured In Gas Explosions In Lawrence, Andover And North Andover
This article is more than 4 years old.
Update Friday: We've started a new story. Find it here.
---
At least one person died and thousand of residents in three Merrimack Valley communities were urged to evacuate from their homes after a series of gas explosions ignited fires in the area.
The affected communities are Lawrence, Andover and North Andover.
Leonel Rondon, 18, of Lawrence, died after a chimney from a house explosion fell on the car he was in on Chickering Road, the Essex County district attorney's office said in a statement late Thursday.
About 20 other people, including at least one firefighter, were injured and being treated at local hospitals as a result of the explosions or fires.
A map shared on Twitter by Massachusetts State Police showed 70 confirmed incidents of fires, explosions or gas odor investigations as of 7:25 p.m.:
State police troopers, emergency responders from surrounding Massachusetts towns and cities, and public safety officials from New Hampshire, rushed to the scene to assist.
At least 10 people were being treated at Lawrence General Hospital for issues ranging from smoke inhalation to traumatic blast injuries, the hospital said around 9 p.m. At least one patient was in critical condition, another was in serious condition.
Another 10 people were under the care of Holy Family Hospital, which said the patients all were "either stable or being actively discharged."
After fires tore through the communities, officials called for widespread evacuations.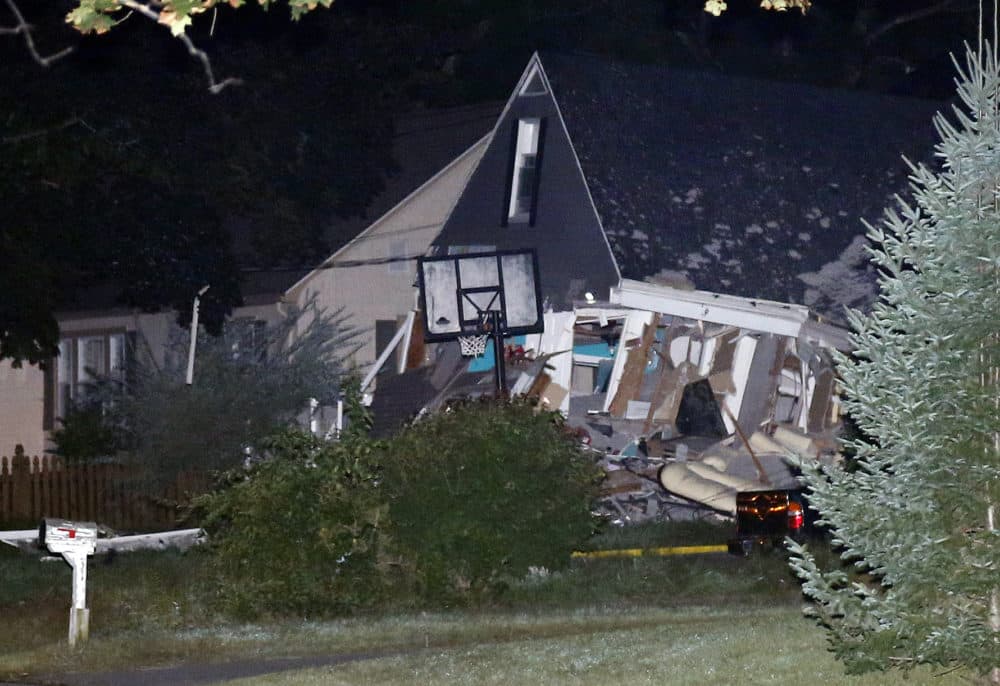 "Residents in the affected towns [sic] of Lawrence/North Andover/Andover who have gas service from Columbia Gas should evacuate their homes immediately if they have not already done so," state police tweeted at 6:10 p.m. "Gas lines are currently being depressurized by the company[;] it will take some time."
Columbia Gas of Massachusetts is the gas company covering the region.
As of late Thursday, it remained unclear what exactly caused the blasts. The state fire marshal's office had said the fires followed a high pressure gas main explosion. State emergency management officials said that "possible gas line over-pressurization" could be the source of the explosions. However, state police officials said in a tweet Thursday evening that it is "far too early to speculate on [a] cause."
After hours of firefighters battling the blazes, leaders from the three communities offered an update alongside Gov. Charlie Baker at just past 9 p.m. Thursday.
The governor said he did not expect there would be any more fires or explosions, but that firefighters would likely still be dealing with "the remnants" of Thursday's fires through Friday.
Baker did not speculate on a cause of the explosions, saying he and other public safety officials were focusing on ensuring "people who need shelter, get shelter."
Lawrence Mayor Daniel Rivera told reporters explosions and fires only occurred south of the river in the city — and residents there who had not yet evacuated should do so immediately. He said all North Lawrence residents were OK to remain in their homes.
"You just gotta go. Don't wait for there to be a fire in your neighborhood," Rivera said. "If you stay in your home, you will be at-risk. ... Get our of your house, go north of the river." He instructed people to call the city's 2-1-1 hotline for help getting to or finding shelter for the night, delivering his messages of reassurance and warning in both English and Spanish.
Schools will be closed in all three districts Friday.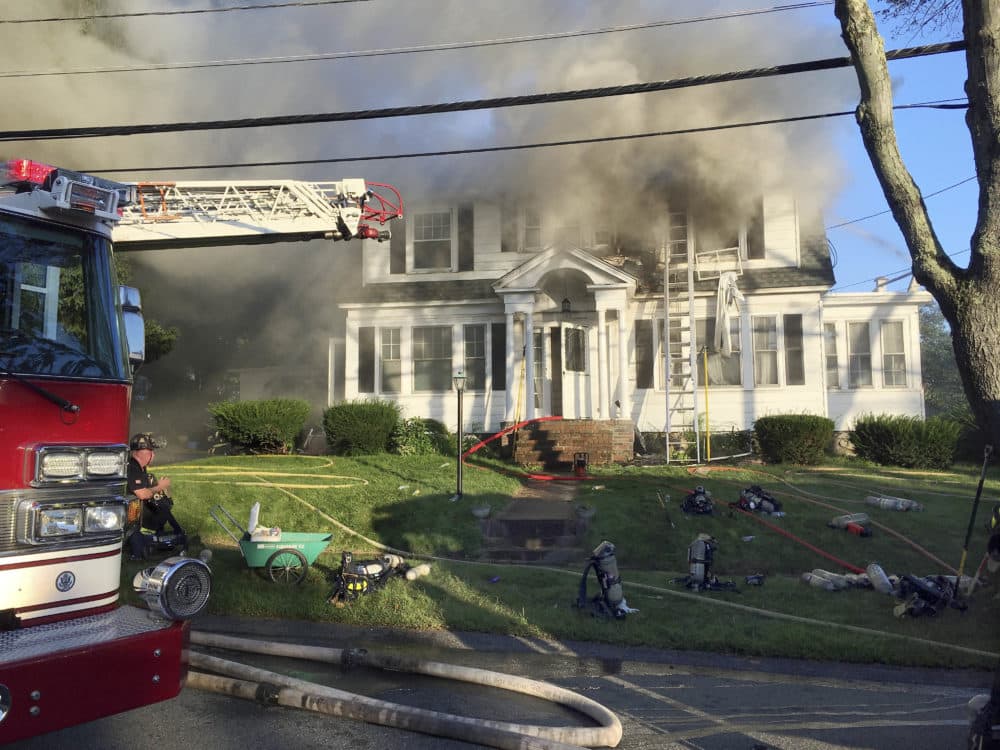 Methuen Police Chief Joseph Solomon, who was in Lawrence, told The Associated Press earlier Thursday that he saw 20 to 25 homes on fire there. Solomon said there were so many fires "you can't even see the sky."
State police had announced at 7 p.m. that utility companies would shut off electricity to all customers in the three communities. Columbia gas crews were working on-scene to evaluate the situation.
At around 7:15 p.m., officials in Andover said in a statement that all fires in the town — a total of 35 — had been knocked down. At one point, 18 fires were burning simultaneously, the statement said, adding fire crews will remain in town overnight.
Standing with her dog outside her home in North Andover, Sue Spino said she was waiting for other family members to arrive to decide where to seek shelter.
"We're all quite nervous [and] a little overwhelmed because we don't know what house is going to go up," she said. "Most of us have shut off our gas and electricity to our homes, but there are quite a bit of homes that have caught on fire in this neighborhood already."
Andrew Maylor, the town manager of North Andover, earlier told WBUR he was coordinating the town's response from outside one of the house fires.
"What we're doing is going neighborhood to neighborhood in areas that we think could be most at-risk and informing people that they should not return to their homes," Maylor said.
Andover evacuated residents to a senior center at 30 Whittier Court, and North Andover residents were asked to leave their homes and head to North Andover High School on Main Street or a shelter at Wilmington Middle School on Center Lane. Lawrence shelters were opened at the Parthum School and the Arlington School.
More details on centers from the Red Cross:
With additional reporting from WBUR's Quincy Walters, Lynn Jolicoeur and WBUR's Newscast Unit
Correction: The Essex DA's office previously gave an incorrect last name for the deceased. In addition, the location of one shelter in North Andover was misidentified. We regret the errors.
This article was originally published on September 13, 2018.