Oh Pooh! Why That Beloved Bear Of Little Brain Appeals To All Ages
Play
This article is more than 4 years old.
Everyone loves that silly old bear Winnie the Pooh.
Author A.A. Milne is known for his endearing, Zen-like characters' words of warmth and wisdom from the Hundred Acre Wood. Now Boston's Museum of Fine Arts hopes the combination of Milne's writing and artist E.H. Shepard's singular drawings will attract multi-generational audiences as part of the institution's strategic plan.
It can be hard not to fall down a nostalgic rabbit hole when you consider Pooh, with his round "rumbly tumbly" and adorable signature utterings like "Think, think, think" and "Oh, bother."
"Who doesn't love Pooh?" the museum's curator of design Meghan Melvin asked on a recent preview tour of the museum's new show, "Winnie-the-Pooh: Exploring a Classic." She's clearly taken by him, as evidenced by the honeybee necklace circling her neck.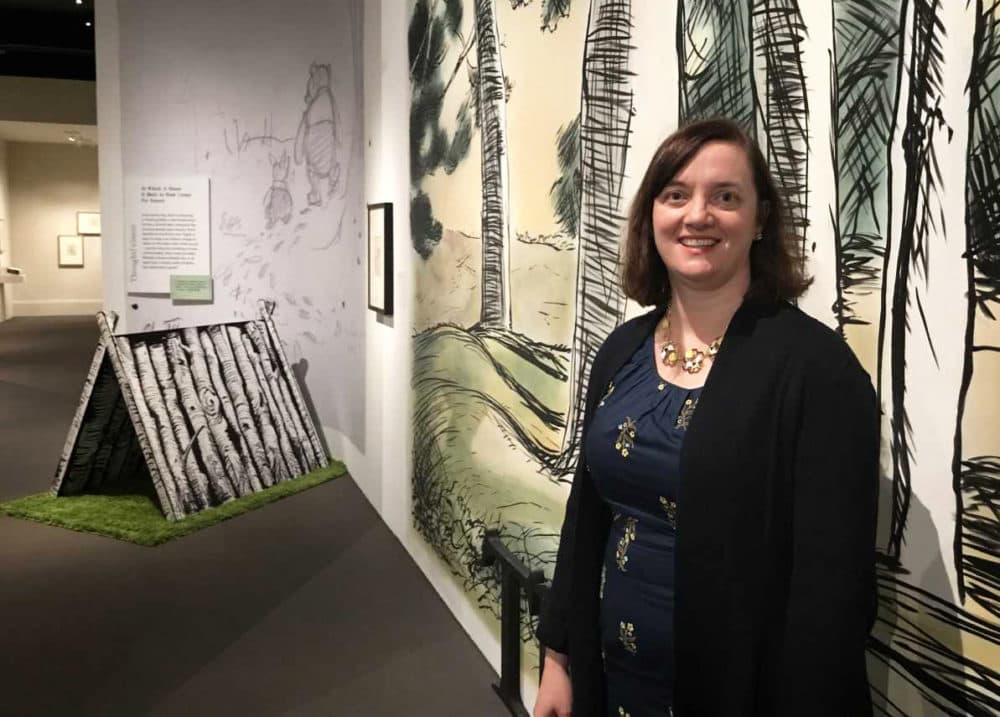 "All around the world if you say 'Winnie the Pooh,' people will probably recognize him," she told me standing in front a television monitor playing the Russian cartoon version.
The opening gallery introduces us to Pooh, the international rock star of children's literature. There's merchandise and ephemera from all over the world, including a Japanese bento lunch box, a board game, the Latin version of the book and a Winnie the Pooh dress.
Melvin suspects most people these days know Pooh through Disney, but this exhibition's goal is to take us back to the bear's origins and to the people who created him. When visitors pick up an old-fashioned telephone, it plays the only known recording of Milne reading from "Winnie the Pooh":
Pooh and Piglet go hunting, and nearly catch a Woozel. The Piglet lived in a very grand house in the middle of a beech-tree, and the beech-tree was in the middle of the forest, and the Piglet lived in the middle of the house.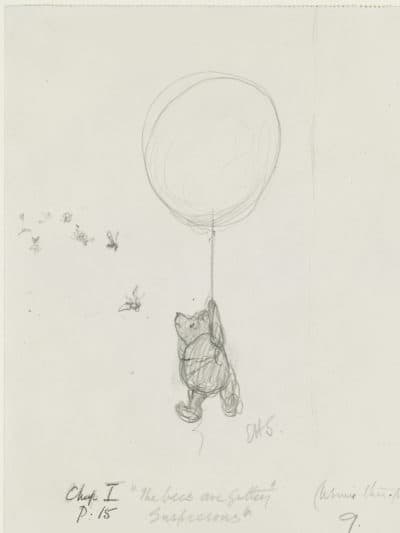 Alan Alexander Milne drew inspiration for the forgetful bear from his son Christopher's stuffed animal, Edward. This history unfolds throughout the traveling show, titled "Winnie-the-Pooh: Exploring a Classic." This is the last stop for the exhibition (which was designed by London's Victoria and Albert Museum) in the U.S. before heading to Japan.
Melvin says the expansive display of more than 200 artworks and artifacts illuminate Pooh's universal appeal.
"It's not just Pooh, it's the stories," Melvin mused, "and the way they are able to tap into the world of childhood. Milne had a gift for capturing a child's thought process and ways of expressing themselves. And then Shepard's imagery ... you really enter, you feel like you're back."
Museum-goer Comfort Halsey remembers her father reading Pooh to her when she was a kid. Now the 66-year-old retired teacher is learning more about the artist, Ernest Howard Shepard.
"If you look at the lines, the bear's nose is angled. Or look in his eye. Everything is just perfect to create how we think of that bear and his humility and his appeal," she said. "Shepard just got it."
Shepard was a black-and-white illustrator who contributed to the British publication, "Punch," where Milne also worked.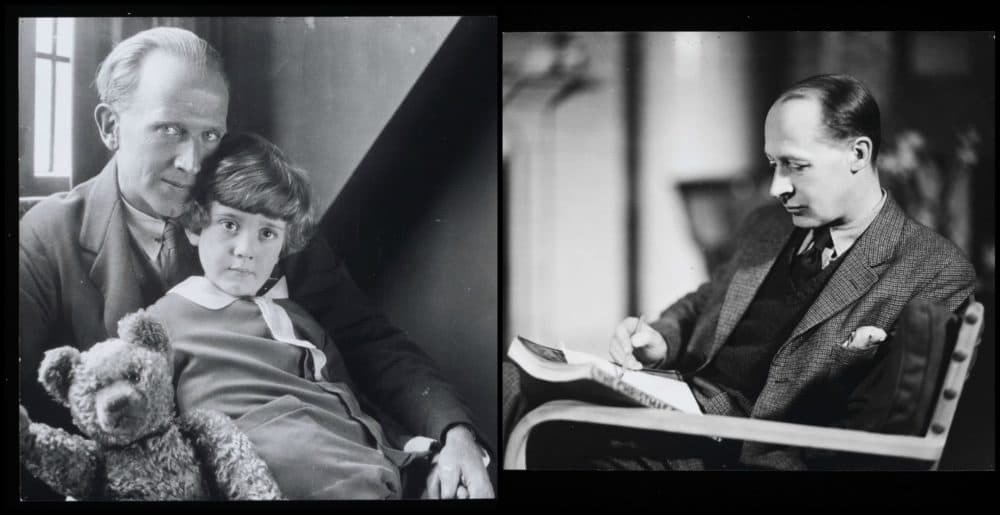 They collaborated when the writer needed images for his 1924 book of verse, "When We Were Very Young," which was widely popular when the paper printed excerpts featuring a tubby, little bear. The character would return two years later in the first edition of "Winnie-the-Pooh."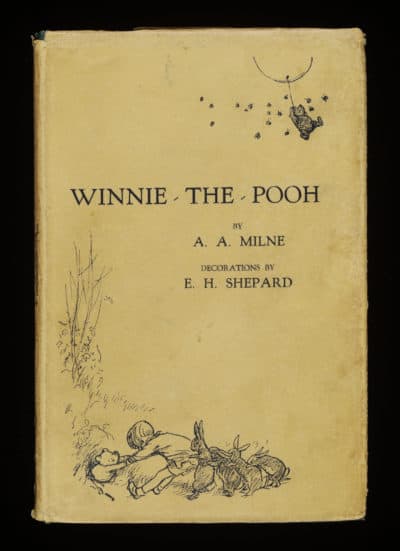 It began with the famed lines:
Here is Edward Bear now, coming downstairs now, bump bump, bump, on the back of his head, behind Christopher Robin. It is, as far as he knows, of coming down stairs, but sometimes he feels that there really is another way, if only he could stop bumping for a moment and think of it.
In one section of the gallery, the noisy words embellish a white wall.
"From the very beginning those words, 'bump, bump, bump,' " Melvin explained, "it's the word and the sound — but then it's closely mirrored by the illustration. So you're seeing what you're reading."
That sort of interplay made Milne and Shepard innovators in 20th century children's lit, and Melvin said the collaborators were simpatico.
"If you know and love the books you understand they had the same sensibility and appreciation for childhood," she said. "And they both clearly had a fantastic sense of humor."
Milne and Shepard both had young sons, too, which surely influenced their work. The boys each had their own stuffed bears. Replicas of those beloved friends are also behind glass in the gallery.
While Milne often gets more credit for Pooh, especially in the U.S., Melvin said the exhibition puts Shepard's work in the spotlight. More than 80 of the artist's original pencil and pen-and-ink drawings are on the walls on loan from private collections and London's Victoria and Albert Museum, where Melvin says Shepard donated much of his work and sketchbooks.
There's the iconic map of the Hundred Acre Wood that serves as end-papers in the book, and studies of the forest surrounding Milne's weekend house where Shepard wandered on visits with the author. Then, of course, there are the irresistible characters themselves.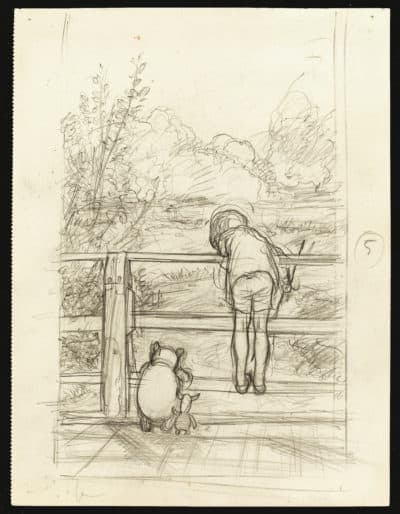 "I love the subtlety of the drawings — they're so simple," Melvin gushed affectionately in front of one. "See how Piglet has his little hand on Pooh? Piglet's a little nervous, you know, Piglet's so small. So it's those tiny details and that's what has amazed me, too, that for the relative simplicity of the drawings there's a lot of emotion embedded in them."
In the gallery visitors smile sweetly. Their eyes even twinkle a bit as they take pictures while drinking in the enchanting trove.
Mary Dana Gershanoff — a 77-year-old Pooh super-fan — was thrilled to dive deep into the artworks and extensive publishing history of Pooh.
"If you're my age, you kind of grew up with it. It takes you back," she said, laughing, "which is good in these times."
But the exhibition extends beyond the museum walls in ways not normally seen — or heard — at the MFA.
There's a slide, a little nursery bed, a flight of stairs, a replica of the Poohsticks Bridge, Eeyore's humble lean-to, a door to Pooh's house with a bell.
An extremely enthusiastic toddler grasps its rope and rings it repeatedly while another zips past us panting and running laps around the gallery.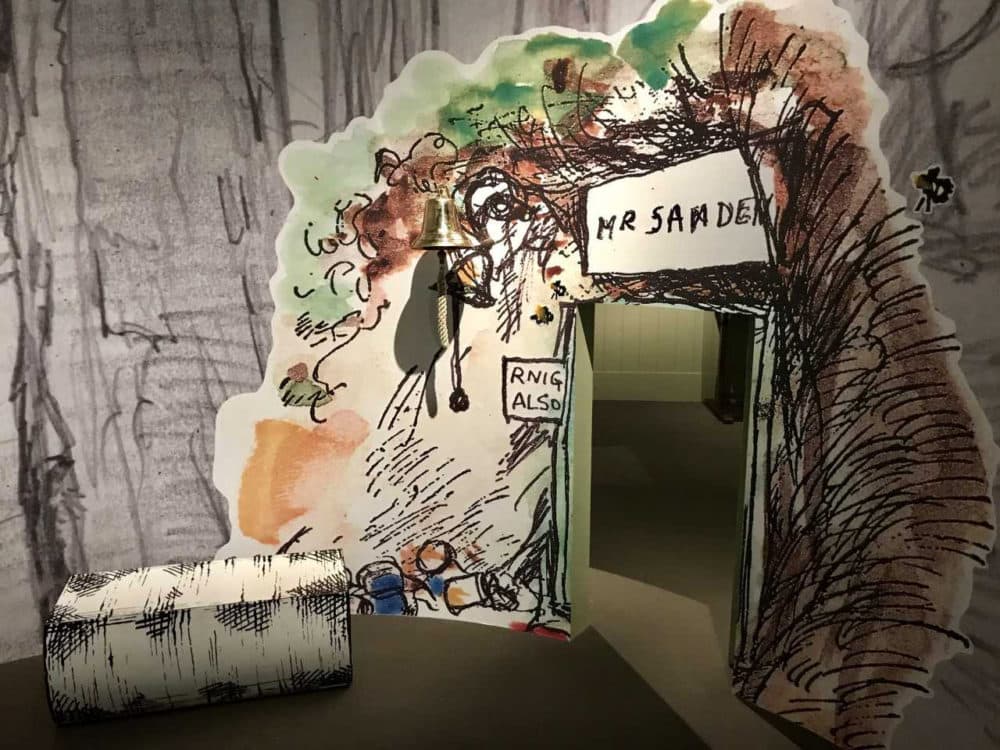 Engaging this age group, their parents and their grandparents is by design, according to museum deputy director Katie Getchell.
"It's common for people to think of art museums as not kid friendly, they think about when they have children they might go to the Science Museum or the Children's Museum," she said. "So we're trying to make sure they know that we have things here every day, all year round for families."
Bringing in more diverse audiences is a major goal in the museum's strategic plan, and Getchell said diversity comes in many forms. Recent research indicates cultural institutions need to focus on retirees and families — in addition to the sought-after millennial audience — to stay relevant and sustainable in the long term. And the MFA believes a mix of ages enriches the museum-going experience.
To make things easier for parents Getchell said for this exhibition they decided to issue timed tickets so families could plan better. There are bathroom passes for re-entry, bathroom step stools, and changing tables have been added to the men's rooms. Oh, and vending machines with snacks for when the café is closed.
"We want to attract multi-generational families," Getchell said. "This exhibition gives us the opportunity to try out a bunch of new things that will stay and will be a lasting benefit to the museum long after the exhibition is gone."
Curator Meghan Melvin feels Pooh is a perfect gateway for the youngest of audiences.
"Children's books are, for many of us, our very first introduction to art," she said, "and so for the MFA this is how we can begin that connection for people."
Pooh took 30-year-old new mom Kimberly Trull on a nostalgia trip during her visit.
"I think I liked him for maybe a little longer than I was supposed to, and it's been just really nice to come back and see this from an adult perspective and learn more about the story and how it's still resonating with people of all ages for so many years," she said as she held her 6-month-old son Rowan.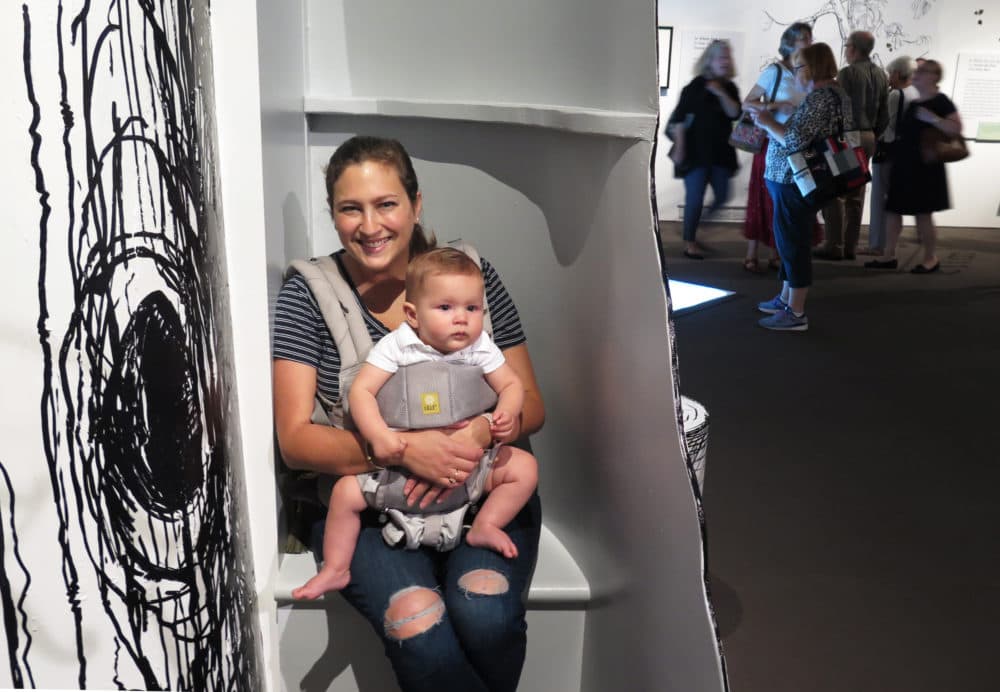 Trull is a member of the MFA and said she actually brought Rowan to the museum a number of times while she was on maternity leave. But the pitter-patter of little feet was novel for Jim Maguire who comes to the MFA a few times a year.
"Oh, I think it's very unusual, I just — there's two or three little children here — I almost stepped on one of them," he said, laughing, "you know that usually doesn't happen when you're looking at the Sargents."
Maguire came here not having ever read Pooh himself. He joked that his Pooh-loving wife dragged him here. But now the show's got him pondering a new plan.
"One of the things I'm going to do when I go home is get the books and read some things about Winnie-the-Pooh – at my age — which is 85," he said, "but you know, never too late, as they say."
---
"Winnie-the-Pooh: Exploring a Classic" is on view at the Museum of Fine Arts, Boston through Jan. 6, 2019.
---
Correction: An earlier version of this post misidentified Mary Dana Gershanoff's name. We regret the error. 
This article was originally published on September 21, 2018.
This segment aired on September 21, 2018.