WBUR Poll: Ballot Question About Mass. Nurse Staffing Is A Dead Heat
Resume
Massachusetts voters are evenly split over a ballot question about mandatory staffing levels for nurses, according to a new WBUR poll.
The poll (topline results, crosstabs) out Tuesday shows big leads for the "yes" camps on two other ballot questions. Voters overwhelmingly support keeping legal protections for transgender men and women, such as the right to use public restrooms that match gender identities. Voters also favor creating a commission that would attempt to reverse the Citizens United Supreme Court decision through a constitutional amendment.
Advocates of new nursing regulations say nurses want to limit their numbers of assigned patients. Opponents claim nurses are actually on their side — and don't want a new law to dictate staffing levels.
Rival groups already have spent more than $14 million on TV ads and other campaign efforts. The competing claims about nurses' views make it hard for voters like Angela Sangeorge to figure out what health care workers at the center of the issue truly think.
"I really can't tell," said Sangeorge, 70, of Winchester. "I think the ads are very confusing."
Sangeorge said she plans to vote "no" on Question 1 — against strict, nurse-to-patient ratios — after consulting her daughter-in-law, who is a heart surgeon.
Forty-four percent of likely voters in the WBUR poll also plan to vote "no," but an equal percentage plans to vote "yes;" 12 percent are undecided.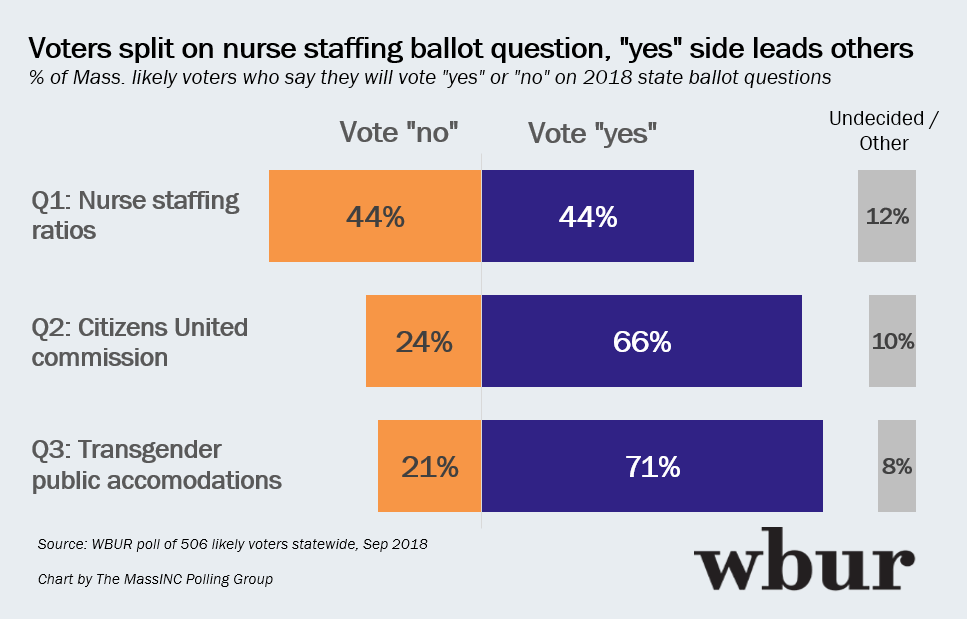 Caitrin Ferriter talked to the the health care professionals in her life, just as Sangeorge did. But Ferriter, 29, of Westfield, got different guidance and plans to vote "yes."
"I know quite a few nurses, and they said that sometimes they have too many patients that they can't keep up with," she said.
With no independent, scientific polling of nurses, the tug-of-war over their collective position is hard to referee. But the "yes" camp is led by the Massachusetts Nurses Association, the state's largest nurses' union, which says its own survey of nurses shows strong support for tight staffing requirements.
Hospitals lead the "no" side, arguing that caps on the numbers of patients assigned to nurses will cost about $1 billion per year. The American Nurses Association of Massachusetts, a trade group, also opposes the measure.
A recent Boston Globe poll showed Massachusetts voters leaning toward "yes," but Steve Koczela, president of the MassINC Polling Group, which conducts WBUR surveys, said ballot question opponents often gain traction late in election cycles.
"The 'yes' side's already been working for a couple of years to put together the ballot question and to build support and that sort of thing," he said. "The 'no' side often is just sort of getting started over the summer and into the fall. And that's sort of what I'd expect to happen here."
Question 3 is different; it is the "no" side that pushed for a ballot question, hoping to repeal a law signed two years ago. The law allows transgender men and women to use bathrooms that match their identities, not the sex on their birth certificates.
Kenneth Economou, 80, of Chelmsford, said he worries people will abuse the protections. He wants to strike the law and plans to vote "no."
"What you're doing [is] you're putting every woman and every girl at risk in their own bathroom because some clown says, 'I'm going to game the system,' " he said.
Gaming the system is rare. Massachusetts General Hospital doctors combed public records and recently published their findings in the Journal of the American Academy of Psychiatry and the Law. Their review turned up 14 cases of straight men posing as women in bathrooms and locker rooms in the U.S. since 2004 — none in Massachusetts.
Patrick Casey, 24, of Marblehead, said it's no big deal for trans men and women to choose their bathrooms. He's among the 71 percent of likely voters who plan to vote "yes" to keep the law in place; 21 percent say they'll vote "no."
"The people that are against the sort of transgender bathroom thing, it seems like their rhetoric is laced with discrimination," Casey said.
Question 2 is about campaign finance. Sixty-six percent of likely voters plan to say "yes" to forming a commission that would try to amend the Constitution and end the era of super PACs; 24 percent plan to vote "no."
Some voters, like Tom Connolly, say they just want to put the state on record against corporate influence in elections.
"Oh, I don't think there's any chance to pass a constitutional amendment," said Connolly, 71, of Salem, "but it's a protest vote, for sure."
All three ballot questions will be decided on Election Day, Nov. 6.
This segment aired on September 25, 2018.