Boston Ups Its Target For New Housing Creation To Keep Pace With Population Growth
In response to new population projections, which show Boston's population growing faster than originally expected, the city is upping its goal to create more housing, especially for people with low to moderate incomes.
On Wednesday, Mayor Marty Walsh's office released a revised version of its report, "Housing A Changing City: Boston 2030." The plan increases the city's goal for new housing creation to 69,000 units by the year 2030, up from its original goal in 2014 of 53,000 units. This is based on an estimate of 759,727 Bostonians in 2030.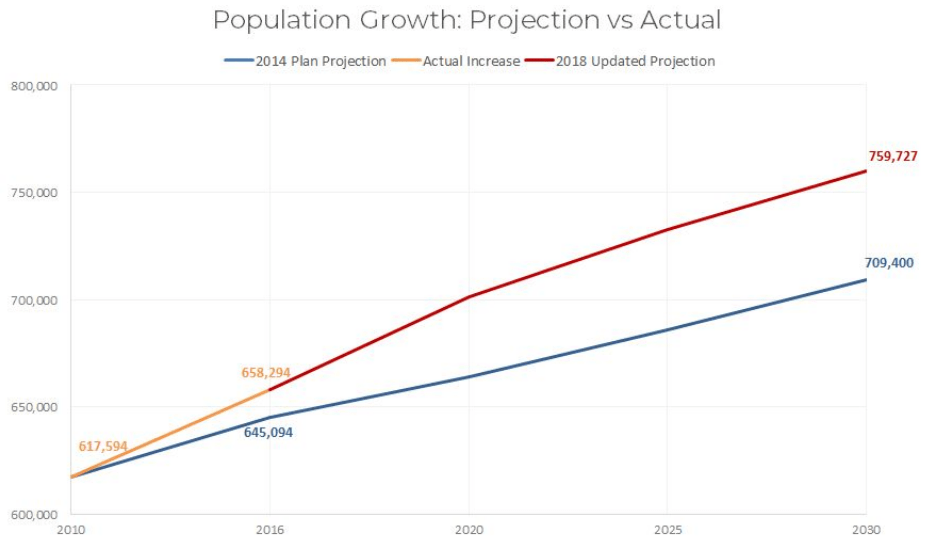 The city is working with the Metropolitan Area Planning Council and the Metropolitan Mayors Coalition to develop regional housing targets, as well.
City leaders say almost 18,000 new units have already been completed and close to 9,500 more have begun construction since the original goal was set, outpacing that goal.
Walsh and other city officials met with reporters Tuesday to discuss the report, saying the city is committed to ensuring that one-fifth of all housing units in Boston are deed-restricted as affordable housing, as is currently the case.
The 2030 plan includes a pledge to create an additional 15,820 units of income-restricted housing, leading to a total of nearly 70,000 such units. The units are mostly apartments, but also include condominiums and other types of homes.
The focus of the plan is to "make sure that people can stay in the city of Boston ... stopping displacement and the concern for gentrification that's happening," Walsh said. "It's one of those things that it's a constant everyday battle to make sure we do this."
Despite the boost in housing targets, Chief of Housing and Director of Neighborhood Development Sheila Dillon said it's not enough.
"We are creating less affordable housing than we need. But ... we're creating all that we can with the resources that we have," Dillon said. "It's very expensive to build affordable housing. So while we're putting a lot of money in those projects — and we want to do even more — we actually do need the federal government to give us what they used to, and then we could create even more affordable housing."
Development costs are currently about $400,000 per unit, according to Dillon. Because affordable housing units can support very little, if any, debt, most of that funding has to be raised from public sources.
According to Brian Golden, director of the the Boston Planning & Development Agency, 20 percent of the city's housing stock that is not under any deed-based income restrictions is also considered affordable for residents of moderate income, just based on prevailing market conditions.
The city plans to create 1,000 of the affordable housing units by helping investor owners acquire and convert existing rental properties. The report also calls for prioritizing the redevelopment and renovation of 4,500 Boston Housing Authority units, which likely won't be completed by 2030, as well as building new dormitory space for 18,500 beds in order to lower the number of college students living in off-campus apartments. The city also plans to create new goals and action steps to increase middle class home ownership.
City leaders acknowledge that housing costs are a heavy burden for many Bostonians. Twenty-two percent of households without a student living in them are considered "severely cost burdened," paying more than 50 percent of household income toward housing costs. Two-thirds of low-income households are households of color, pointing to a deep need in those populations, according to the report.
Income restrictions for affordable housing properties are based on percentages of the area median income (AMI). For example, properties with the lowest income requirements allow a renter to make no more than 30 percent of the AMI. For a single person household, that is $22,650. For a household of four, it's $32,350. Of the new housing that's been permitted since the plan was launched, 639 units are for such "extremely low-income households," according to the report. That includes 489 units set aside for Boston residents coming out of homelessness.
Dillon says most of the new affordable housing units being created in the 2030 plan are for people who earn 30 percent to 60 percent of the AMI. For a household of two, 60 percent of the AMI is $51,800. For a household of four, it's $64,700.
She acknowledged there is "no perfect way" to track the effect of the affordable housing creation on displacement of residents from Boston. But, she said, eviction data is the best way to get a sense of housing stability and the city is working on analyzing that data right now.
"But we know that's only a piece of this story, because not everybody waits for an eviction to leave," Dillon said. "We are seeing some positive trends with the number of evictions taking place in Boston. But we know Boston is still too expensive."