After Merrimack Valley Explosions, More Opposition To Proposed Compressor Station In Weymouth
Resume
It's a balmy September evening, and about 40 protesters have gathered in Weymouth. They stand on both sides of Route 3A holding signs saying "no compressor" and "incineration zone" as drivers honk their support.
The protesters are part of the Fore River Residents Against the Compressor Station (FRRACS), a group that has been fighting a proposed natural gas pipeline facility for four years, and the recent explosions in Lawrence, Andover and North Andover have only increased her sense of urgency.
"We already have issues here because of all the toxic industries in the basin, and you're telling us you're just going to throw another piece of polluting equipment here?" asks Alice Arena, president and founder of the FRRACS. She says the proposed station poses safety risks, like explosion and air pollution, and doesn't belong in a densely populated area. "It's not safe," she says. "Look at what just happened in the Merrimack Valley."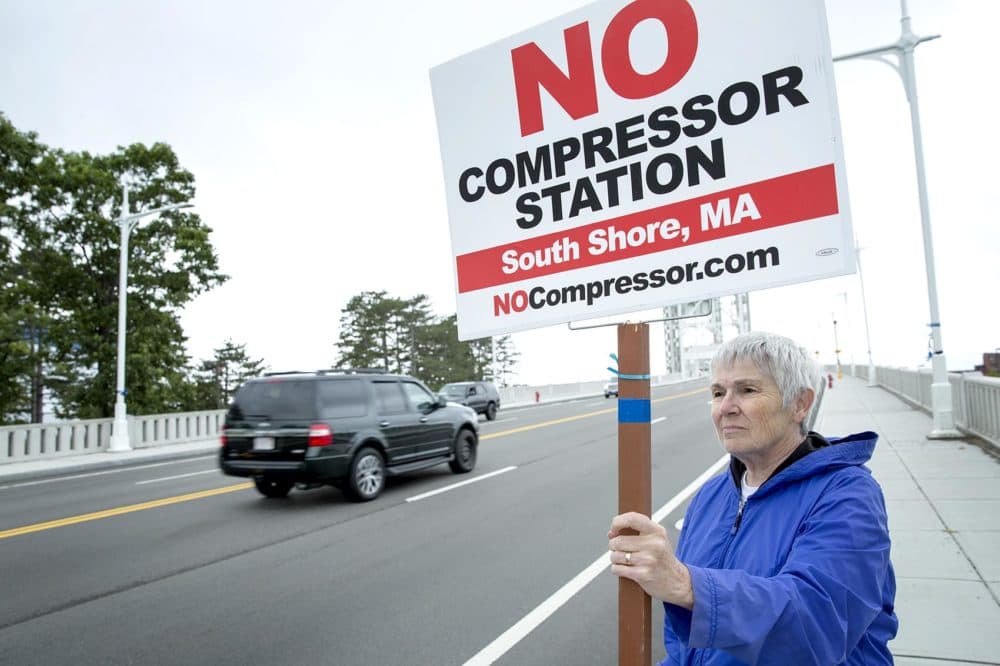 Most of the natural gas that fuels Massachusetts is piped hundreds, or thousands, of miles through interstate pipelines, and needs a "boost" every 50 miles or so to maintain pressure. The boost comes from a compressor station, an industrial facility that uses large pistons or a centrifuge to boost pressure lost as gas flows through the pipe.
Energy giant Enbridge wants to build the proposed station in an existing industrial area in north Weymouth, as part of a project to expand natural gas pipeline capacity to New England and Canada. (Enbridge declined requests for an interview, but answered questions by email.)
There are nearly 1,400 compressor stations in North America, according to the Department of Homeland Security. The five compressor stations in Massachusetts are located in towns like Agawam, Charlton and Mendon, which have far less dense populations than Weymouth.
The Federal Energy Regulatory Commission (FERC) oversees interstate compressor stations, and approved the project in 2017. They say that while "population density affects the public safety risks posed by the Project … the siting of these facilities will not result in a significant increase in risk to the nearby public."
Francis O'Sullivan, director of research for the MIT Energy Initiative, says that while explosion is a risk, noise and emissions are potentially larger issues.
"These are industrial facilities," says O'Sullivan. "There could be issues around, potentially, noise, there are going to be emissions of gases and so on associated with that. All of those, I think, are issues of completely legitimate concern."
Opponents also worry about periodic "blowdowns," routine releases of gas to relieve pressure in the system, which is also done during an emergency shutdown. Most of the gas released in a blowdown is methane, a potent greenhouse gas and a potential health hazard.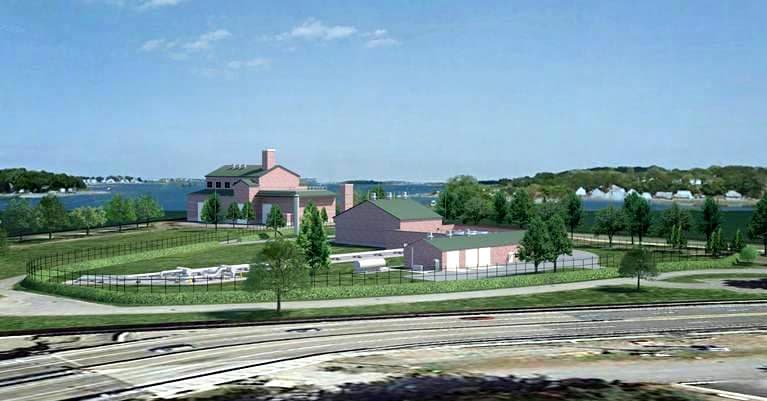 "This is something that is going to be really bad for an area that's already oversaturated with high industrial," says Patrick O'Connor, state senator representing Plymouth and Norfolk counties. He, along with a bipartisan coalition of politicians from Weymouth and the South Shore, oppose the project. After the explosions in the Merrimack Valley, O'Connor and colleagues wrote a letter to Massachusetts Energy Secretary Matthew Beaton and Transportation Secretary Stephanie Pollack, calling for an immediate moratorium on "any further progress on the construction of the Weymouth Compressor Station."
The town of Weymouth has already been involved in 16 legal actions or administrative proceedings regarding the compressor station, five of which are still pending. In addition, the state Departments of Environmental Protection and Public Health are currently conducting a Health Impact Assessment to examine potential air pollution issues. The assessment, scheduled to be released in January 2019, may affect the state's decision on whether or not to issue an air quality permit.
But because the federal government has ultimate power over interstate gas transmission, it's unclear whether any state or local efforts can actually stop construction of the compressor.
New York State recently denied water quality certification to the Northeast Supply Expansion Project, part of an ongoing battle to stop an interstate pipeline expansion there.
Arena, of FRRACS, hopes that similar efforts in Massachusetts, along with rising concerns about gas infrastructure in general, can block this project as well: "We'll do anything we can to stop this."
Correction: An earlier version of this story misspelled the company Enbridge's name. We regret the error.
This article was originally published on September 27, 2018.
This segment aired on September 27, 2018.