10 Public Art Installations To See In Greater Boston This Fall
Boston is in the midst of a public art boom. Right now, the city is host to sculptures made of fog, an exhibit of vintage neon signs, and a big orange net designed to raise awareness of climate change. Not to mention the murals that pop up seemingly every week.
Boston, it appears, has begun to shake the puritanical attitude toward street art that resulted in the 2009 arrest of the artist Shepard Fairey — known for his famous "Hope" poster of Barack Obama — on the way to the opening of his own exhibit at the ICA. (Although graffiti taggers still sometimes find themselves on the wrong side of the law.) Instead, investment in and enthusiasm for public art around Boston is on the rise. Nonprofits, real estate developers, public parks, universities, government agencies — all are getting in on the action. With new works cropping up all the time, it's worth taking stock of the latest public art projects around town.
Here are 10 we recommend checking out this fall:
'GLOW' | Rose Kennedy Greenway
"GLOW," which brings together vintage neon signs from across Massachusetts, is one of the Rose Kennedy Greenway's more charming installations. During the decades between 1925 and 1970, neon proliferated across the American skyline in beacons for restaurants, shops and hotels. In Massachusetts, certain signs became beloved neighborhood landmarks, examples of the creativity and quirk of independent local establishments: There was the lit-up chicken that once presided over a mom-and-pop restaurant in Roxbury, the glowing cactus that invited travelers to the Siesta Motel in Saugus, the cycler frozen mid-pedal who welcomed customers to a bike shop in Natick. All three are now on display on the Greenway, along with five others.
My favorite part of this installation is actually the text that accompanies it. Underneath each sign is a short essay describing its historical context. Far from a litany of dry facts, the plaques are a glimpse into the personal stories of the signs' creators, set against the backdrop of a changing nation. "GLOW" is so much more than a collection of interesting artifacts — it is the history of Massachusetts, told through the stories of small business owners and their families, and the designs that they used to both functional and expressive effect.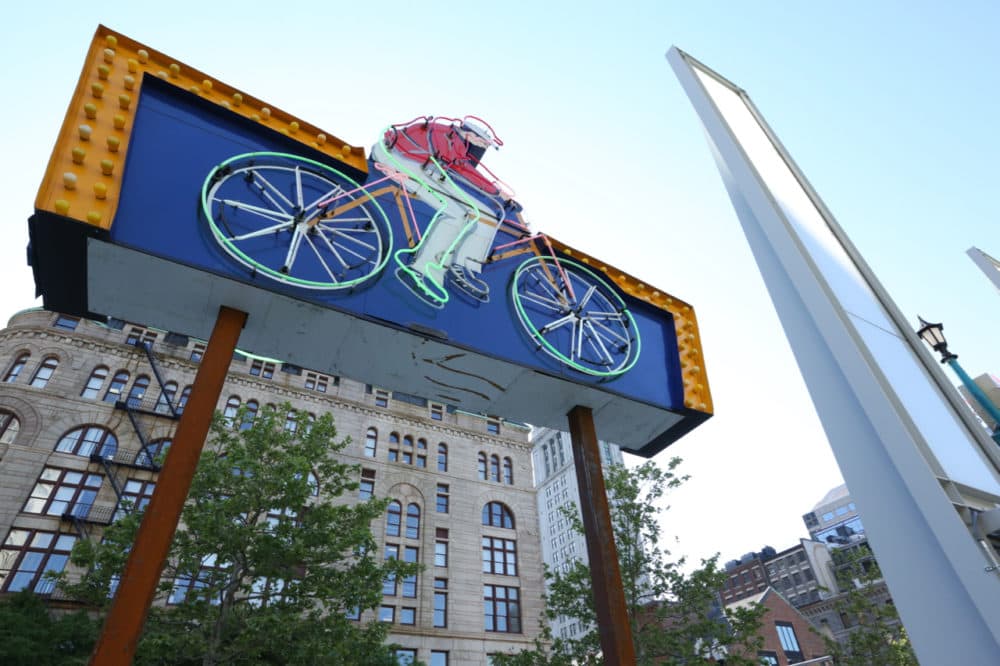 ---
'Walls on Western' | Zone 3 in Allston
Zone 3 is a collection of former industrial buildings on Western Ave. in Allston that is now owned by Harvard. The PRX Podcast Garage is there, along with gallery and performance spaces that serve various uses, from movie nights hosted by the Brattle Theatre to pop-up beer gardens and workout classes. The site is also home to a growing collection of murals, the results of Zone 3's "Walls on Western" program. The first, by Allston artist and illustrator Pete Cosmos, is titled "Faces of Allston," and it depicts a diverse and quirky group of Allston inhabitants rendered with loving cartoonishness. The second, "Saya Patri (One with a hundred petals)," was painted by Sneha Shrestha, aka IMAGINE, a Napali artist and educator based in Somerville who merges Sanskrit and graffiti aesthetics in her vivid murals. A third mural by Massachusetts native Chris Delorenzo, titled "All That Empty Space," just debuted.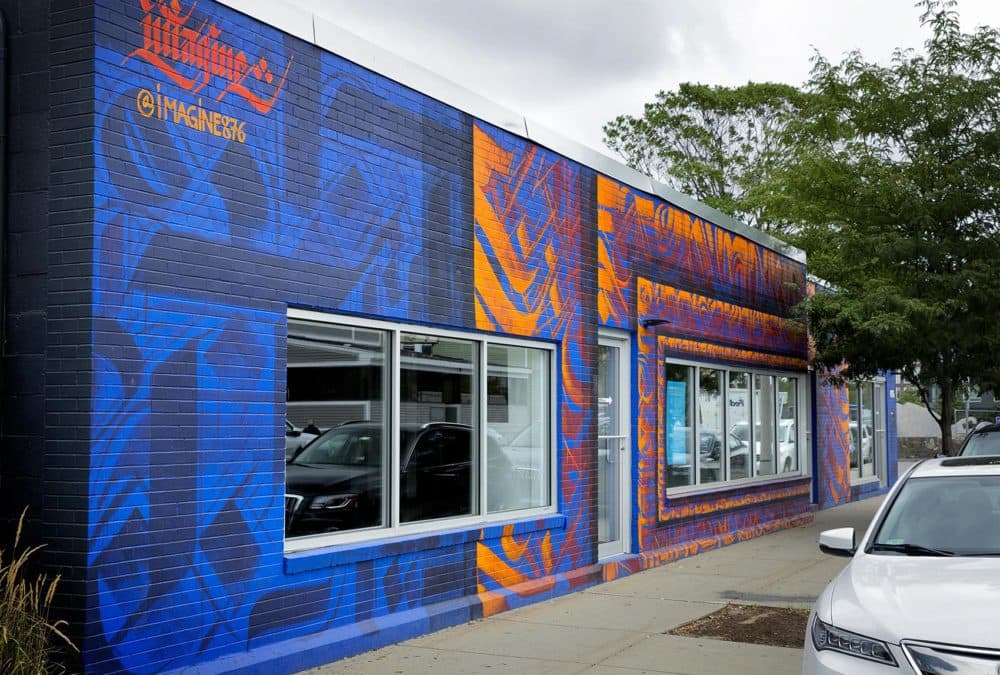 ---
Grove Hall Murals | 324 Blue Hill Ave., 199 Quncy St. and the Grove Hall Public Library, Boston
Three new murals funded by the city of Boston went up in the Grove Hall business district in the past year. "Afro Futurism/Breathe Life," by Boston artist Robert "Problak" Gibbs, can be found bisecting the side of the building at 324 Blue Hill Ave. from corner to corner, its focal point a young boy emerging from a fantastical cosmic backdrop. Miami graffiti artist David "Don Rimx" Sepulveda painted an otherworldly homage to Nelson Mandela on the side of the Grove Hall Public Library. And Cambridge's Victor "Marka27" Quiñonez gave us the magnificent "Love Thyself" at 199 Quincy St., which depicts a meditating woman with a turquoise human heart hovering between her hands, her voluminous Afro engulfing the top third of the painting.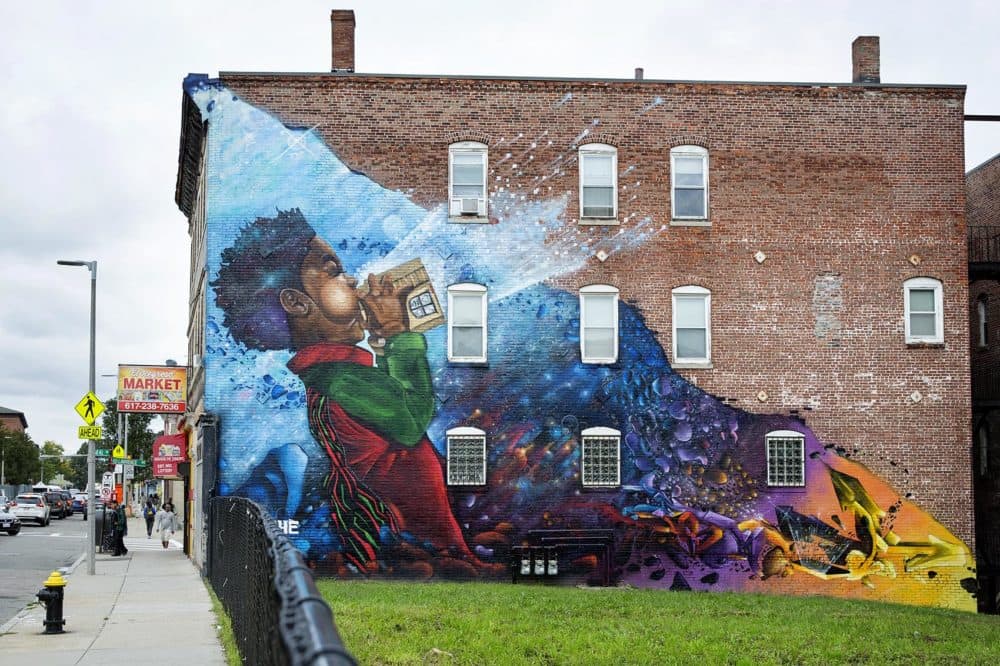 ---
'Fog x FLO' | Emerald Necklace parks
Fujiko Nakaya's fog sculptures are vaporous, immersive, weather-dependent — in other words, unlike any sculptures you've ever seen. Using a carefully calibrated sprinkler system, Nakaya creates dewy, low-to-the-ground clouds that puff into existence at regular intervals. After that, the fog is at the mercy of nature, from an errant gust of wind to the shape of the terrain. Nakaya, an 85-year-old artist from Japan, has perfected the technique over four decades of making fog sculptures at sites around the world. After all these years, she still finds the work captivating — a testament to the enduring appeal of these misty, mysterious creations.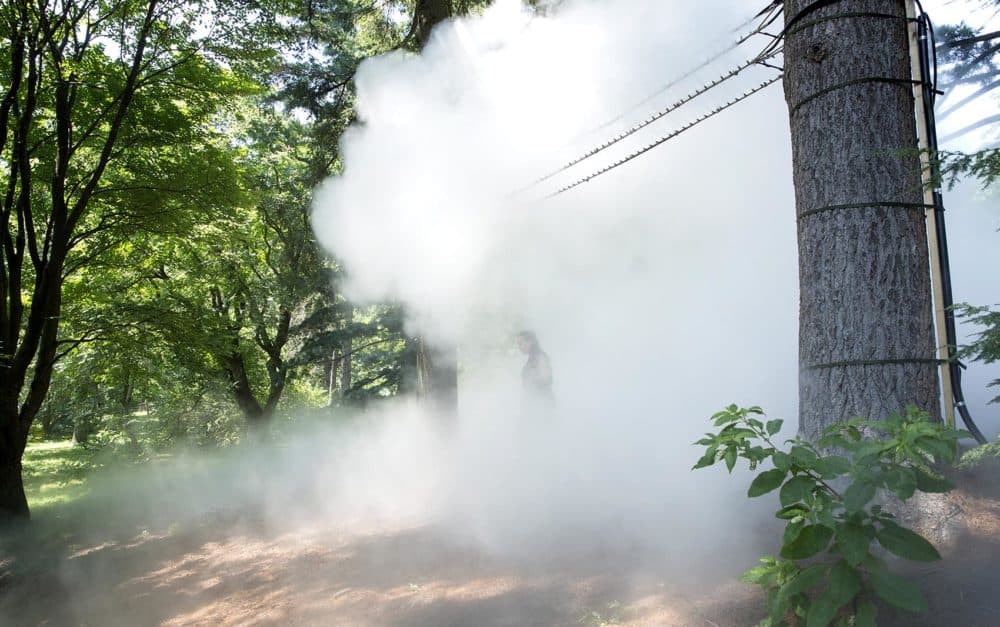 ---
Somerville Street Art Project | 2 Union Sq., 44 Broadway and 112 Broadway, Somerville
This summer, the Somerville Arts Council commissioned three new murals in East Somerville and Union Square. These huge, spectacular pieces are the work of three artists: Puerto Rico's David Zayas, the Dominican Republic's Angurria and Victor "Marka27" Quiñonez, who's from right here in Cambridge.
All three artists take their cues from street art and graffiti traditions, and have created work in or near Boston before. Quiñonez's mural, "Rebirth," stretches along the side of the soon-to-be Urban Axes location at 2 Union Square, and incorporates a hodgepodge of indigenous iconography — a Mayan mask, the face paint of an indigenous Brazilian tribe — with geometric patterns and eye-catching colors. Zayas' playful mural can be found on the corner of 46 Broadway and George Street, and features an enormous chicken with a broken arrow clutched in its beak. Angurria's mural is the trickiest to find, perched as it is above Ola Café at 112 Broadway. But if you know to look for it, you'll see a woman with her hair in curlers being poured a cup of coffee, eyebrows arched in a look of knowing sweetness — an intimate portrait of domesticity splashed boldly on the side of a building.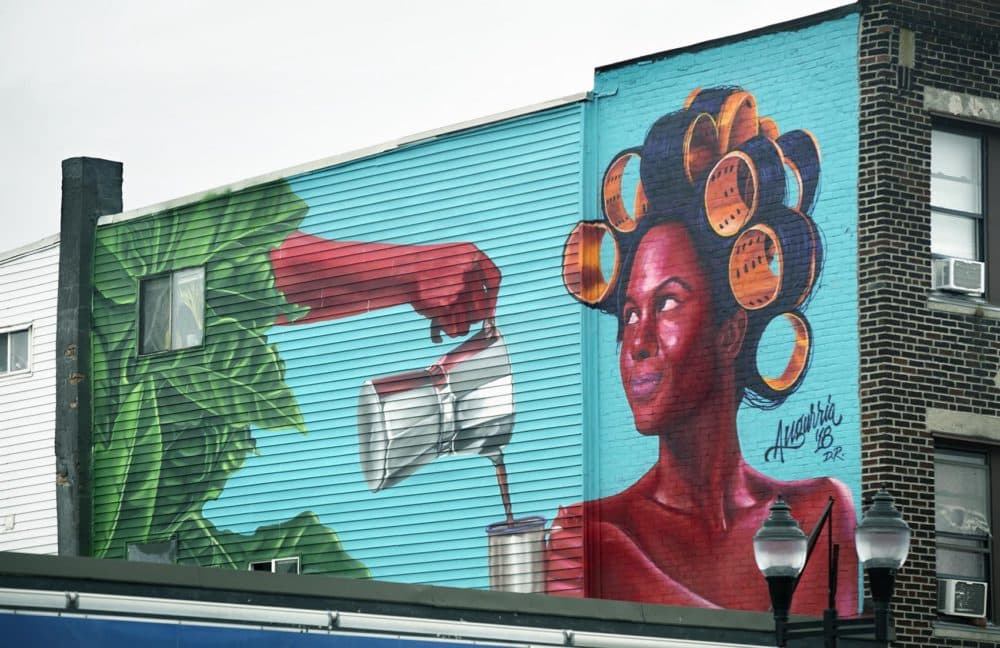 ---
Roxbury Sunflower Project | Various locations in Roxbury
Back in June, Roxbury artist Ekua Holmes began handing out seeds. The goal? Plant 10,000 sunflowers all over Roxbury, and watch them grow. Dozens of community members answered the call, and as summer waned the tough, rangy flowers began to bloom: in backyards and parks, in the shade of the public library and by the sidewalk under the sun's bright glare. The project, which was funded by a grant from the arts nonprofit Now+There, is meant to symbolize the resilience of Roxbury, one of Boston's historically black neighborhoods. Though sunflower season is nearing its end, many of these magnificent plants are still in bloom. You can check them out at a number of public locations, including the Freedom House at 5 Crawford St., The Grove Hall Public Library at 44 Geneva Avenue and the Melnea Cass Complex at 120 MLK Blvd. (The best way to find sunflower locations is to follow Ekua Holmes on Facebook and Tumblr.)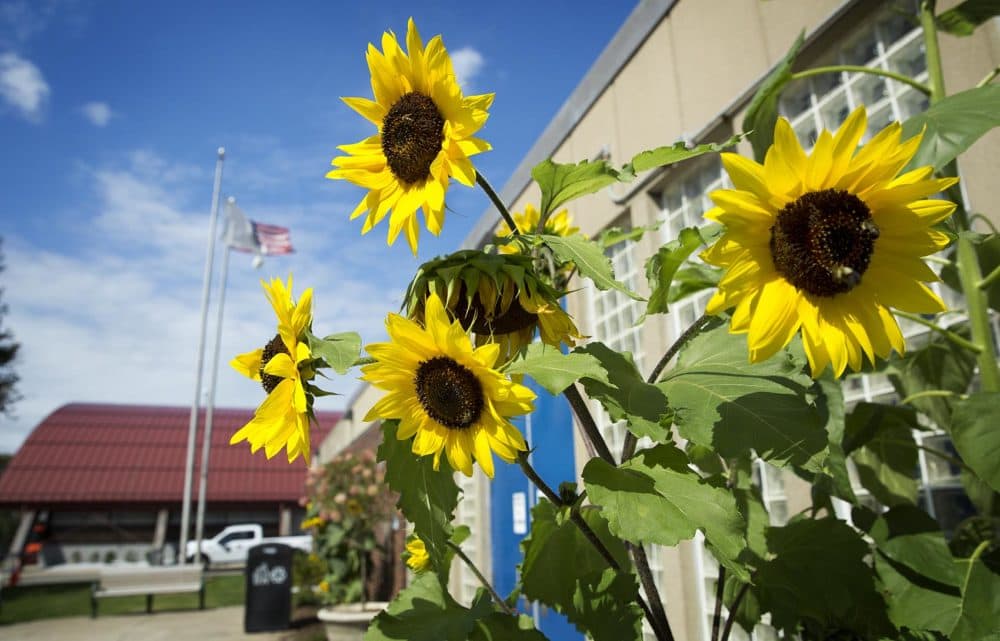 ---
Underground at Ink Block | 90 Traveler St., Boston
As new residential towers spring up in Boston's South End, the city's skyline (among other things) is changing. The famous killer whale mural that has graced the side of the Planet Self Storage facility since the late '90s is no longer the landmark it once was now that a new apartment complex blocks the view from the highway. At the same time, real estate development has brought with it a boom in public art — see, for example, Underground at Ink Block, a new "urban park" underneath the Route 93 overpass that is operated by the developer behind the nearby Ink Block apartments. The park features a striking collection of murals, a vivid splash of color tucked beneath the highway's concrete tangle. The Underground Mural Project, as it's called, boasts work by more than a dozen street artists, a number of which are based in Boston, including Percy Fortini-Wright, Rob "Problak" Gibbs, Thy Doan, IMAGINE and Marka27.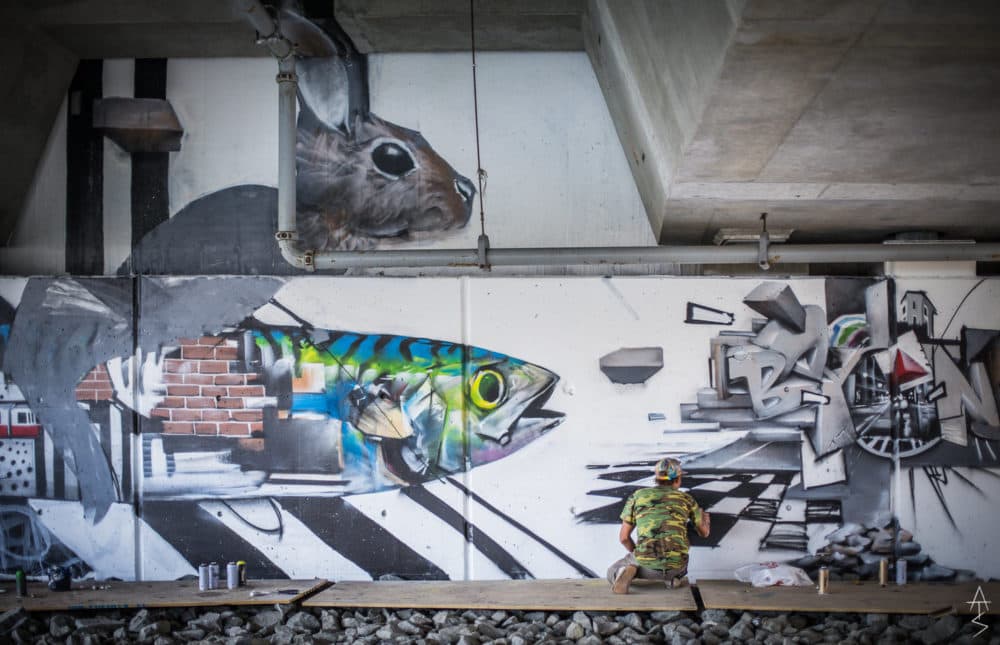 ---
'Unless' | Prudential Center in Boston
"Unless" is the latest installation from public art curator Now+There. The piece, by Boston artist Stephanie Cardon, aims to highlight the urgency of the global climate crisis. It achieves this in part by being extremely hard to ignore: the 3,400-square-foot orange tapestry, which hangs in the entrance to the Prudential Center, is a highlighter shade of orange. Woven into the netting is the text of Pope Francis' 2015 Encyclical letter, "Laudato Si': On Care for Our Common Home" advocating for global action on climate change. Made entirely out of recycled construction materials with the help of five MassArt students who were displaced from their homes during the Caribbean's devastating 2017 hurricane season, "Unless" points to the human cost of global warming.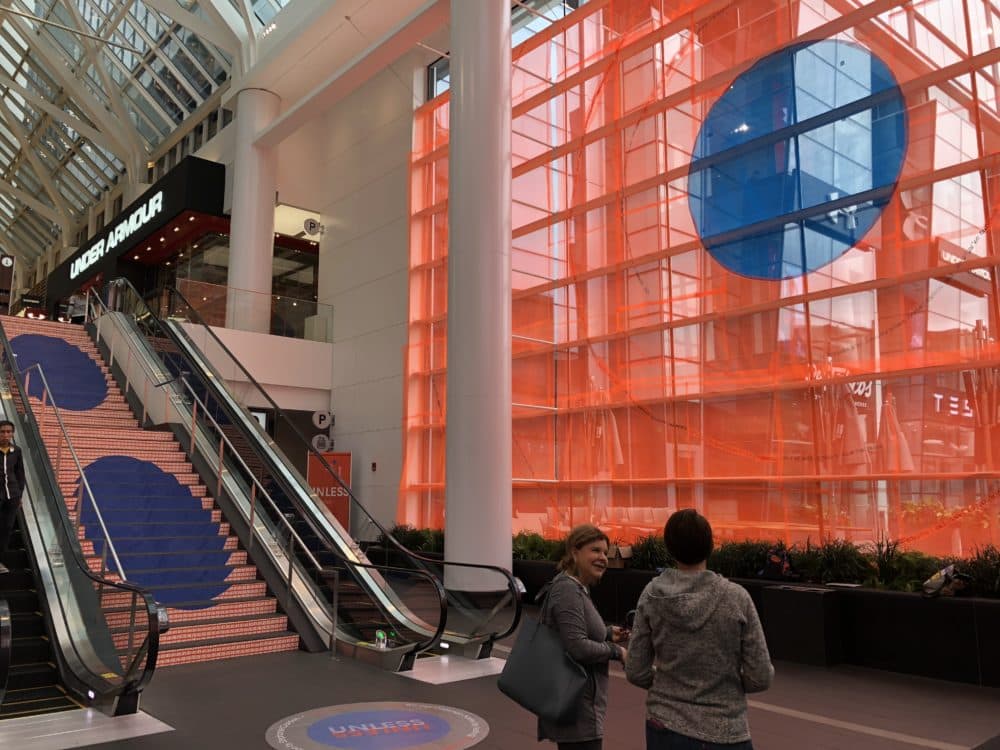 ---
'All is One' | 1350 Boylston St.
The Harlo, a new luxury apartment building in the Fenway neighborhood of Boston, just unveiled a mural by the Mexican-born, New York-based artist Raúl de Nieves called "All is One." The piece is based on the myth of Saint George and the Dragon, and it's one of the few new mural works in Boston not rooted in a tradition of street art or graffiti. Instead, it recreates a watercolor by de Nieves in which the dragon and Saint George appear as fragmented abstractions in a pixilated riot of greens and blues.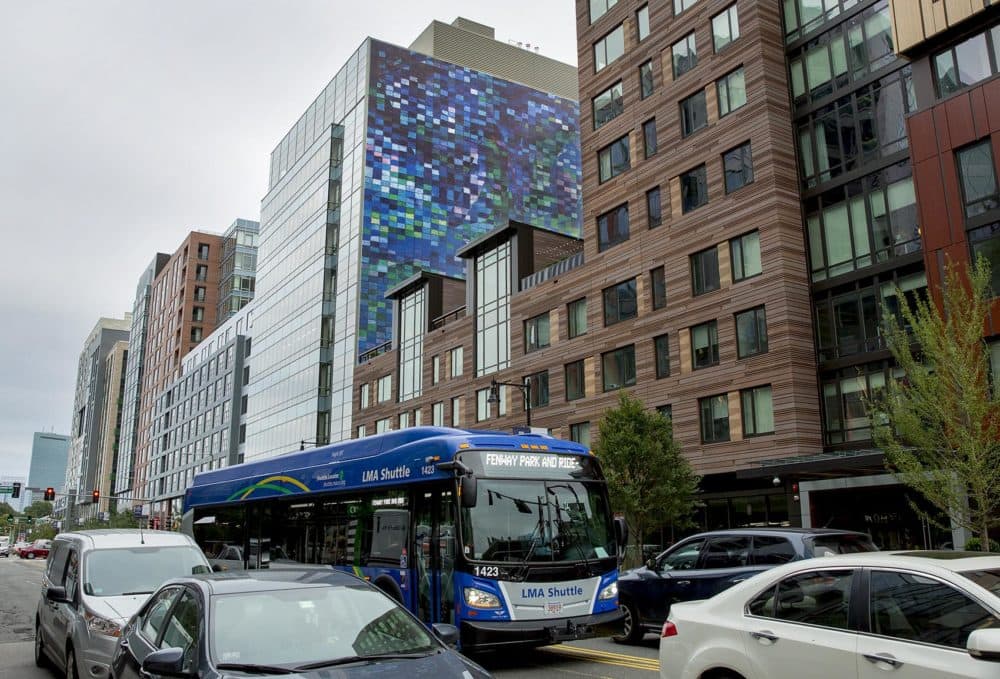 ---
Other Mural Projects | Lynn, Worcester and Salem
Boston isn't the only place to seek out public art this fall. The city of Lynn added 28 murals to its neighborhoods over the course of this summer's Beyond Walls festival. The POW! WOW! Worcester festival introduced 24 new street art installations this year. And the nonprofit Punto Urban Art Museum commissioned more than 45 new works for its ongoing mural project in the Point neighborhood in Salem.