8 Feminist Art Shows To Check Out In New England This Fall
This article is more than 4 years old.
There's this duality about fall that always creates a conflict for me. As soon as the leaves change, my inner homebody awakens. I reach for the apple cider and that throw blanket. But that nesting never lasts because fall also ushers an abundance of art exhibitions I can't wait to see.
This season, I was struck by the variety of visual arts shows in New England laced with feminist themes. Here are the ones I'm definitely checking out this fall:
Consisting of about 80 examples of contemporary jewelry and costume, this exhibition explores the emotional, physical and intellectual impact of adornment for women. The pieces from international and American artists often make extreme demands on women's bodies or challenge (or enforce on women) societal norms.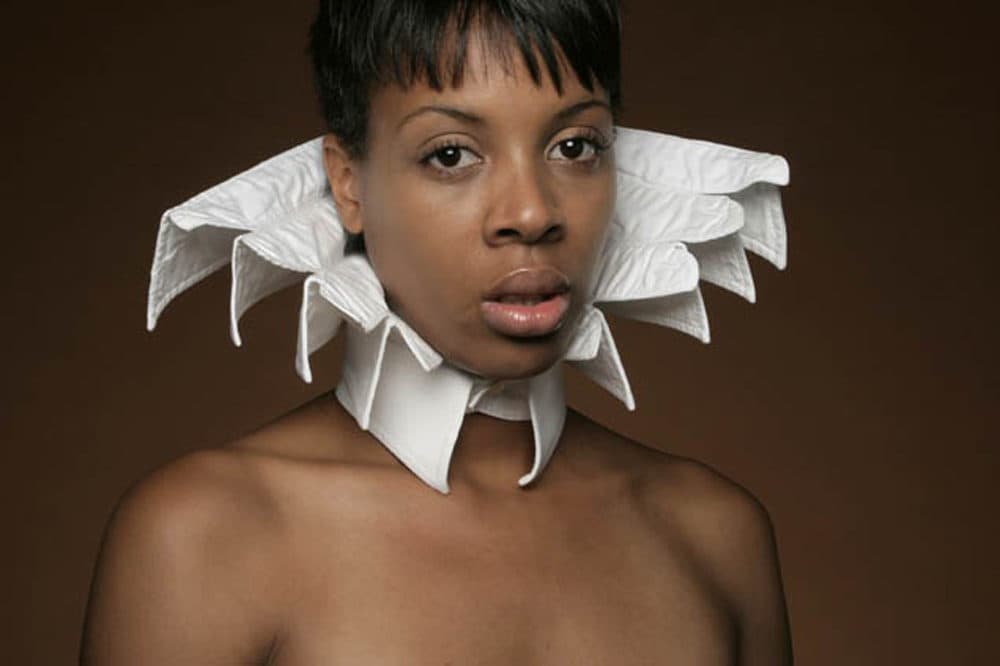 ---
Artist Tuesday Smillie draws inspiration from protest banners and '70s photographs of activists who were often excluded from the fight for gay rights, but who are now considered forebears of the modern trans justice movement. In addition to the banners, the show features watercolor and collage all revealing how Smillie found her artistic lineage in the past.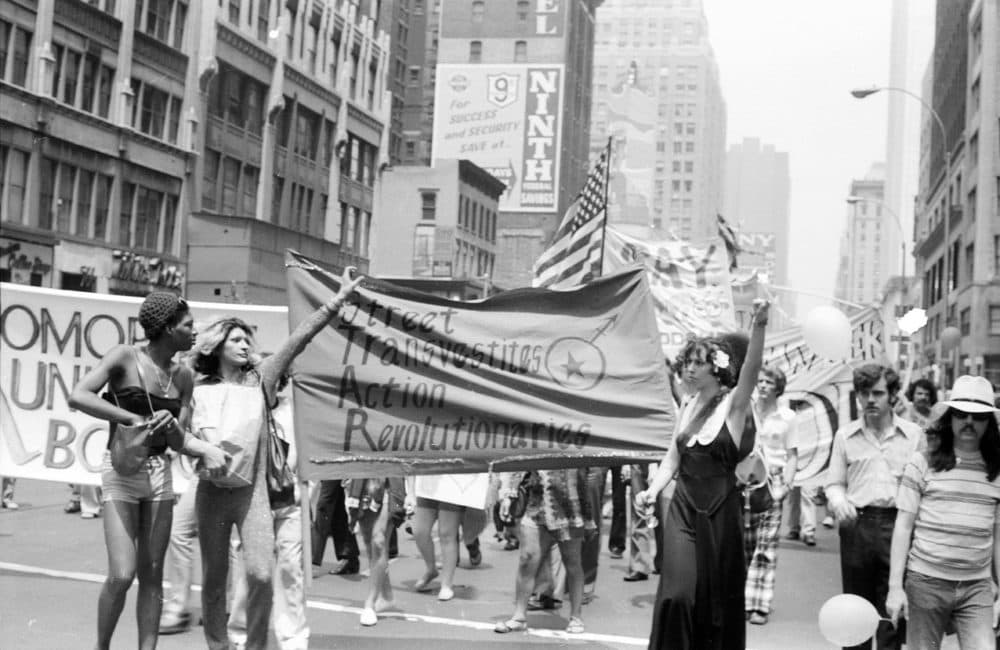 ---
'Sheila Pepe: Hot Mess Formalism' | Oct. 19 - March 20, 2019 | deCordova Sculpture Park and Museum
Sheila Pepe is a contemporary artist who creates large-scale fiber installations, sculptures, works on paper and video. This mid-career survey analyzes how Pepe uses feminist and craft traditions to refute male-dominated notions of the creative process. Her fiber installations are never installed the same way twice and at the deCordova, they'll weave through staircases and multiple galleries, creating an immersive experience.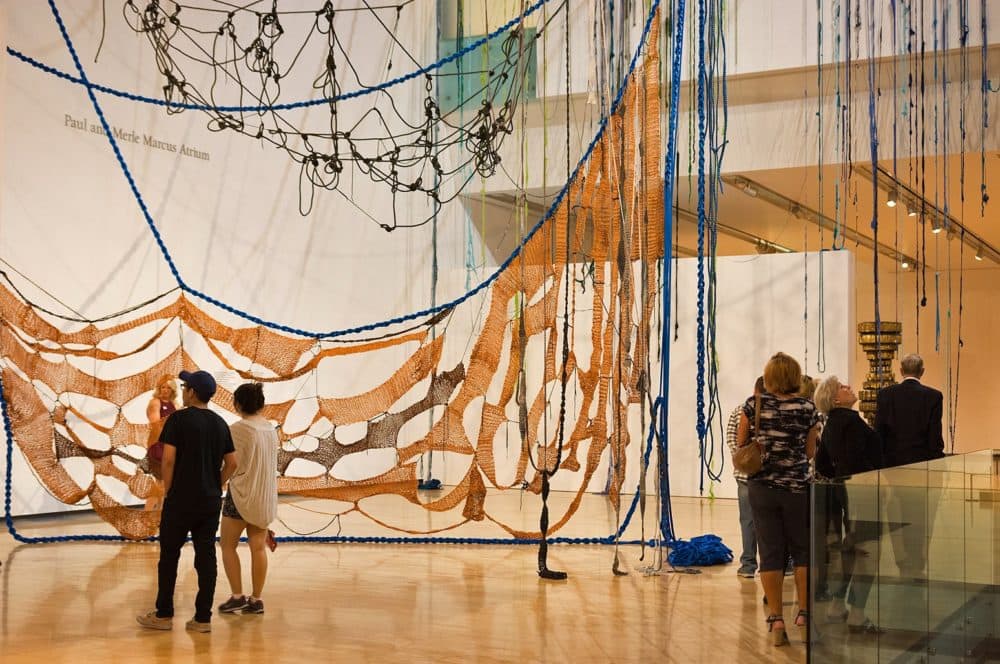 ---
Since the '70s, artist and activist Claudia DeMonte has used her art to question the role of women in society. In this exhibition, she explores how women represent themselves, from those working in a Tibetan tent factory to homeless women in Mississippi. The exhibit is divided by different series, including the Female Fetish series which features familiar objects like high heels, carved in wood and covered in small pewter charms influenced by DeMonte's Italian Catholic upbringing.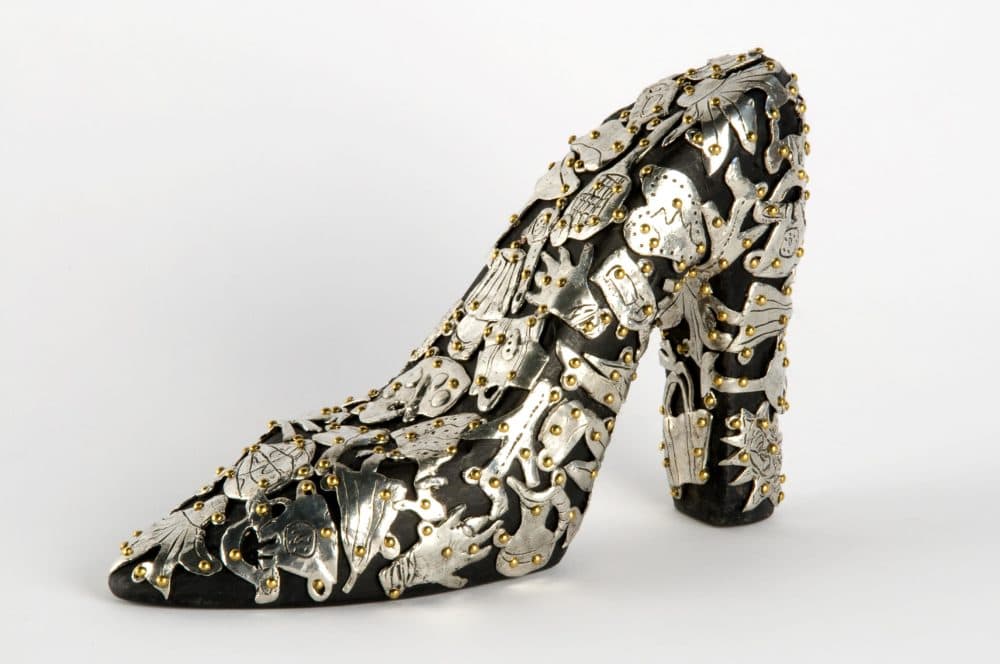 ---
I love how many works the Peabody Essex Museum stewards: 1.8 million! Its exhibitions are so expertly curated to convey poignant narratives. This one is not an exception. "Empresses of China's Forbidden City" includes almost 200 objects, many of which have never been on public view, that illustrate how empresses shaped China's last dynasty, the Qing dynasty, from 1644 to 1912. The curators for this exhibition spent four years traveling to the Forbidden City to investigate the largely hidden world of the women who once lived inside. The objects illuminate for us how the women wielded their power to influence court politics, society and religion.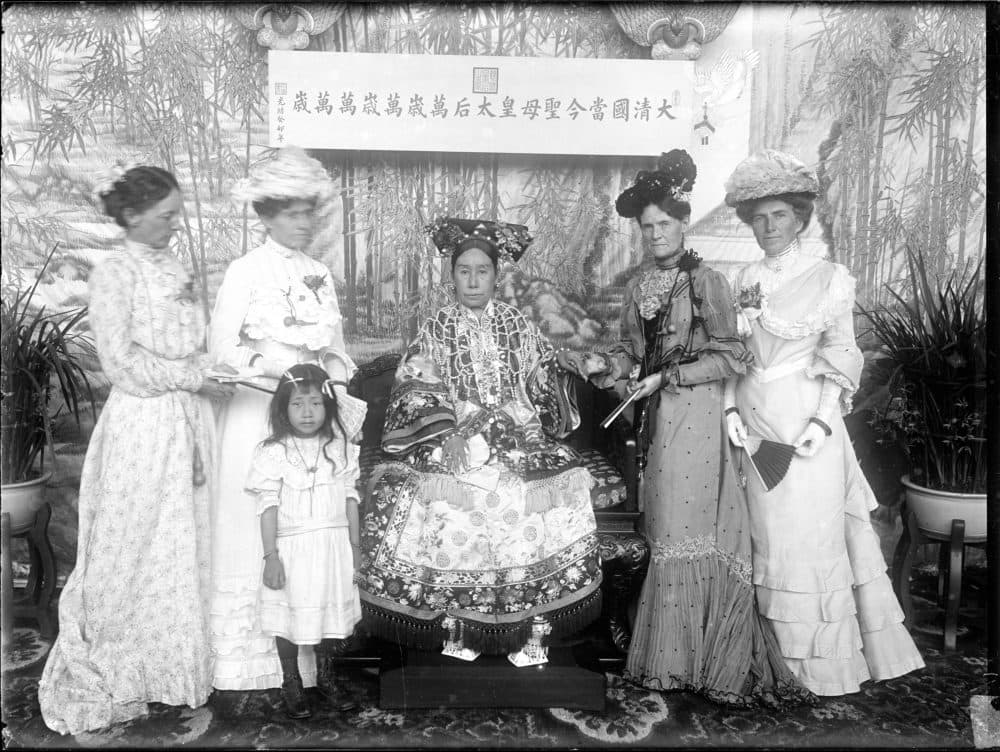 ---
'Match of the Matriarchs' | Oct. 3 - Nov. 4 | Boston Sculptors Gallery
Artist Donna Dodson's sculpts series of mysterious animal-human hybrid wood figures that exude both power and humor. "Match of the Matriarchs" also includes an interactive chess board Dodson created with visual artist Daniel Meirom and Jennifer Shahade, two-time U.S. Women's Chess Champion. Dodson's show will also serve as the Boston debut for Shahade, who also created a chess board with insults aimed at women culled from her social media channels. The idea stems from a chess board from 1534 written with dozens of insults toward women when the queen appeared on the board (historically chess pieces were all male military figures). Shahade is challenging an opponent to a chess match in the gallery on Friday, Oct. 5.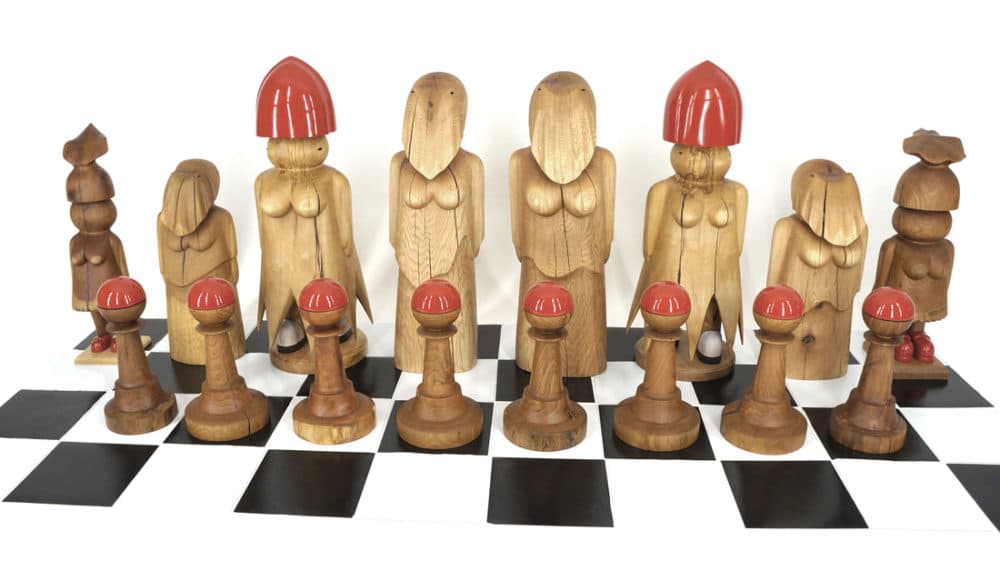 ---
This exhibition features one of the MFA's most interesting and recent acquisitions. In "Miscegenated Family Album," Boston-born, New York–based artist Lorraine O'Grady juxtaposes photos of her black American family with that of Egyptian royals, specifically Queen Nefertiti. The idea came to O'Grady when she visited Cairo and for the first time, found herself surrounded by people who looked like her. "Miscegenated Family Album" reclaims the pejorative term "miscegenation," which was used post-Civil War to refer to illegal interracial relationships. The work consists of 16 diptychs of color photographs that compare Nefertiti's family with that of O'Grady, who at the time was also mourning the unexpected death of her sister.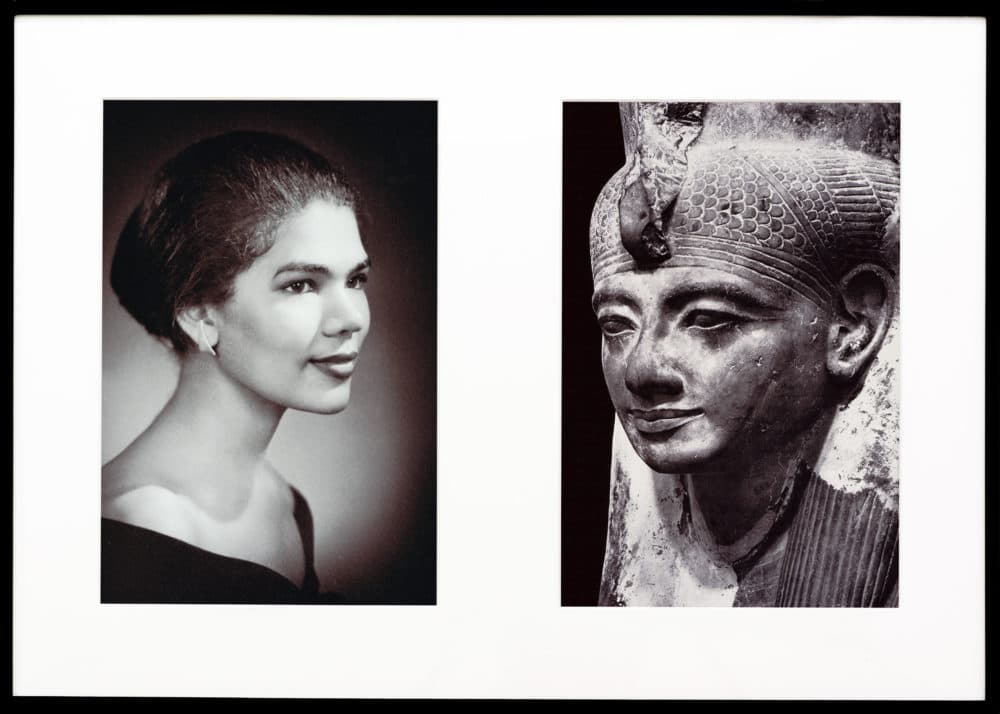 ---
Fall in New England calls for a visit to Salem. Going through the exhibit on witchcraft hysteria is always a sobering reminder of how easy it's been (and arguably still is) to justify violence against women. The objects and art on view make us ponder not only the historical facts, but also challenge us to make meaning of our fraught history of punishing women who for often very arbitrary and unjust reasons, don't fit society's mold.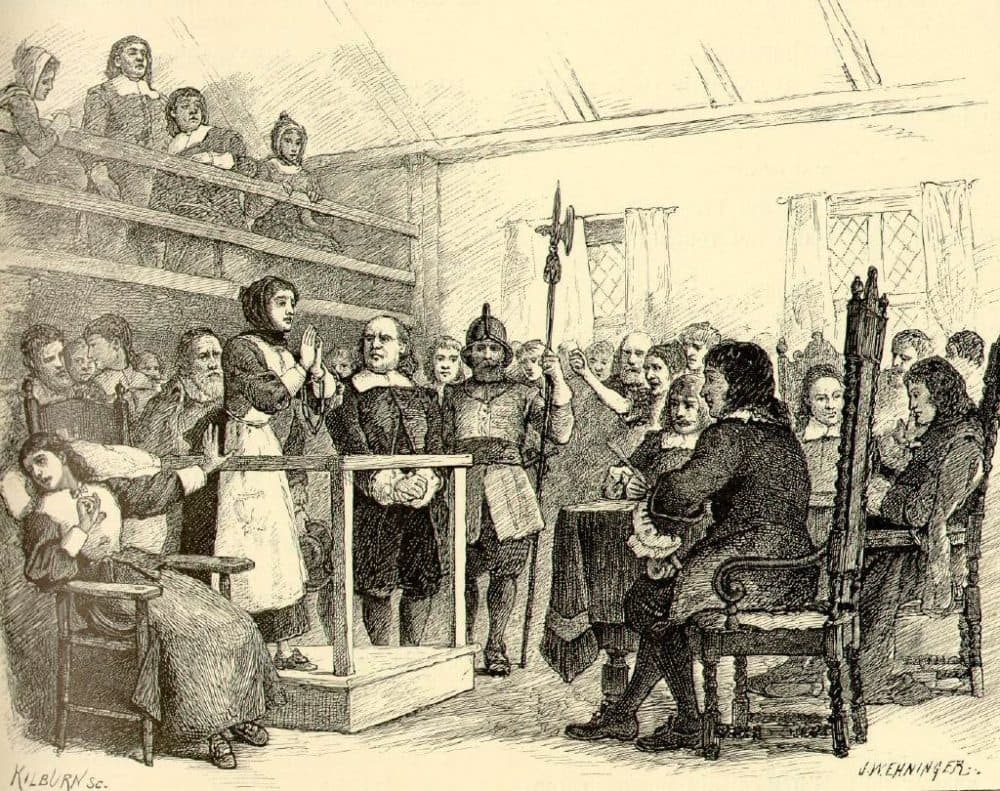 This article was originally published on September 28, 2018.