Demographics Could Be A Challenge To Warren's Prospective 2020 Bid
03:14
Play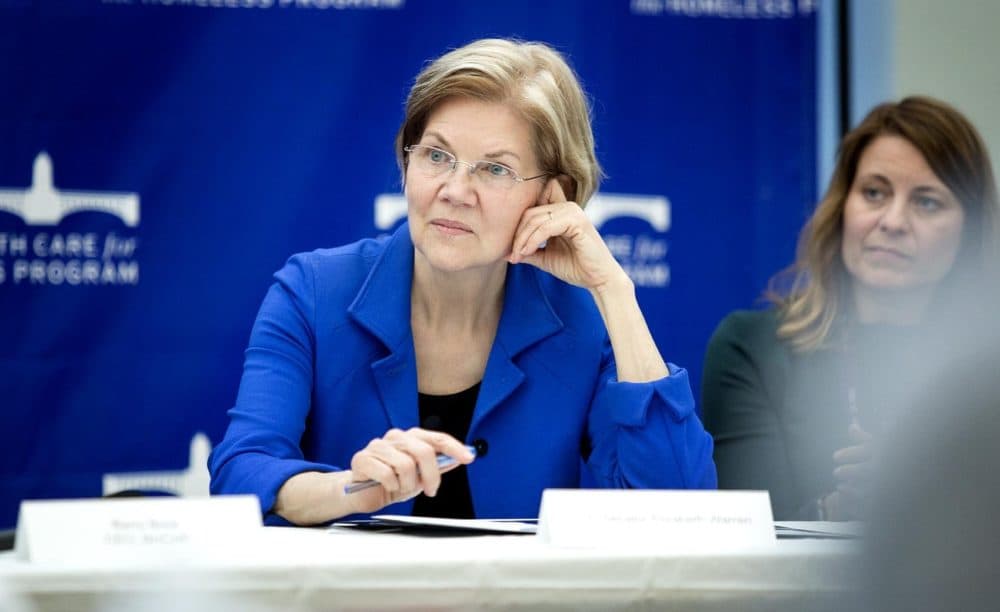 This article is more than 3 years old.
Among the hot cider and old-time string music at the Harvest and Craft Fair in Easton on Sunday, the presidential election in two years wasn't the first thing on people's minds. Nor was it the last thing on the mind of Ted Gill — an independent voter from Stoughton, one of the storied class of voters who liked Bernie Sanders in the primaries, and then Donald Trump in the general election.
Gill says floating a presidential run is a bad look for Sen. Elizabeth Warren, who said over the weekend she plans to take a "hard look" at a bid for the White House after November. Gill explained that's, in part, because Warren is still running to keep her Senate seat.
"It makes me chuckle because I don't think she's going to get through the Senate race," Gill said. "Like I told my wife, I didn't vote for Trump, I voted against Hillary Clinton, and I'll vote for Trump — again not for Trump [but] against Elizabeth Warren."
But Gill said it's not just about politics. He said he liked the renegade candidacy of Sanders — and Sanders aligns closely with the positions of Warren.
So what exactly doesn't he like about Warren?
"Oh my God, I'm at a loss for words," Gill said. "I can't believe she's contemplating it. Just because of her record, you know; the Indian thing; some of the stuff she says, it's just so far off the wall — to me anyways."
The "Indian thing" Gill refers to is the fact that Warren identifies as having Native American heritage — a point that's long been a basis for Republican attacks, most notably from President Trump.
Some analysts say this type of voter could be a problem for Warren, should she run for president. But it's far from certain that would outweigh the extent to which Warren's progressive politics distinguish her from Clinton.
John Cluverius, a political scientist at UMass Lowell, says running for any office is more of a challenge for female candidates, though Clinton and Warren are two very different politicians.
"It's different because voters don't know as much about Warren at this time as they did about Clinton in say 2014-2015," he wrote in a text message, "so she starts with fewer voters having preconceived notions about her."
In any case, demographics could play a defining role in the 2020 elections. In 2016, the percentage of men who supported Clinton was about the same as that of women who voted Trump: 41 percent.
But along race lines: Exit polls told a drastically different story. Trump decimated Clinton among whites — by 20 points.
While a majority of white men supported Trump, they're not a monolithic group. Larry Henderson of Easton, also an independent, says he wants to see a President  Warren — and if not, Sen. Warren will do just fine.
"She's got experience in the Senate, and if running for president doesn't work out, it's very important that we still have somebody that cares for the issues that we call care about," he said.
"But I would rather see her run for president and get it, and that way she can say well I have experience, than  have somebody just come out of nowhere [like President Trump] and say: 'Hey I've never done this before, but let me try it.' "
The fact that Warren is mulling the idea of a presidential run in the midst of a Senate race came as a surprise to some observers, among them Deborah Schildkraut, a political science professor at Tufts University. She says it's clear Warren will have to overcome the challenge of her own demographic profile.
"There is something to the idea that people aren't comfortable with an older, ambition-seeking, power-seeking woman running for office," Schildkraut said, adding that Clinton and Warren are only two years apart in age. "That alone could hurt her no matter what her political views are, and unfortunately the demographic similarities between Hillary Clinton and Elizabeth Warren could leave some people feeling like she has to work extra hard to win them over."
On the other hand, Schildkraut says if there's a blue wave that washes over Congress in the midterm elections, that could work to Warren's favor.
This segment aired on October 1, 2018.