The State's First Recreational Marijuana Shops Are OK'd For Leicester And Northampton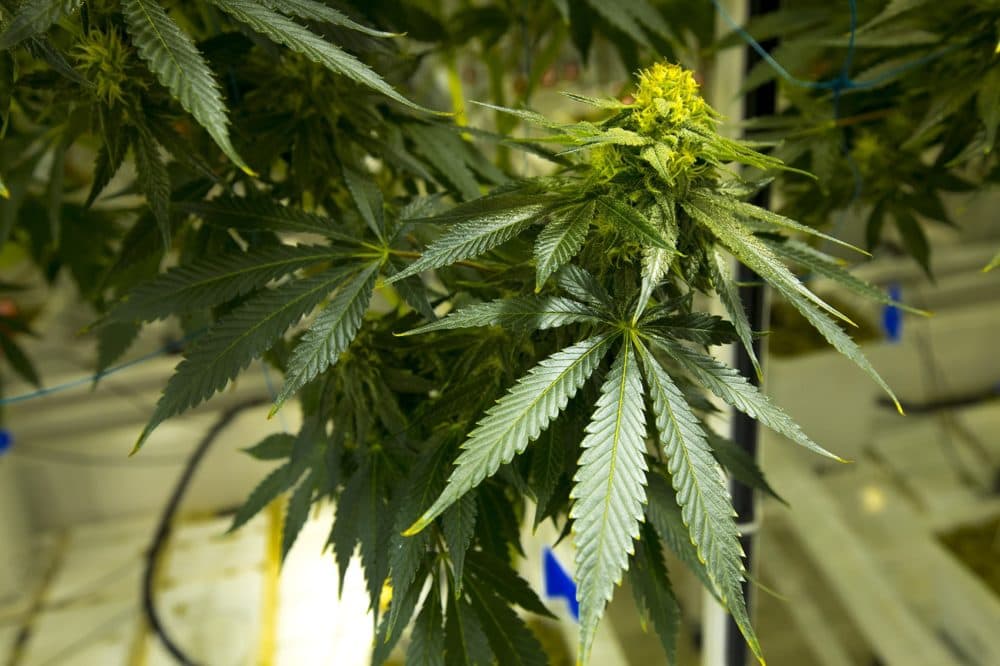 This article is more than 4 years old.
Legal marijuana sales are "weeks away" in Massachusetts, the chairman of the Cannabis Control Commission said Thursday after regulators approved final business licenses for shops in Leicester and Northampton.
The CCC on Thursday afternoon granted final business licenses for Cultivate Holdings LLC to grow between 5,001 and 10,000 square feet of marijuana, to manufacture marijuana products and to sell non-medical marijuana at 1764 Main St. in Leicester and for New England Treatment Access LLC to sell non-medical marijuana at 118 Conz St. in Northampton.
Though the CCC approved the final licenses, the commission attached to its approval a series of conditions that must be met before retail sales may begin. The commission must also approve a final license for an independent testing lab, since all marijuana must be tested and approved before it is sold. And because both businesses given approval Thursday operate as medical dispensaries, they must obtain additional approvals from the Department of Public Health.
"We have to go back and make sure they have entered all their inventory on our tracking system ... they have to get DPH waiver in terms of access to their facility so that you can come in with just proof of age as opposed to a medical card, they also have to get permission from DPH to transfer some of their current medical inventory into the adult use inventory system," CCC Chairman Steven Hoffman said after Thursday's meeting. "As soon as that happens, we'll go out and double check that everything is in the [tracking] system and then give them the right to operate. I think it's weeks away."
Asked about when the CCC might issue a final license for a testing lab, Hoffman said he hopes that will be on the agenda when the CCC meets in two weeks.
"We know that's a critical part of the puzzle to get this to all work so we're working very hard to make that happen," he said.
The CCC had hoped to launch the retail marijuana industry in Massachusetts by July 1 but did not meet that target. Since then, Hoffman has said only that consumers will be able to legally buy marijuana in "late summer/early fall." Voters approved the legalization of non-medical marijuana in November 2016 and it became legal in December 2016 to grow, possess and use marijuana.
Among the conditions the CCC attached to its approvals Thursday was a requirement that both businesses provide commissioners with copies of the materials the companies are using to train their employees and copies of any informational material made available to consumers.
Commissioner Shaleen Title said several commissioners had "the same concern, that someone will go in the first day, try an edible and not have sufficient education" about responsible consumption of marijuana.
After Thursday's meeting, a representative from NETA told reporters that the company plans to work with the commission to satisfy all the conditions "in as short of a time as we can."
"This is a big deal. These things take time, we're just pleased to see things moving forward right now," Amanda Rositano, NETA's director of operational compliance, said. "We're doing everything that we can to prepare. We've worked really hard to amp up our production, and we're doing everything we can to meet the demand in the best way we can."
Title, previously a legalization advocate, abstained Thursday from the commission's votes on final licenses because, she said, the statutorily-required agreements between the businesses and their host communities do not comply with the law's requirement that payments from the business to the municipality are capped at 3 percent of sales.
"I will vote 'yes' when I see a host community agreement that complies with the law," she said after the meeting. Title explained that she opted to abstain rather than vote 'no' because she was on the losing end when the commission previously voted not to review the agreements as part of the licensing process.
"I'm not going to vote 'no', I'm not going to try to review them. But at the same time I can't on principle approve a license that is not compliant with the law," Title said.
Rositano said NETA believes that its host community agreement with Northampton is legal and said the company is "comfortable" with its agreement.
Though there are still a number of hurdles that must be cleared before adults will be able to legally buy marijuana, Thursday's commission votes were cheered by advocates and those in the legal marijuana industry.
"The Massachusetts cannabis industry is on the threshold of rapid growth and nationwide interest," Massachusetts Cannabis Business Association President and CEO David O'Brien said. "We're seeing accelerated hiring, more capital investment and increased activity in ancillary businesses, including security, construction, and professional services. We've got the makings of a powerful new industry."
Hoffman on Thursday acknowledged the milestone of granting final license approval was "big" for the commission.
"I think it's a big milestone, but it's going to be a bigger one when the stores actually open," he said.
Also Thursday, the CCC awarded provisional licenses for cultivation, product manufacturing, transportation and retail sales to Berkshire Roots, Inc. at 501 Dalton Ave. in Pittsfield, and provisional licenses for cultivation, product manufacturing and retail sales for 253 Organic, LLC at 253 Millers Falls Road in Montague.
This article was originally published on October 04, 2018.