East Boston School, Police and Transit Officers Rally Around Student With Leukemia
03:01
Play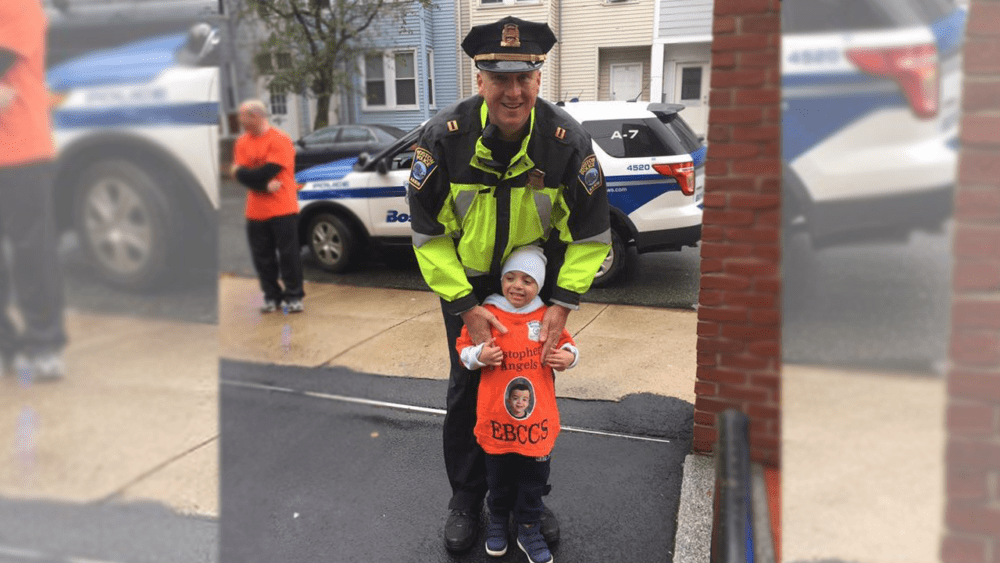 This article is more than 3 years old.
It's not every morning that 6-year-old Cristopher Chavarria gets to cruise to school with a posse of Boston police officers.
But on Tuesday, the first-grader got a special escort to his East Boston school in the back of Capt. Kelley McCormick's police car, with a fleet of motorcycle officers carving the path ahead of them.
Cristopher's big ride was the highlight of a morning march in his honor organized by the teachers and staff at East Boston Central Catholic School to show support for the small boy with a wide smile who has been battling leukemia for several months.
"I just asked for a couple of officers to block certain intersections so we could cross the street safely, but they just went above and beyond," said Robert Casaletto, the school's principal.
That's been the reaction from many community members ever since the school learned of Cristopher's diagnosis.
"It's just been non-stop emails and phone calls from parents," Casaletto said, "like, 'What else can we do? What else can we do? What else do they need?' "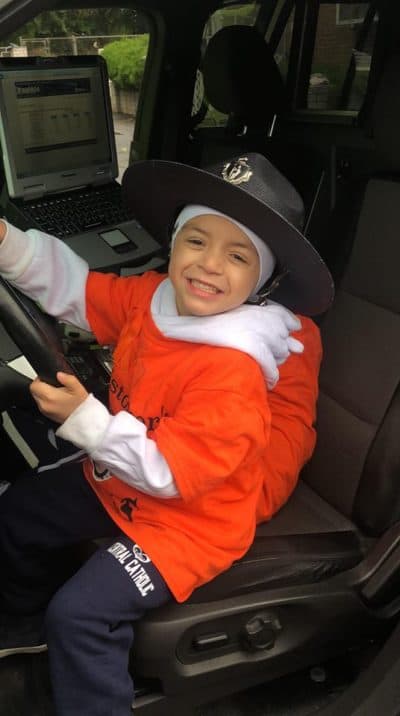 Cristopher was diagnosed with a common form of the childhood cancer in July, his father, Victor Chavarria, told WBUR in a phone interview.
At first, doctors recommended the family pull him out of the private K-8 school he's attended for the last two years. They said a public school might be able to provide Cristopher with the special attention and resources he'd soon need.
Treatment requires frequent hospital visits, meaning the boy misses days at school, while Chavarria and his wife miss days at work. Cristopher's mom, Yohana, recently quit her job. Without a second income, and with medical bills piling up, the family worried they would not be able to afford the school's tuition.
But the family really didn't want to leave EBCCS, and Casaletto said they didn't want the family to leave, either.
So, school officials decided to find another way. They are now working with the public school system in Revere to make sure Cristopher's needs are met. EBCCS is covering his tuition with help from the Catholic Schools Foundation and nearby Saint Lazarus Parish. So far, things haven't changed much, except for a mask Cristopher keeps on hand — protection from his classmates' germs.
"He's been strong enough that he's been here every day so far," Casaletto said. "So we haven't really gotten into the tough times yet for him."
But when that time comes the principal said the school will be ready. First-grade teachers are planning a tutoring schedule for when the absences get longer and the days more difficult.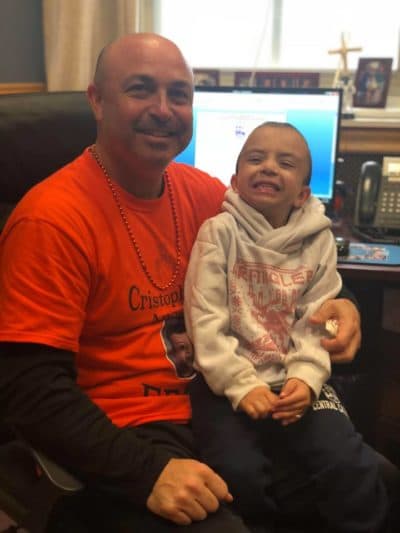 "But that is all the academic stuff," Casaletto said. "We've always said our school is a family, and this is an opportunity to see it first-hand."
That's where fundraisers like this week's march come in. Casaletto estimates about 200 parents, students and community members made the trek from EBCCS near Maverick Square to the finish line outside Cristopher's house in Revere.
"It meant a lot to us," said Chavarria a day after the walk. "When you find out medical conditions like this about your son, you might say you don't need help, but eventually you need help from someone, and the school has been there [for] us. It's family to us.
"They try to support us in every way, and we need that help," Chavarria added. "I know we're going to need that help in this long process."
The walk coincided with a Catholic holiday, the 'Feast of the Guardian Angels.' At the end of Cristopher's ride, the students embraced their classmate.
They're all wearing bright orange shirts with his school photo, the words "Cristopher's Angels" hovering above his image.
This segment aired on October 5, 2018.