In Amherst, Public Art Is Aimed At The Divide Between Town And University
Play
This article is more than 4 years old.
From the middle of UMass Amherst's campus toward the center of town, there are some unexpected objects near walkways or up on a grassy hill.
Upon closer inspection, they're delightful and puzzling pieces of art.
Sandy Litchfield, one of the curators of this outdoor multi-piece exhibit called "Cross Town Contemporary Art," knows each piece.
Walking along North Pleasant Street, she pointed out a sculpture by artist Ben Jones. It's a fiberglass 3D map of a mountainous region, set atop uneven steel legs, completely gray except for three miniature billboards that repeat a message.
On one side, the billboards read, "All the time in the world."
On the other side, they read, "Running out of time."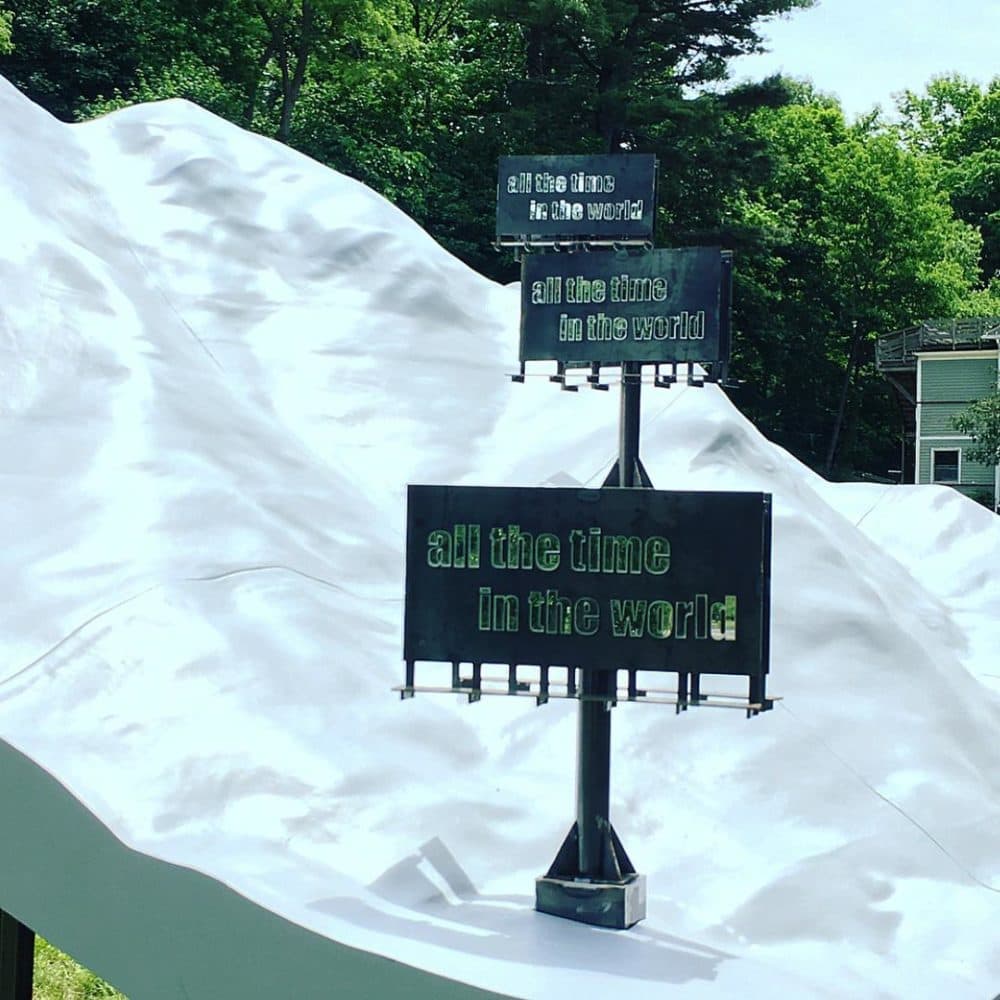 Litchfield is an artist who teaches in the architecture department at UMass. She and other art educators from the Museum of Contemporary Art at UMass have been working on this project for almost three years.
The sculptures could be an indirect way to bust through what curator Eva Fierst called a "big problem."
"There is a huge psychological barrier between the town of Amherst and the University of Massachusetts," Fierst said.
It's not only psychological. There are specific reasons for the divide, she said.
Large groups of rowdy students on the streets have made residents vocal about wanting more students to live on campus. Students have said they feel unwelcome in town.
With a growing population on campus and off, there's more traffic and less parking. Plus, Fierst said, the campus itself is uninviting and physically intimidating.
And at the center of it all, the building most likely to be used by the public is the school's fine arts center, a Brutalist-era design with the art museum in the basement.
But Fierst said art can actually be the fix.
"It makes people think and reflect, and possibly discover that the threshold between Amherst and UMass is not as high," she said.
Maybe, but a history of bad behavior is slow to fade.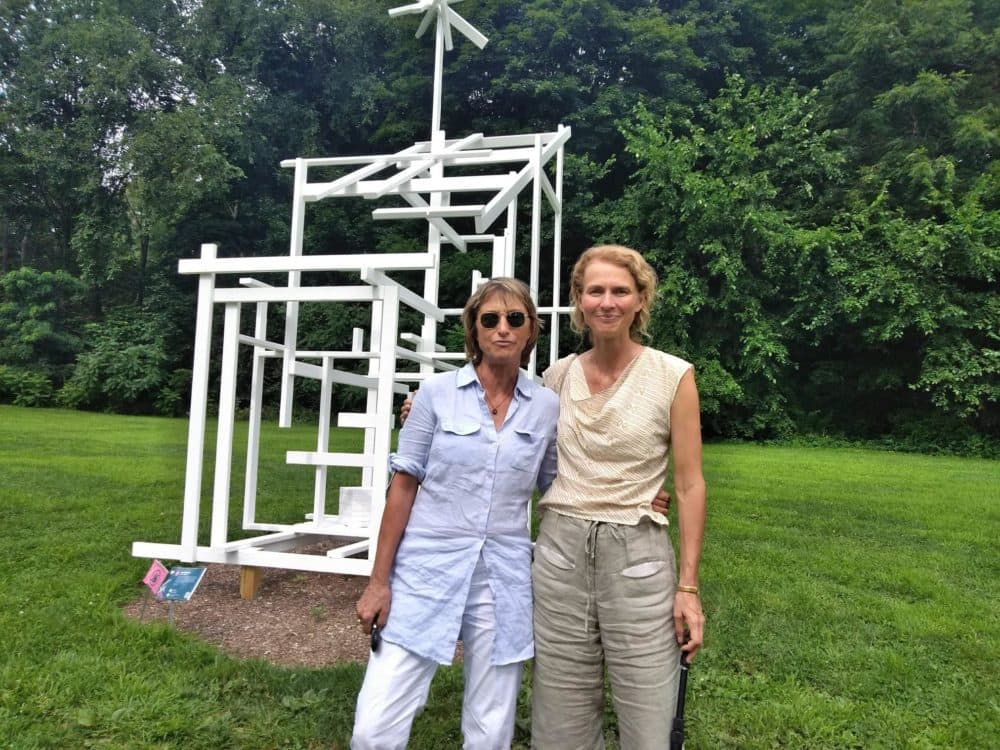 Up on the same hill where Jones' piece stands is another sculpture called "Ghost Shed" by artist Tom Friedman. It looks like a very small house frame built with two-by-fours painted white. The two pieces are the only structure now on what used to be called Frat Row.
On the exhibit's audio tour, Friedman describes his inspiration: "The idea for this piece initially came from the site, which had several frat houses."
House parties on the property once contributed to the school's "Zoomass" label. The frat houses and the few hundred residents were next door to a quiet neighborhood. The privately owned buildings were demolished around 2006. UMass bought the land, now referred to as Frat Green.
Well aware of the divides between campus and town, Amherst officials have been supportive of the art project.
Similarly, at Harvard University, there's a sculpture on display this year: multiple circles of wooden benches surrounded by 30-foot orange and yellow tubes. The display sits in the middle of Harvard Yard. According to Harvard's Arts Task Force, it's a way to offset Harvard's exclusive and sometimes discriminating reputation.
The challenges in Amherst have been manageable, but many, as the exhibit consists of 13 pieces set up on town and school property, requiring land permits and liability insurance.
Mowing the grass around the sculptures was a problem. The summer heat melted the fixant on one piece, which collapsed.
"Common Sounding," by artist Erika Zekos, is an immersive musical sculpture near the town's recently built rotary. It had to be dismantled because of noise complaints from neighbors.
First, the metal pipes meant to be played with a stick were stuffed with cloth. Then they were removed altogether, and re-hung just for special events.
"Common Sounding" is one of a few sculptures in Amherst's Kendrick Park. Many of them are interactive.
You can even sit inside Sarah Braman's piece, "Day Trip." It's made from a concrete drainage culvert, and the openings are covered with pieces of colored glass.
"I wanted to make a place for people to come, to experience the light," Braman said. As the sun moves, the colors move along the culvert's walls.
Braman said she comes to watch how people interact with all the pieces. It's rewarding to see the park, which doesn't have a single bench, used by more people, she said.
Families play in Braman's sculpture by day. At night, homeless people have been sleeping inside, Braman said, and she's OK with that. She pointed over to a construction site across the way, where a modern apartment complex was going up, and said maybe the art can get people to talk about the need for affordable housing.
While Braman spoke with a mom and her kids sitting inside the culvert, Ed Wilfert rode up on his bicycle. He's retired and lives in Amherst.
Wilfert said he saw some other sculptures but didn't know they were connected — an important detail to him, as he's assigned himself the role of documenting Amherst's art exhibits.
"They're up for a month or two," Wilfert said, and then they're gone. Even this exhibit could be forgotten. So Wilfert's notes go into the town archives.
"If there's a record of it, if there's a paper trail, then it can be dug up and we can say, 'See, Amherst has been an art town,' " Wilfert said.
Yet there's no guarantee this art exhibit will change the dynamic between the school and the people who live in town. That's up to the people, not the art, one curator said.
Cross Town Contemporary Art stays up until Nov. 1.
This story was first published by New England Public Radio. 
Correction: A previous version of this story misspelled Erika Zekos' first name. The story has been updated. We regret the error. 
This segment aired on October 11, 2018.