Drag Queens And Jesus: A Somerville Church's Way To Show God's Love
Resume
On a recent evening, members of the First Church Somerville United Church of Christ spent time rehearsing some gospel hymns for their eighth annual Drag Gospel Festival happening this weekend.
But before the choir could nail down their tunes, there was something crucial that needed to be sorted out first: decorations for the sanctuary.
Reverend Day McCallister and some members of the church's altar guild place bright sequins behind the pulpit. Then, someone from the altar guild asked the reverend how she'd feel about putting bright red high heels on the communion table.
"You're pushing my Baptist buttons right now with the shoe on the table," McCallister said, laughing. "I gotta put bread and wine up there in a couple of weeks. I don't want shoe dust on there where we have the body of the new covenant."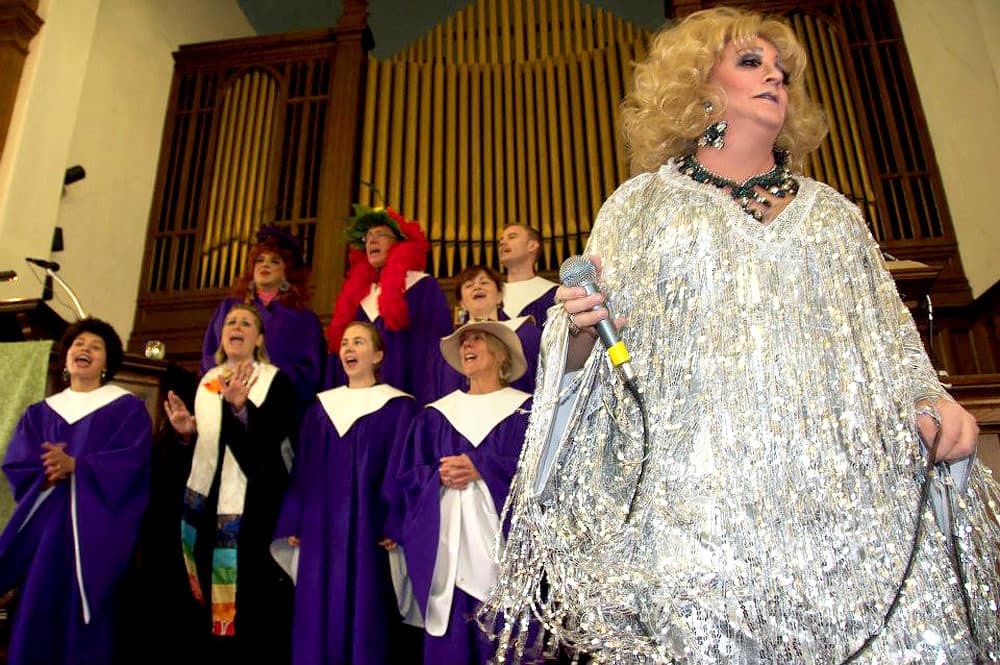 The drag service at the Somerville church predates McCallister's ministry there, where nearly 40 percent of her congregation identify as LGBTQ. She said growing up in a family of black Baptist preachers, having drag queens in the church initially seemed unconventional. But upon some reflection, McCallister said drag hearkens back to southern Baptist tradition.
"Think of gospel, in terms of music, which is filled with--especially black gospel--over-the-top absolute exuberance in worship and joy," said McCallister. "And drag is joyful, if it is nothing else," she said. "Both of them are examples of abundant life. Like really living your best life."
Drag Gospel has been one of the church's most popular services since 2011, attendance is nearly tied with Easter. McCallister said people who have moved away come back to worship with drag queens like Sapphira Cristál.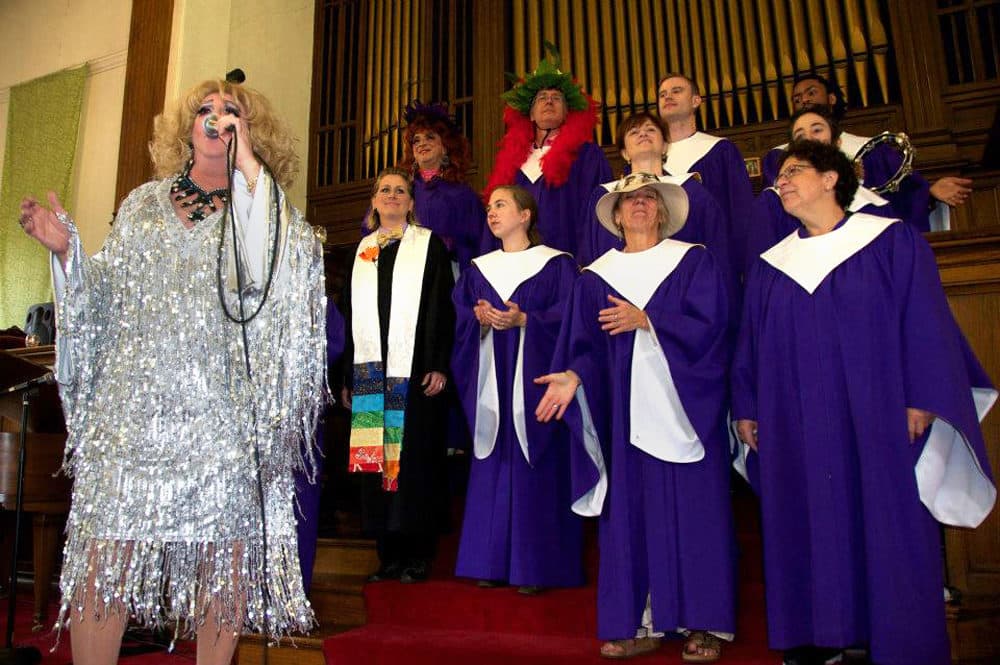 Cristál came in from Philadelphia to be the gospel soloist this weekend, ready to pepper the performance with preaching.
"We are all trying to have a connection with each other and the Lord," the performer said. "We can do that, because God never said that anyone didn't deserve the kingdom."
Cristál's favorite aspect of the event is that the offering is used to benefit LGBT youth. This year, it'll go to Cambridge's Youth On Fire.
Not everyone is a fan. A few years ago, a man interrupted Drag Gospel, condemning it. Evangelical vloggers have also criticized it, calling it "blasphemy."
"All of the pictures that we have, that we've intended to create, even to express Jesus are like our hopes to see ourselves in the divine," Reverend McCallister said in response to the blasphemy accusation. "Why wouldn't individuals who are trans, individuals who participate in Drag Gospel want to see themselves in the divine?"
At this year's festival, the centerpiece of the altar will be a 1999 painting called "Jesus of the People."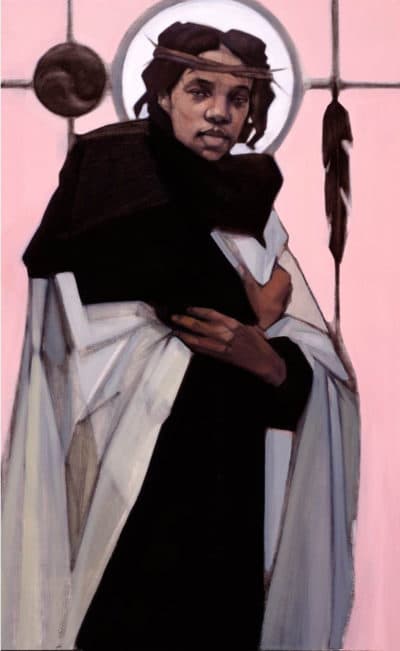 It's a dark-skinned Jesus with soft features, against a pastel pink background. A stark contrast to the conventional Jesus with white European features, said artist Janet McKenzie.
"In these dark times we're living in, this is an opportunity to celebrate all people," she said. "Particularly the LGBTQ community."
McKenzie said she's honored her painting will be at Drag Gospel.
As for Reverend McCallister, she said she's not afraid of potential reprisals for how her congregation chooses to worship.
"Too many members of God's magnificent creation have been explicitly told that they're not welcome in houses of worship," she said. "And Drag Gospel, at the end of the day, is an explicit invitation into this space."
The Reverend added that God doesn't give anyone the spirit of fear. She noted the book of Isaiah in the Bible, saying no weapon formed against her flock shall prosper.
The Drag Gospel Festival takes place Saturday at 6 p.m. at Club Cafe at 209 Columbus Ave. and Sunday at 10 a.m. at First Church Somerville UCC, 89 College Ave.
This segment aired on October 12, 2018.