Expectations Are High In Boston As The Celtics Tip Off Their Season
Resume
The last time the Boston Celtics played a meaningful contest, it was Game 7 of the Eastern Conference Finals. Since that loss to the Cleveland Cavaliers, a lot has changed. Like:
-- LeBron James left the Cavaliers for the Los Angeles Lakers.
-- Kawhi Leonard went east from the San Antonio Spurs to the Toronto Raptors.
-- And a healthy, seemingly rejuvenated Kyrie Irving apologized for being a flat Earth evangelist and, even better for Celtics fans, the 26-year-old point guard said he planned on resigning with Boston when he becomes a free agent in 2019.
But let's not get ahead of ourselves.
The Celtics season opens Tuesday night at home against the Philadelphia 76ers. If all goes well, it won't end until after the NBA Finals.
Sorry, again, let's not get ahead of ourselves.
Everyone knows the NBA season is long and unpredictable. The Celtics know it better than most teams. (See Gordon Hayward, broken leg, Oct. 17, 2017.) So while it's tempting to talk about the possibility of Boston winning Banner 18 and duck boats parading down Boylston Street in June, it's probably best to borrow a page from coach Brad Stevens and take a calm, even-keeled approach to this season preview.
Pushing aside predictions of a Finals match-up between the Celtics and the Golden State Warriors (for now), here are five things to keep in mind as the regular season gets under way:
1. Gordon Hayward Being Gordon Hayward
Will Hayward be the player he was before his injury? There's no reason why not. It's simply going to take time. You don't miss a year of competitive basketball and pick up where you left off. During the preseason, Hayward talked about shaking the rust off, physically and mentally. "I think each time I do something new it builds a little bit more confidence for me just from a physical standpoint knowing that my leg is stable and is going to hold up," said Hayward after the Celtics second preseason game. Look for that progression to continue in the regular season.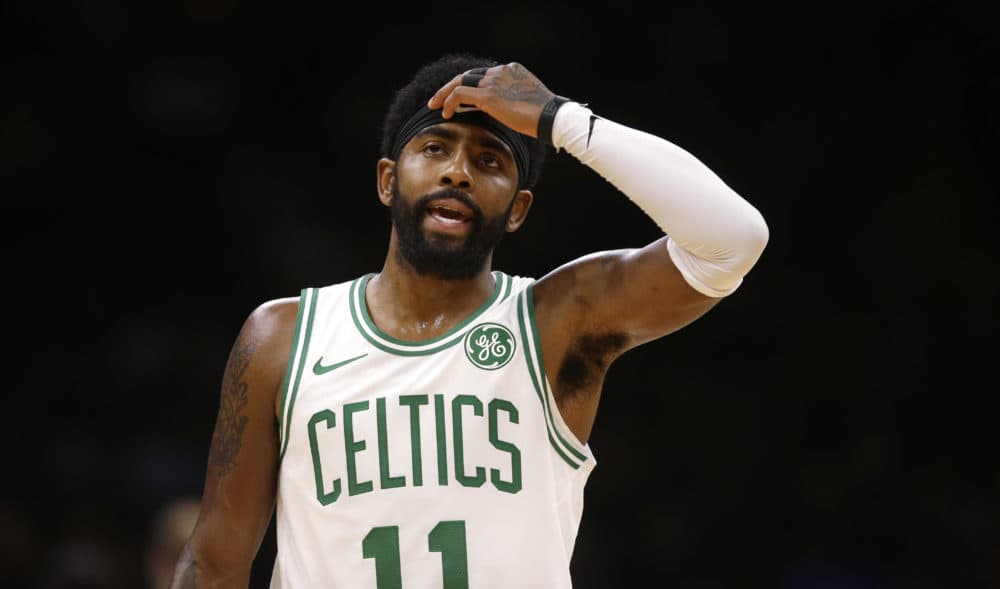 2. Kyrie Irving Being Healthy And Happy
At a fan event earlier this month, Irving told the crowd, "If you guys will have me back, I plan on resigning here." Cue the wild applause. Last season, Irving missed the playoffs due to knee surgery. Now, he's back healthy and, if his resigning announcement is any indication, happy to be in Boston. That's big. Because when Irving is right, he's a mesmerizing ballhandler who stokes the belief that the Celtics could take the Warriors in a best-of-seven series. Didn't want to go there. But knowing Irving now has two healthy knees, it's hard not to think about it.
3. Injuries, Injuries, Injuries
It's one thing to start the season healthy; it's quite another to stay healthy. A worrying fact for Celtics fans: Irving has missed significant time during nearly every regular season of his seven-year career. It's almost certain the Celtics will suffer their share of sprained ankles and twisted knees and elbow-induced bumps and bruises. It's the cost of doing business in the NBA. But will they avoid a major injury? Because the kind of injury that sidelines a key player for a sizable chunk of time might be the only thing that keeps the Celtics from coming out of the East.
4. Two Words: Jayson Tatum (And Two More: Jaylen Brown)
The most exciting Celtics development last season: the emergence of the rookie Tatum. During the playoffs, he led Boston in scoring with 18.5 points per game and he did it with impressive confidence and composure. He's a perennial All-Star in the making. Given the opportunity, he'll put up big offensive numbers with savvy and skill that make it hard to believe he turned 20 in March.
And let's not forget Brown and his defense. Brown deserves more than a passing mention, but that just shows you how deep the Celtics are.
5. Coach Brad Steven's Balancing Act
Speaking of the Celtics depth, they're one of the deepest and most versatile teams in the league. That means the biggest challenge for Stevens this season may be keeping starters and role players happy with a finite number of minutes available.
Take Terry Rozier. He proved himself as a starting point guard in Irving's absence. Now he's back behind Irving on the depth chart. As they say, too much talent is a good problem to have… until a player complains about his minutes or his shots or his role in general and disrupts team chemistry. But few coaches can build chemistry and keep egos in check the way Stevens can. Plus, sacrificing for the good of the team is a lot easier when you're winning, which the Celtics should do lots this season (60, 61, 62, 63, 64 wins, anyone?), and when your goal is an NBA title.
This article was originally published on October 16, 2018.
This segment aired on October 16, 2018.