Boston Park Honors Cop Who Died After Shootout With Marathon Bombers
Boston city officials and Dorchester residents came together Tuesday to celebrate the opening of a new playground named after Boston Police Sergeant Dennis "DJ" Simmonds, who officials say died as the result of an injury sustained in the wake of the Boston Marathon bombing.
Mayor Martin Walsh, along with the Boston Police Department, Boston Parks and community members, unveiled a new state-of-the-art playground at Harambee Park in the city's Dorchester neighborhood.
Simmonds died in 2014 as a result, officials say, of a head injury that occurred while responding to the 2013 shootout in Watertown involving the Boston Marathon bombers.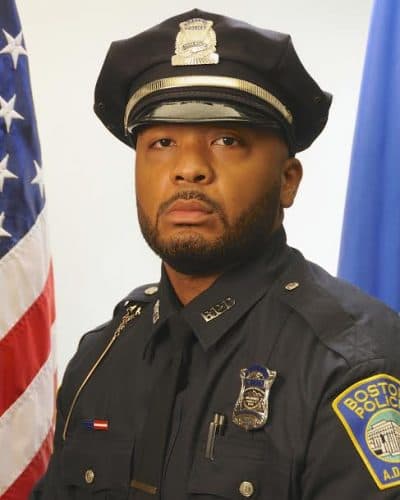 "It's people like Sergeant Simmonds who exemplify what it means to be a hero," Police Commissioner William Gross said in a statement. "He will forever be remembered as someone who gave the ultimate sacrifice to protect his city, and for that we are eternally grateful. I am proud that this park will be a place where our young people can come together in memory of such an extraordinary man."
The playground features a bridge and tower play structure, embankment slides and climbing nets, according to the city. The park also includes a smaller play area for preschoolers, two basketball courts with LED lighting, pedestrian lighting on a walking path, and improved entrances from Blue Hill and Talbot avenues.
Aside from honoring a "Boston hero whose name and legacy will live on as residents and families visit this playground," Walsh explained that the completion of the Simmonds playground is also a victory for the city. It marks the completion of Phase 1 of a $2.7 million project to renovate Harambee Park.
Phase 2, which includes the construction of two natural turf fields for soccer and lacrosse, is slated to begin construction in the summer of 2019, and has been budgeted for an additional $3.5 million.
The project in its entirety aims to bring the community together by creating a safe space for people of all ages — which is exactly what Simmonds's legacy stands for, according to Parks Commissioner Chris Cook.
"Harambee is a Swahili word meaning 'pull together,'" Cook said in a statement. "It's fitting to honor Sergeant Dennis Simmonds, who worked each day to bring the community together. It's a privilege to honor his life with this new playground."