In Raucous AG Debate, Healey And McMahon Clash On Trump, The Opioid Crisis And Guns
Play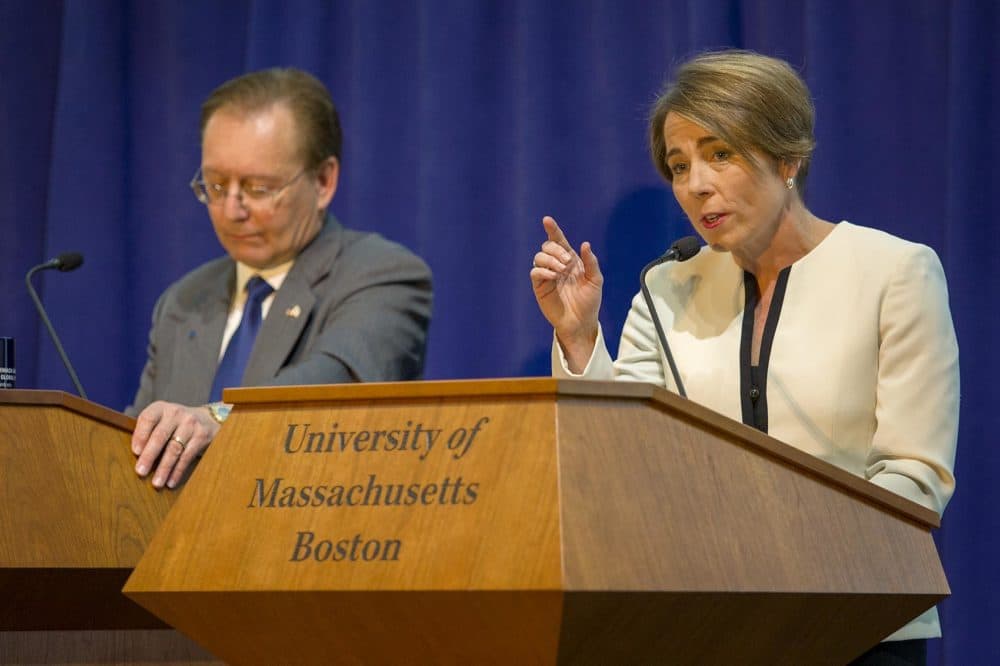 This article is more than 4 years old.
As Rodney Dangerfield could have said, "I went to the fights yesterday and a debate broke out."
This debate is between the two candidates for Massachusetts attorney general — two people who couldn't be less alike: incumbent Democratic Attorney General Maura Healey and her Republican challenger Jay McMahon. The debate, which took place Wednesday, was sponsored by WBUR, the Boston Globe and the McCormack School at UMass Boston.
Healey is a liberal Democrat who calls herself "the people's lawyer." McMahon is a conservative Republican who embraces what he calls "extreme prosecution" in response to the opioid addiction crisis.
"The only way to drive these purveyors of poison out of Massachusetts is to be harsh with them, and we're letting these guys go out the door without giving them sufficient prison time," McMahon said. "And I know Maura Healey says she's been the law enforcement officer, but she's soft on crime."
Among other things, McMahon favors the death penalty for cop killers.
Healey said responding to the opioid crisis is her top priority. She said she pushed successfully to make the trafficking of fentanyl a crime and has prosecuted hundreds of drug traffickers.
"But we're not going to get there by that work alone," she said. "My focus has also been on treatment. That's what I hear from families. They need more access to behavioral health services. I have made that a priority. I will continue to make that a priority."
The two also sparred about the state's gun laws. McMahon is a committed Second Amendment advocate.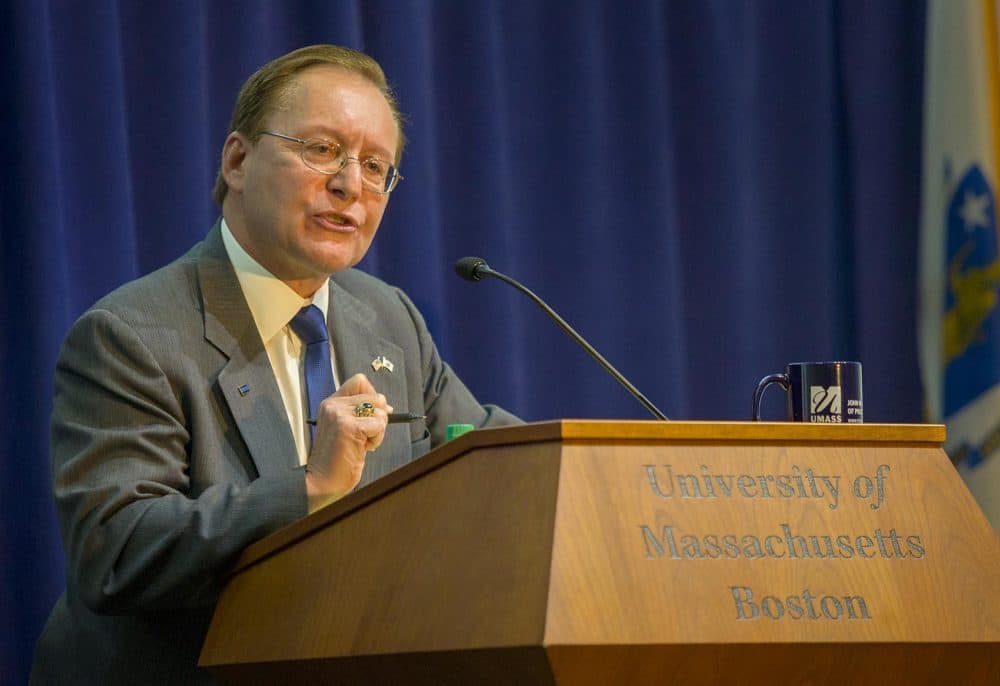 He went after Healey for shutting the sale of so-called "copycat" assault weapons, which gun-makers were producing to get around the state's assault weapons ban.
"I think the attorney general should be enforcing the Second Amendment on behalf of the citizens. She just banned wholesale categories of guns because she doesn't like guns."
"Well, I just think that's a ridiculous assertion," Healey said.
She took the action against copycat weapons, she said, to enforce the state's assault weapons ban.
"There is a reason Massachusetts has the lowest gun death rates in the country. Strong laws save lives. I will continue as your attorney general to enforce the laws that are on the books."
Healey pointed out a federal judge upheld the assault weapons ban last spring.
But the sharpest exchange came over Healey's dozens of lawsuits against the Trump administration. McMahon took particular issue with her legal challenge of the president's travel ban from six Muslim countries.
"That is against our public safety interest, and in essence, she would leave us at the mercy of these savages," he said. "And I gotta tell you, public safety is my number one concern."
McMahon criticized Healey for beginning her string of lawsuits against Trump as soon as he got into office. Healey didn't argue with that.
"It didn't take me long to sue Donald Trump, because it didn't take Donald Trump but a few days or a few weeks to do something illegal or unconstitutional," Healey said, "and that's where we've been, and that's why you see the 36 lawsuits."
All those lawsuits make her one of the busiest anti-Trump litigators in the country. That may be the only point that Healey and McMahon agree on.
This segment aired on October 25, 2018.