Hurricane Maria: 1 Year Later
For Small Aqueducts In Puerto Rico, An Assist From The Mainland
04:39
Play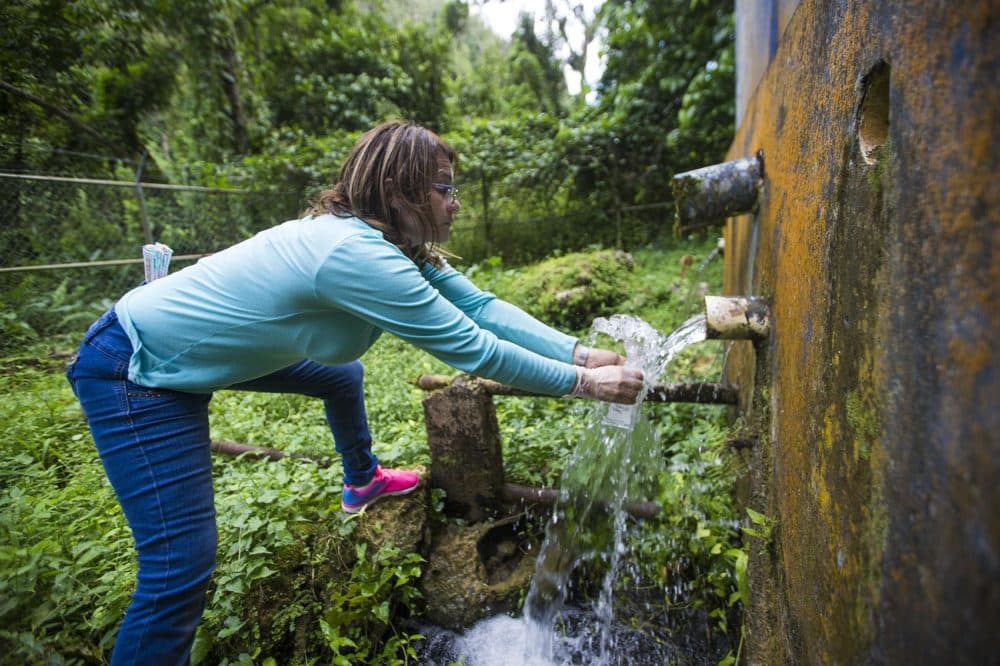 This article is more than 2 years old.
It's a few days after the anniversary of Hurricane Maria in the mountains of Ciales near the center of Puerto Rico, and a band of environmentalists trudges through the woods. They are accompanying a group of locals from the community of Pozo Azul to the source of the community's water supply.
"This is life, this is life," says Israel Chevere, who heads the independent water authority for the community. "We've sustained ourselves from this. This is how we feed ourselves, what we bathe with, what we drink."
Starting at a spring about three miles from town, the water is pumped through a system of tubes that runs along a precarious mountain road. The pumps depend on electricity, and they were connected to the power grid until Hurricane Maria hit, wiping out infrastructure all over Puerto Rico.
Over a year later, the aqueduct of Pozo Azul is still running on a generator.
"They come, they visit, then they leave," Chevere says, referring to officials from Puerto Rico's electrical authority. "They don't do anything. They say they're not coming."
Attempts to reach PREPA, the Puerto Rico Electric Power Authority, were unsuccessful.
Pozo Azul is one of 237 communities across Puerto Rico — accounting for roughly 3 percent of the island — that is not connected to the Puerto Rico Aqueduct and Sewer Authority. That gives them a level of autonomy, but it also means they fend for themselves in a hurricane. After Hurricane Maria, the faucets in places like Pozo Azul ran dry.
Chevere says he hasn't given up hope that the federal government will come to the rescue. But in the meantime, there's a new initiative that could take up the slack.
It's called the Water Alliance, supported by the Puerto Rico Community Foundation, the nonprofit Bosque Modelo and Oxfam America, and it's providing technical and financial support to communities running their own aqueducts.
Here in Pozo Azul, the Water Alliance is looking at the possibility of solar power.
"It's definitely technically feasible," said Alison Mason, a solar power engineer working with the Water Alliance. "It's just a question of, you know, how do you build a structure in such a wet place that can flood."
Mason says the area where Pozo Azul's spring is located brings unique challenges: like the shade from the limestone cliffs all around, and also the thick underbrush that, if upset, could create an ecological problem.
The solution is far from settled, but the Water Alliance will ultimately propose multiple options to the local water authority, and they will also help see that the work is financed.
The Alliance was formed in the wake of Hurricane Maria, with funding from Cambridge-based Oxfam America. (Water experts at MIT are also pitching in with knowledge of the latest techniques for testing water.)
Oxfam had never operated in Puerto Rico until now, and the group has identified water sustainability as one of its top priorities.
Brenda Guzman is a public health expert in Puerto Rico who was hired by Oxfam after the storm.
"When the hurricane hit we knew that these communities were more vulnerable," Guzman said. "... It was their own responsibility to restore their system because they are located in isolated rural areas, highlands in Puerto Rico."
Guzman raises a question that advocates across the island are trying to answer — can the hurricane recovery be an opportunity to make Puerto Rico more resilient than it was before? She says that's what the Water Alliance is about.
"We see that by helping them around the aqueduct we are also [helping] to get a stronger community that will be able to solve all the problems beyond water," she said. "And I think that's important end result of this."
Back in Pozo Azul, Israel Chevere shows the end result of all his effort. He turns the faucet, and a stream of water comes rushing out.
Now if they can get their aqueduct powered by the sun, the water of Pozo Azul will be that much sweeter.
This segment aired on October 24, 2018.