Cambridge, Watertown Give Buses Priority On Mt. Auburn Street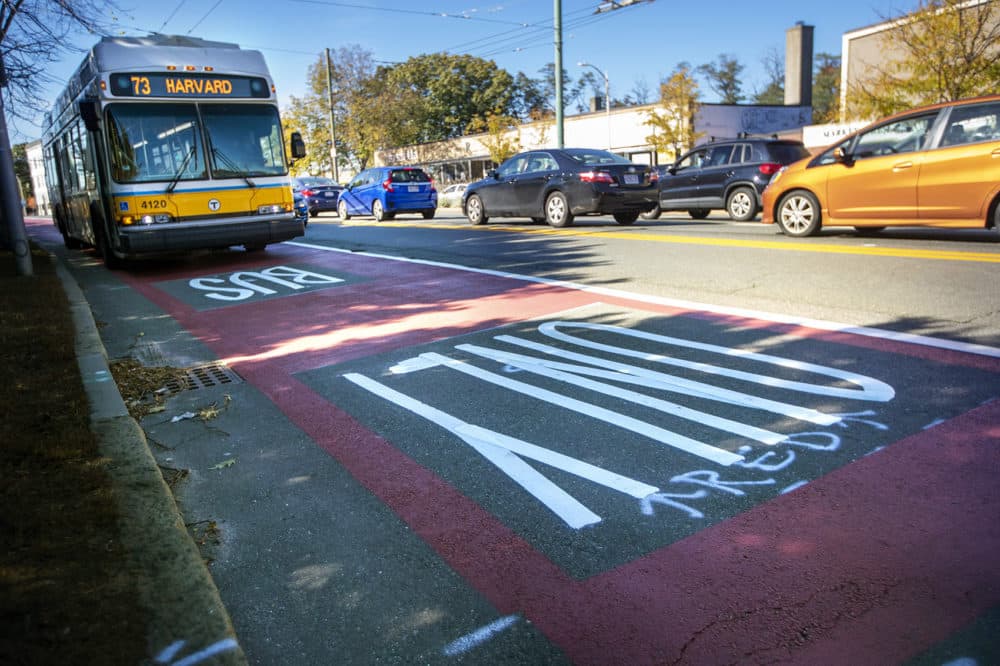 This article is more than 4 years old.
State and local officials on Friday morning celebrated the launch of a new bus-only lane between Cambridge and Watertown.
They say the dedicated bus lane will lead to faster and more reliable bus service along Mt. Auburn Street going eastbound toward Harvard Square.
"Buses are like the Rodney Dangerfield of the transit system, they don't get the respect they deserve, and projects like this are giving buses the respect they deserve," state Transportation Secretary Stephanie Pollack said.

The bus lane stretches from Cottage Street in Watertown to Fresh Pond Parkway in Cambridge — an area serviced by the 71 and 73 MBTA buses. The buses will also get traffic signal priority at some streets and "queue jumps" that allow buses to go around the line of traffic at some intersections.
Cambridge Vice Mayor Jan Devereux said over half of people moving along the Mt. Auburn Street corridor during the morning rush hour are traveling by bus. And there are more than 12,000 bus riders daily.
"These have been some of the worst delays in the whole system, just in this little short stretch of road, so if we can unblock that, it's going to make riding on the bus more appealing for residents of this area," Devereux said.
The dedicated bus lane is a first for Cambridge and Watertown. It stretches about three-quarters of a mile and is painted red in some sections. And it's not just MBTA buses that can use it. The bus lane will also be open to cyclists, school buses, emergency vehicles and company shuttles.
Officials believe this bus priority project will improve traffic flow for all modes of transportation.
But will this create backups for cars in the other lane (since they will be limited to one lane)?
"It's designed so it can speed the buses without adversely affecting the drivers," Pollack said.
There's no set end date for the Cambridge-Watertown bus priority project. It will be initially piloted through winter, according to Devereux, who hopes it will then be made permanent. Pollack said adjustments could be made to the project during the pilot.
It's the latest effort to implement bus rapid transit in the region. Arlington already has a pilot program. And Everett and Roslindale have permanent bus lanes.
This article was originally published on October 26, 2018.