Local Jewish Leaders Grapple With Balancing Worship And Security In Light Of Pittsburgh Shootings
04:18
Play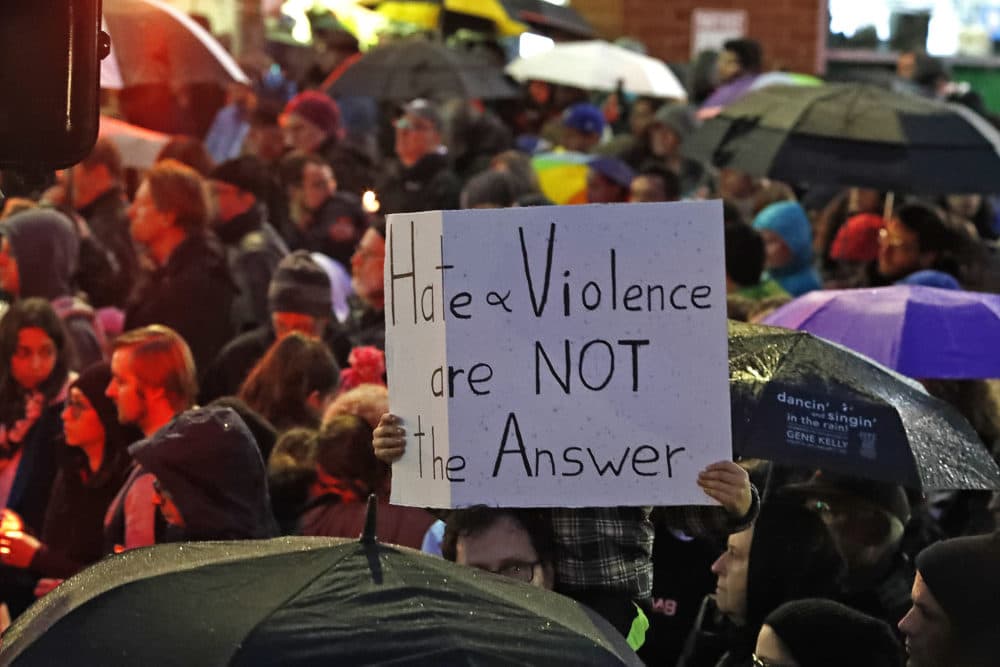 This article is more than 2 years old.
As synagogues across the country continue to reflect on the shooting in Pittsburgh that claimed 11 lives, security measures are at the top of the agenda.
These efforts raise an important question for temples: how to provide a sanctuary without creating a fortress.
At Congregation Kehillath Israel in Brookline, there's a massive renovation underway, part of the celebration of the temple's 100th anniversary. With a grand opening coming up Saturday, it's a joyous season here.
But Rabbi William Hamilton says it will also be a day on which congregations across the country will gather in mourning.
"We are entering a completely restored and renewed space this coming Shabbat — a Shabbat on which we are encouraging alongside every other Jewish community across North America to fill our sanctuaries, in response to the horrors," he said.
The renovation has been underway for 15 months, at a cost of more than $10 million. Hamilton says the design incorporates state-of-the-art security measures. In addition to armed guards, there are cameras around the premises, and a streamlined entry and exit system.
The question of security at Jewish temples has a spectrum of answers — from militarized synagogues to simply locking doors during services.
At a vigil against hate on Sunday — the day after the synagogue shooting — the crowd cheered as speakers talked about the need for love in the face of hate.
Hilary Marcus of Congregation Dorshei Tzedek in Newton says she doesn't want the temple to have locked doors on the Sabbath.
"I don't want there to be, but I don't know what's going to happen. ... I'd like there to be maybe community meetings to figure out what people want to feel safe ... but people need to be able to walk in and not go through a metal detector to come to synagogue, or church," she said.
Even the idea of locked doors doesn't sit will with David Mabel, a longtime member of Congregation Beth Shalom of the Blue Hills in Milton. But he says it may come to that.
"Sometimes you have to say, unfortunately, better safe than sorry. I'm not sure about big events but on a regular Sabbath service when there are not that many people who are there and around I would say perhaps it's a good idea," he said.
But he's not in favor of armed guards. "It's a foolish notion, because, as I said, it would be quite expensive for every church and synagogue and mosque to have armed guards.
"And for another thing, you're starting to move towards a police state."
Rabbi Danny Burkeman at Temple Shir Tikva in Wayland is also concerned about safety.
"When we heard the news from Pittsburgh, our hearts were broken for The Tree of Life community," he said. "And we were aware that this would cause some anxiety amongst our own congregation."
Burkeman said he has met with the chief of police in Wayland, and with police stations just minutes away, the congregation has decided armed guards are not necessary.
But he's not an absolutist on the idea of guns in a temple.
"One of the highest values within Judaism is the idea of pikuach nefesh, which means to save a life. You can break virtually any other commandment in the Jewish catalog of commandments in order to save a life," he said. "And so if we were given advice that required something because of feeling that this would help save lives then that's something that, Jewishly, we would feel an obligation to respond."
But even with a rise in anti-Semitic acts and the worst synagogue attack in America history, Rabbi Burkeman says he's thankful the need for guards has not arrived at his temple.
This story comes in partnership with the Dorchester Reporter.
This segment aired on October 30, 2018.